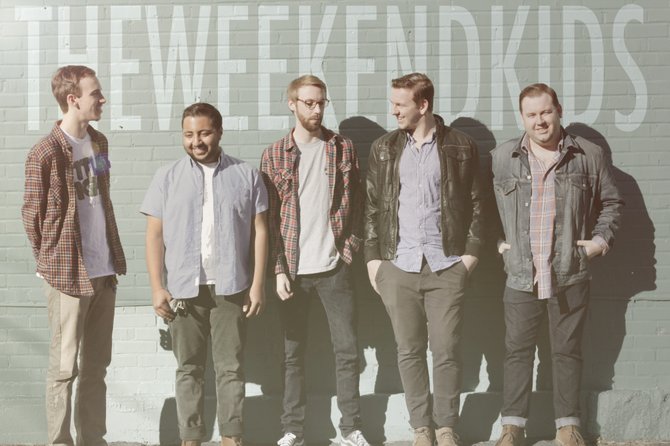 Aspiring to make real music and a lasting impact in Jackson, indie-meets-alternative-rock band The Weekend Kids dares to be creative rather than conforming to mainstream standards. The band aims to deliver quality music in the indie-rock scene with songs like "Eastside Rivals" and "Santa Rosa" from its latest release, "Animal."
The Weekend Kids are singer and guitarist Hayden Boyd, guitarist and background vocalist Micah Boyd; guitarist Travis Bass; drummer Cody Bass; and bassist and background vocalist Salar Almakky. (Bradley Presson is temporarily substituting for Micah Boyd on guitar, because Boyd has an internship at Disney World. He will return to the band this August.)
The band members are scattered in three different colleges across Mississippi now, but they have known each other since their days at Northwest Rankin Middle School. They unite to play at Jackson venues such as Hal & Mal's, Morningbell Records & Studios, and the Capri Theatre.
Formed in April 2012, The Weekend Kids began with brothers Hayden and Micah. "It started out with (me) writing songs in my room for about two or three weeks, and my brother (Micah) was there, and we'd write together," Hayden Boyd says.
"We kept bugging some friends of mine to join the band, and I sent them about two or three songs. And the third one--I guessed they liked it and decided to join, and we started writing music."
Boyd says the band's name came from an inside joke: Whenever the guys got together and practiced on the weekends, someone would say, "You guys ready for the weekend, kids?"
The Weekend Kids' fun and fresh sound comes from many influential periods in rock 'n' roll. "(Our influences span) anywhere from 1950s and '60s rock like the whole rock 'n' roll stage and a little bit of today's," Hayden Boyd says. "I listen to a lot of Flaming Lips. Phantom Planet is a real big one. Just bands that are kind off-the-wall stuff that you wouldn't expect to hear, just to get a new creative feel."
The Doors and The Beach Boys are also influential for the band. Recreating a raw sound similar to 1950s music is what The Weekend Kids strive for in some songs.
Songs such as "Surf Warrior," the opening track for "Animals," exemplify The Weekend Kids' ability to mesh together the opposite ends of the band's influences. The song opens with a distinct surf-rock drum beat. The vocals have that slightly distorted feel to them to bring the listener to a past decade while still being somewhat reminiscent of pre-"American Idiot" Green Day.
"Fish Tacos" offers another "surf-rockesque" bit, this time starring the guitar with a vocalist singing a fast and playful "doo wop." It ends, however, on a lighter, slower note with the guitars working together with the drums to create a new melody which carries over (slightly faster and embellished) into the next track, "Santa Rosa."
For Boyd, songwriting is a craft that takes time. Often, the process starts with Almakky sending him a short riff. From there, Boyd will add to it and send it to the rest of the band mates. "It's not like we just sit around and say, 'Oh these four chords will work,'" Boyd says.
"We actually put thought into it and work hard at it, and I feel like a lot of bands don't do that. They just kind of (use) whatever sounds good. ... A lot of modern rock songs are written toward what people want to hear instead of what they feel. We write about what we feel and experiences we've had, not crowd pleasers."
See The Weekend Kids at Morningbell Records & Studios (622 Duling Ave., Suite 205A, 769-233-7468) Feb. 15 at 8 p.m. Visit theweekendkidsms.bandcamp.com to keep up with the band, or find it on Facebook.
More like this story
Support our reporting -- Become a JFP VIP.
The news business has changed dramatically in the past year, and we need your help more than ever to keep bringing you important stories about Jackson and the Metro. Become a JFP VIP with an annual membership or you can Sign up as a monthly supporter. Thanks for anything you can do to empower our journalism!