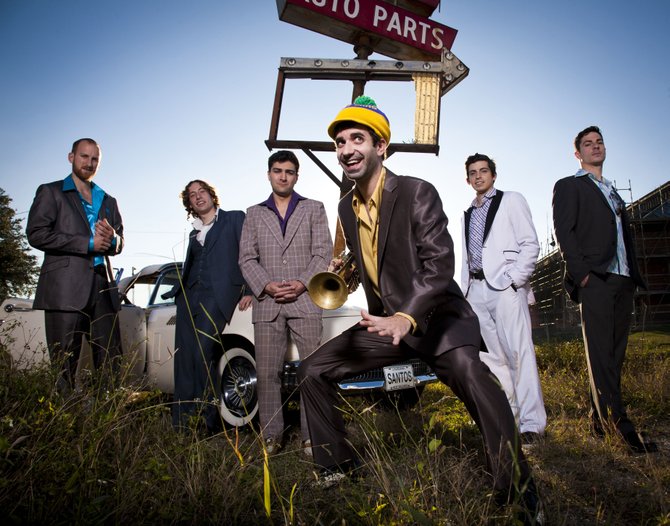 Flow Tribe is a kaleidoscope of sounds inspired by the historic music culture of The Big Easy.
The New Orleans-based funk-rock sextet features lead singer and trumpet player K.C. O'Rorke; guitarist Mario Palmisano; bassist and back-up vocalist Chad Penot; drummer Russel Olschner; guitarist Bryan Santos; and harmonica player, keyboardist and washboard player John Michael Early.
The members (with the exception of Early who joined a year later) started playing together while at Brother Martin High School in New Orleans and would often jam out after school. By the end of 2004, the guys decided to form a band. When high school ended, however, the band split apart to attend college and their drummer, Olschner, went to fight in Iraq. After Hurricane Katrina, they all reunited.
"We wanted to come back and support the community," O'Rorke says. "Katrina really made us focus. It made us realize that life is short and brought us all together."
After 2006, Flow Tribe kicked its groove into high gear and has been going strong since then. It has played Voodoo Fest and other shows across the country, sharing the heart and soul of New Orleans.
The band resonates joy as the lead singer dances on stage with moves that only the godfather of soul, James Brown, could have inspired. Flow Tribe's lyrics combine inspiring words and good old fashioned fun. Its name comes from the band's songwriting process.
"We start flowing and just roll with an idea, and the song comes out organically. We aren't really a jam band, but our music comes out of just jamming and experimenting with things. The music flowed out," O'Rorke says. "We see ourselves as similar (people, but with) all different kinds of personality types, so it is kind of a tribe—a motley band of gypsies, and it all came together."
The members describe themselves as "musical chiropractors," and their grooves command the audience to jump up and start dancing. O'Rorke smashes the line between the audience and performers to create an atmosphere that blends the two into one organic experience. For O'Rorke, this idea comes from his experiences growing up in New Orleans and attending Mardi Gras parades.
"My first real childhood musical memory was being on the parade route and hearing the bass drum booming and the brass bands playing," O'Rorke says.
"You get the lines blurred of where the band start and the audience begins. If the band is going right, you don't feel that separation."
This is musical performance at its best, and Flow Tribe entertains the audience the moment they hit the stage.
"It's an honor for us to share a good time or backbone-cracking music to people and have them cut loose," O'Rorke says.
Along with its groove, Flow Tribe also holds a message about community support such in as its song, "Helping Hand," which a real-life situation with O'Rorke's friend inspired. He was struggling after Katrina to make a living; although he worked several jobs, he still found himself without a permanent roof over his head.
"I think that's what music is about: giving a helping hand, taking you out the normal everyday thing if you are going through stress," O'Rorke says.
"Music should be a vehicle for just being able to step back, take a look at yourself and enjoy the good things. Life is good and life is bad, but music greases the wheels. If you can give a helping hand, do it, and (you) might as well do it in a funky way, because that is the best way."
Flow Tribe performs at 10 p.m. Dec. 6 at Martin's Restaurant and Bar (214 S. State St., 601-354-9712). Visit flowtribe.com for more on the band, or find them on Facebook and social media.