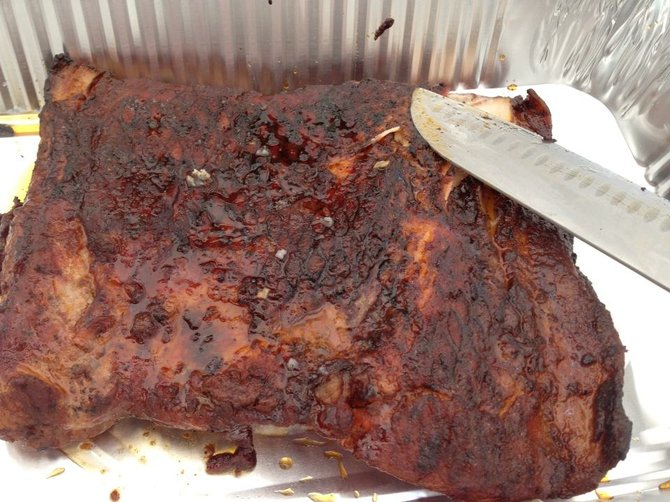 What do you get when you combine competition-style barbecue and craft beers? Pig and Pint. Owner and chef Grant Hutcheson and his business partner Chris Clark are getting set to open their new barbecue restaurant in the former Mimi's Family and Friends location at 3139 N. State St.
Pig and Pint hopes to entice people's taste buds with great food and beer--hence the partners' inspiration for the name. The restaurant's website boasts "authentic, smokehouse barbecue," which is where the term 'low and slow' comes into play.
"We're going to specialize in barbecue. That's going to be our core of our menu, and we're both advocates of beer," Hutcheson says. "We think the competition-style barbecue would go well with craft beers."
While they finish renovating the restaurant space, the pair are serving the Madison area each week, selling sandwiches and sides at the Livingston Farmers Market.
"We got involved with sponsors out there and we have been out there every week," Hutcheson.
Hutcheson and Clark also cater the Livingston Concert Series, including the upcoming September 27 edition with country music star Lee Brice.
"We did the Travis Tritt concert, (and) had a good turnout. We did the Kellie Pickler concert, (and) had a good turnout, and we know the one in September will be the same," 
Hutcheson says.
Hutcheson, a classically trained chef, has not always served up barbecue. The 28-year-old Jackson native, who now lives in Madison, also worked at Parlor Market in Jackson for a year.
"I consider being there the core of my culinary experience and education," Hutcheson says. "I learned a lot from those guys, just a variety of things."
While Hutcheson was training as a chef, he also started to explore the world of barbecuing.
"Ten years into my career, my college chef offered to take me to his barbecue competition with his team, and I went with him, and I got hooked," Hutcheson says. "From then on out, I was at every meet and every competition."
After watching all those barbecue masters, Hutcheson decided that it was something that he wanted to do as well, so he started to play around with recipes.
Fast forward to a little more than a year ago. That's when Hutcheson met Clark, and the pair decided that they wanted to open up a barbecue restaurant.
"Chris is very talented at what he does. He's one of the best (businessmen) in town, that's how I heard about him," Hutcheson says. "We got together and started thinking of concepts that we should do, and barbecue happened to be the first one that we wanted to do."
Hutcheson and Clark were able to make that concept a reality. Pig and Pint is not open, yet, but the owners plan to open the doors in the fall. They already have fan favorites: pulled pork sandwiches, pulled chicken and ribs.
Support our reporting -- Follow the MFP.