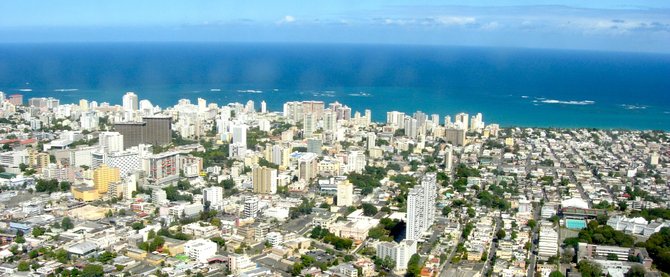 Noticing the grim look on my boss' face and her hand turning white from gripping the door handle, I tried to reassure her this was how people drive in Puerto Rico. But the gentleman in the Fiat beside us--who was three-quarters of the way up on the sidewalk and a quarter in the road while both cars raced towards a fire hydrant--was unnerving her.
"Shouldn't you slow down and let him in?" she gasped.
"Absolutely not," I said. "That would be showing fear, and only make matters worse." At the last second the Fiat sped up, swerved completely up onto the sidewalk and around the fire hydrant, and merged back into traffic a few cars in front of me. "See?" I said. "It all turned out well." But the look she gave me told me that she did not understand.
Puerto Rico, an American territory since the Spanish-American war at the turn of the 20th century, is one in a long arc of Caribbean islands that stretch from Mexico's Yucatan Peninsula to Trinidad and Tobago just off the coast of Venezuela. Cuba is closest to Mexico, then Haiti and the Dominican Republic sharing the same island, and then Puerto Rico. The rest of the arc is made up of much smaller islands, including the U.S. Virgin Islands, Anguilla, Antigua, Martinique, Barbados and Grenada.
I, probably like most Americans, didn't know anything about Puerto Rico before travelling there for the first time in January 2011. Being a history buff, I did remember that in the early 1950s a couple of Puerto Ricans tried to assassinate President Truman and in 1954, four Puerto Ricans opened fire on the House of Representatives wounding a number of people. Jimmy Carter pardoned them in the late 1970s.
My naivete lead to an uncomfortable conversation with a waitress our first night on the town. I had no idea that she was a separatist--or that some Puerto Ricans still advocate for forming their own country and see the United States as an occupying force. They are relatively few in number, but I was more careful in my conversations after that.
Politically, Puerto Rico is a confused place. The citizens are Americans and have served in our armed forces with distinction for many years. But they speak Spanish as their first language. They cannot vote in our national elections, and now there are more Puerto Ricans living on the U.S. mainland then there are in Puerto Rico. They live in what the psychologists call a state of cognitive dissonance, or a feeling of discomfort when simultaneously holding two or more conflicting ideas, beliefs, values or emotional reactions. For instance Puerto Rican speed limits are posted in miles per hour, but distance markers are in kilometers. Puerto Ricans sell gasoline by the liter and generally refer to the dollar as a peso. They use the "cuerda," which is a unit of area left over from Spanish colonial days and is equal to almost an acre. They also sell their beer in 10-ounce cans (for the life of me I cannot figure out why).
Puerto Rico is not generally known as a tourist destination like many of the other islands in the Caribbean. Most visitors are on their way to another island, or hopping on a cruise ship in San Juan's famous harbor.
In reality, though, Puerto Rico has everything a tourist looking for an exciting holiday could want. The main tourist area called Condado has well-tended beaches, museums and marvelous restaurants. My favorite is the Argentine steakhouse, but the ceviche at the Peruvian restaurant was to die for, and there is also Brazilian cuisine, many others as well.
Of course, we also loved the more causal restaurants that specialize in traditional Puerto Rican food such as the ever-present and delicious mofongos, a dish made from fried green plantains. Do be careful with this dish though, as mofongos are sometimes made with a lot--and I mean a lot--of garlic, and I spent a couple of uncomfortable nights before I figured this out.
I have been to Puerto Rico three times now and have not run out of things to see and do. Viejo San Juan (Old San Juan) is still a favorite of mine for an evening walk. It is a picturesque 10-square-block area full of shops, bars and cafes, with narrow blue cobblestone streets and flat-roofed brick-and-stone buildings dating back to the 16th and 17th century when Puerto Rico was still a Spanish possession. Imbedded in Viejo San Juan are massive stone forts that have withstood the likes of Sir Francis Drake to explore, nearby there a rum factories to visit with free drinks, fabulous museums, home-grown coffee (the elixir of life it's scientifically proven that whatever it is you're going to die from, it takes longer to die if you drink coffee) to drink and coffee plantations to visit.
The outdoor-minded might enjoy El Yunque, the only tropical rain forest in the U.S. National Forest System, which is full of walking trails, waterfalls and beautiful vistas. Not to forget the bioluminescent bays, a strange other worldly experience where millions of tiny sea creatures called dinoflagellates that live in the water create light when agitated and you swim in the dark surrounded by moon light emanating from the water around you.
But, of course, like everywhere, it is the people who make the place. And Puerto Ricans are among the best at extending hospitality and friendliness; they have the Spanish heritage after all. In the tourist areas everyone speaks English and Spanish, and some a host of other languages for the many international visitors to the island. In the countryside, the people are still friendly, but may not speak English well.
But that is no problem--just remember pointing is a universal language.
Support our reporting -- Follow the MFP.