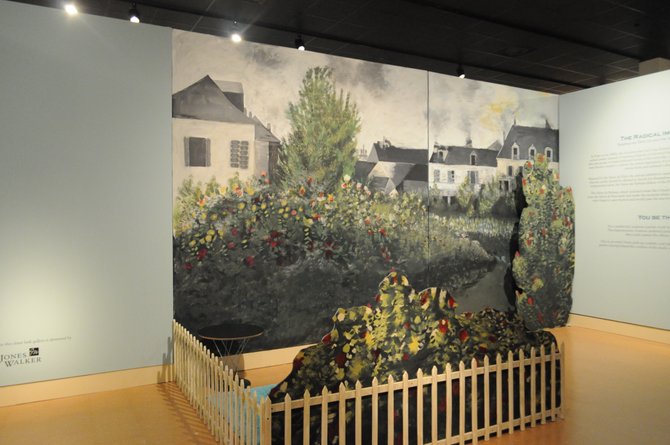 As you turn a corner in the Mississippi Museum of Art, you come face-to-face with a larger-than-life Renoir-esque work. Local artist Ginger Williams-Cook painted the Pierre Auguste Renoir-inspired mural to serve as an interactive element of the latest exhibit, Old Masters to Monet."
"I did it in a short time," Cook says. Although its sounds like she is just being modest, she received the task to recreate a French countryside with very little time to complete it. "I had to have it done before the great art was hung here," she adds. Cook threw herself into the challenge, as she approaches her other artistic endeavors. Now it rests among great masterpieces.
Cook's mural is a good stopping point for children who may have become restless while their parents explore the museum. "We look at it as a family corner," Cook says. Visitors can become imaginary Impressionists by dressing up in a beret, holding a palette and stepping into a certain spot along the mural. Cook built a fence and imitation bushes to make the display three-dimensional, and beanbags and children's books relating to French art entertain minds young and old. Working with Carol Cox Peaster, Cook also created a felt board where visitors can create their version of a countryside home in France.
Jackson native Cook feels art has always been instilled in her. "It is a natural talent. It was bestowed upon me," she says. She completed her BFA at William Carey College where she learned, "You can't be successful on talent alone!"
Now married three years with a 1-year-old daughter, Cook finds herself maintaining her passion of art in every aspect of her life, including as studio program coordinator at the Mississippi Museum of Art. This summer Cook will be coordinating a summer art camp for children at the MMA.
From kids camp to recreating Renoir, its all in a day's work for Ginger Williams-Cook.
New Faces
by Chris Eden
An added bonus to the "Old Masters to Monet" exhibit is an adjoining exhibition focusing on Mississippi native Theora Hamblett entitled "Symbols of Faith, Home, and Beyond: The Art of Theora Hamblett." Her connection to the French painters seems a bit of a stretch save for the irony of her being born in Paris--Paris, Mississippi, that is. Her paintings are at once bright and colorful, full of emotion and vibrancy. Each work feels like looking into a dream sequence, slightly nostalgic and a little surreal. The viewer is placed in a position overlooking entire scenes while being uninvolved in the action, literally occupying the mind's eye of Hamblett. This quick showcase makes me want to dive deeper into a better understanding of this artist and her thoughts. Perhaps a trip to Oxford, where the rest of her collection is housed, is what's in store for April's art historical adventures.
Admission to "Old Masters" includes Theora Hamblett. The exhibit runs through June 23.
More like this story