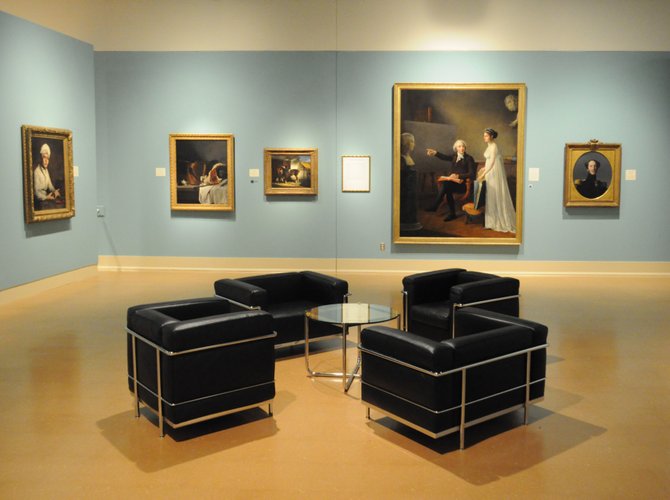 It has been a great month for art historians in Mississippi. For the first two weeks of March, much of the world's media focused on Vatican City, especially the Sistine Chapel, with its Renaissance masterpieces splashed across TV screens in the background of nearly every segment. As March comes to a close, Mississippi welcomes the foremost French artists from a time period when Paris served as the center of the Western art world.
The Mississippi Museum of Art's new exhibition, "Old Masters to Monet: Three Centuries of French Painting from the Wadsworth Atheneum," covers all the major players and artistic movements between the Renaissance and Post-Impressionism in an almost overwhelming collection on loan from the first public-art institution in the United States.
A first pass through the galleries might leave a good many viewers struggling to see the connective threads among all the competing artwork, but the exhibition's essentially chronological sequencing brings some order to the chaos. It's refreshing to physically step back and see a broad timeline of artistic progression: how these painters reacted against or took inspiration from their contemporaries and predecessors. It might be helpful to stop every two or three paintings to find your place, noticing how styles change or reappear after a brief lull.
Poussin's "The Crucifixion" is a good place to start. It physically dominates the first section of the exhibition, nearly as large as the wall on which it hangs. The painting is an impressive one, if only for its size. It is more interesting for failed restoration attempts than for serving as a particularly good example of the artist's particular style. Left abandoned and unfinished, murky browns and reds dominate the canvas due to the quickly degrading experimental paints the artist used. Initial conservation techniques damaged the painting further before a successful cleaning in the 1990s. But Poussin stands apart from the other artworks around him, which depict frivolity and sensuality. His subject matter is somber, and his arrangement of figures is carefully planned, ordered and stable. He sets the stage for one of the great artistic battles just around the gallery wall.
Turning the corner into the middle third of the exhibition reveals a confrontation of the Neo-Classicists David and Ingres with their Romantic counterparts Gericault and Delacroix. David and Ingres continue Poussain's classical influences of clarity, balance and idealized style. David's "The Lictors" is the most explicit with its Greco-Roman setting while Ingres' portrait of Ferdinand Philippe is more sculptural than painterly. Duke Ferdinand would surely be at home among any of the famous classical Greek statues; all he needs is a quick coat of whitewash. The emotions here are rather cold and staged.
Gericault and Delacroix are among those artists whose styles move in the opposite direction. Their canvases are dynamic and dramatic. Brush strokes become visibly apparent, and it is hard to make out where colors begin or end. Oranges meld with reds. Blues flow seamlessly into greens and lighten to pinks. Moving beyond this turbulent corner of the museum, it is clear that the latter third of the exhibition was greatly influenced by these Romantics. The Impressionists and Post-Impressionists round out the collection, complete with superstars Renoir, van Gogh and Monet.
One of Monet's "Water Lilies" is strategically placed at the far end of the gallery; make it worth your while to walk the gallery length while watching his image slowly disintegrate into nearly abstract patches of color.
The exhibit includes one of the many self portraits of everyone's favorite tortured artist, van Gogh. He looks particularly frail in this 1887 version, which he finished just three years before his death. And if you think of paintings as essentially flat, move in closer to examine his layering of paint upon paint. You'll find defined peaks and valleys in these rough brushstrokes.
Though the usual old friends of art history are all included here, there is still room for a couple of surprises. It is nice to see Vigee Le Brun take her rightful place among an otherwise all-male array. She was popular in her own right during her day, and a favorite of Marie Antoinette, whose portrait is on view.
More surprising is Louis Anquetin, whose paintings are fairly rare to see in America. His "L'Avenue de Clichy" embodies what the product of a Gauguin-van Gogh collaboration might resemble. Sadly, he painted few of these more progressive works before turning to a more conservative style that provided him a more stable livelihood. (And who can really blame him for that?) The various vignettes sprinkled throughout the exhibition are where the exhibit really shines. Though they may appear geared toward a younger audience, they offer great insights into placing the artworks in context and are highly interactive.
Tickets to Old Masters to Monet are $12 adults, $10 seniors, $6 students. Museum members and children 5 and under are free. Museum hours are Tuesday through Saturday, 10 a.m. - 5 p.m, and Sunday, noon - 5 p.m. The exhibit runs through Sept. 8.