JEFF AMY, Associated Press
JACKSON (AP) — More school districts achieved higher grades in the first year of Mississippi's new school rating system, thanks to increased test scores and the suspension of graduation rate requirements for higher-scoring districts.
Districts and schools got letter grades for the first time Friday. Under a new law, the old seven-step system, running from a high of star to a low of failing, is now to a five-step A-to-F system. The bottom three ranks of the old system — low performing, at risk of failing and failing — all now count as an F.
While in 2011, only 32 of the state's 152 districts earned what are now counted as As and Bs, this year 50 districts got those marks. And while 70 got what are now Ds and Fs last year, this year only 57 rated that low. The number of C districts fell from 50 to 42.
The three districts rated A are Clinton, Enterprise and Pass Christian. They were star-rated districts in 2011.
The B tier, which had been called high performing, expanded to 47 districts in part because the state Board of Education suspended graduation rate requirements for a year.
Last year, a district had to graduate 75 percent of high schoolers or meet another measure of high school completion to reach that tier. Earning Bs and not Cs because of that change were 10 districts: Petal, Grenada, Itawamba County, Lowndes County, Alcorn County, Lauderdale County, Tupelo, Scott County, George County and Forrest Agricultural High School.
"I am proud of the improvements made in many of our school districts, but with 66 percent graded at C or worse, clearly the Legislature's work to reform our educational system is only beginning," Lt. Gov. Tate Reeves said in a statement.
A district where large shares of students are poor or black has a strong probability of performing poorly in the ratings, according to a mathematical analysis by The Associated Press. The average district with an F rating in 2012 had a student body that was 93 percent black, with 91 percent from impoverished homes. Statewide, half of public school students are black and 62 percent are impoverished.
Poverty is an obstacle to improving achievement, said Rachel Canter, the executive director of Mississippi First, which seeks changes to the state's education system. She also said that studies show that even when controlling for poverty, black children show a gap on test scores which may a be a residue of historic deprivation. Canter says the state should do more to study schools where students learn despite poverty.
"Poverty is not destiny," she said. "We've got to get better on how to work with that."
There were 101 districts where the numerical index measuring overall test scores rose. The index was level in 10 districts and fell in 38.
Interim State Superintendent Lynn House said the improvements in district scores are "a testament to the hard work of the total school community." She said that as A and B ratings increase "it would be time to look at raising our standards again to ensure that a high level of rigor is maintained."
Hinds Agricultural High School, rated F, saw its index fall by 44 points to a paltry 67. That drop was the largest among districts and the 2012 level was the lowest.
Yazoo City was another district that dropped sharply. Arthur Cartlidge, a former superintendent who returned in November as the district's interim leader, said teacher and principal turnover at one of the district's elementary schools hurt performance, as did trouble at Yazoo City High School.
"We didn't do well," Cartlidge said. "We lost ground overall."
The superintendent, though, said stronger efforts are being made to train administrators and teachers and he believes test scores will improve in 2013.
"We believe we are on course," Cartlidge said.
Kemper County, rated D, saw its index rise 29 points, the biggest increase in the state. The east Mississippi district fell just short of a C grade despite the jump.
Montgomery County was another district with a big jump, 21 points. Newly elected Superintendent Mike Hood said the district focused on improving students' reading and junior high math skills.
"It's basically just the hard work of the teachers," Hood said in explaining the district's success. "We put a focus on the skills that were going to be assessed."
With about 350 students, Montgomery County is Mississippi's second-smallest K-12 district, above only Benoit. The small number of students means improving only a few test scores can raise the district's rating. Despite the big jump, Montgomery County remained rated C. Hood said he thought the new system is "equitable" but said he looked forward to getting above a C.
"I know personally we are better than that and I know in the coming years we are going to show that," Hood said.
In the eight districts the state has taken over, scores rose. Growing the most were Hazlehurst by 15 points, Indianola by 19 points and Sunflower County by 15 points.
The state is preparing to return Okolona, ranked F, and Hazlehurst, ranked D, to local control.
"We're never satisfied when performance is at the D or F level," House said in a statement. "We believe as we continue to work with districts in this transition period to improve education, we will see improvements for children in our state."
Three districts testing out curricula that don't follow state standards — Clarksdale, Corinth and Gulfport — were not rated.
Copyright Associated Press. All rights reserved. This material may not be published, broadcast, rewritten, or redistributed.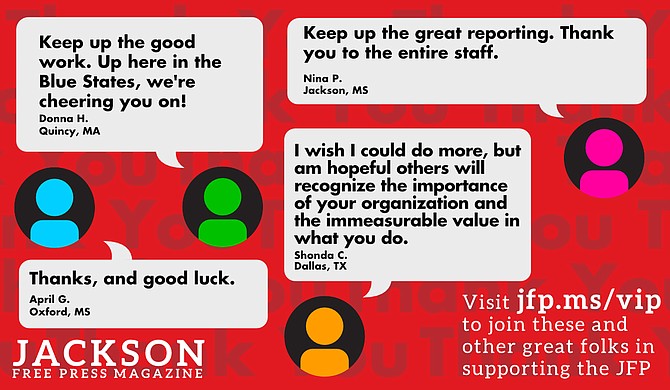 Thanks to all our new JFP VIPs!
COVID-19 has closed down the main sources of the JFP's revenue -- concerts, festivals, fundraisers, restaurants and bars. If everyone reading this article gives $5 or more, we should be able to continue publishing through the crisis. Please pay what you can to keep us reporting and publishing.