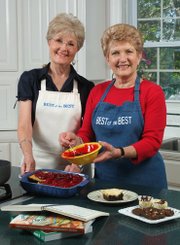 In 1978 Barney McKee, then director of the University Press of Mississippi, brought home a cookbook that he couldn't publish. That book was "The Twelve Days of Christmas Cookbook," and his wife, Gwen McKee, was enamored. She found the book too cute to let fall to the side and took up the challenge of publishing it herself. An English and journalism major, McKee has an affinity for writing, and she loved to cook, so it was a perfect fit.
That was the beginning of the Quail Ridge Press, born on the McKees' dining-room table on Quail Ridge Drive in Brandon.
During her early years publishing, McKee found the fledging company's biggest challenge was "having the confidence to believe that I could actually start and run a business. ... (and) that I could talk people into buying my cookbooks," she says.
She would often second-guess herself when trying to sell a book to stores—"You don't really want this book, do you?" She asked of bookstore managers. As unsure as she was of whether she could do it, she got the first book out, and it was a success. After that first foray into publishing, the company got larger than she ever expected.
After successfully publishing several cookbooks, McKee's husband suggested doing a book that gathered all the best recipes from a state into one book, and McKee set out to do just that. She brought in her friend Barbara Moseley, and the two got to work on Mississippi. Their "Best of the Best of Mississippi Cookbook: Selected Recipes from Mississippi's Favorite Cookbooks" (1982, $16.95) did fantastically—McKee says it was "just a huge success." Today, it is still one of their best-selling books each year.
A year later, Quail Ridge published "Best of the Best of Louisiana Cookbook: Selected Recipes from Louisiana's Favorite Cookbooks" (1983, $16.95). That book was a resounding success, as well. After that, the two—known to their fans as "The Cookbook Ladies"—decided to keep going to other southern states, eventually extending north and coast-to-coast, encompassing all 50 states in America. The "Best of the Best" series includes regional books as well, such as those featuring the Deep South, Midwest and the Great Lakes regions. The company that started on a dining table is bigger than Gwen ever dreamed it could be.
Ensuring the success of Quail Ridge is still hard work, McKee says, even as the company has grown. She praises her staff for easing the load, but she still oversees and helps in the process. A large part of any small business' continuing success, she attests, is smart money management and growth and avoiding debt.
"A lot of people want to expand real quickly. They feel like, 'Yeah we've had a success, let's publish six cookbooks, instead of the one or two we did last year,' and I think that's risky," she said. "We didn't take a lot of big risks. We were conservative. ... I would advise, if you're doing something well, keep doing it, and grow a little bit at a time."
The cookbook publishing process begins by finding someone who can write recipes. Sometimes Quail Ridge gets submissions from folks who have authored recipes and want to publish them. Then, the recipes go through editing and testing. The publishers want to know that every recipe actually makes a dish people will want to cook and eat.
The design of the book, from the theme to the formatting and cover art, all has to be perfect, McKee says. Then Quail Ridge must complete marketing research to determine how many people might be interested, who and where they are, and let them know about the upcoming release.
Finally, the book needs to be sold to stores, printed and shipped. Moseley and McKee oversee each step of the process and will step in when necessary.
Book publishing may not be an easy job, but it is one McKee loves. Her love of cooking and writing motivate her to bring people the best cookbooks possible. However, the process of bringing specialty products to potential consumers is difficult, especially in marketing cookbooks. Each book is "almost a gamble," she says. "You're gambling on how many people will want to buy this." Still, she said, "You have to have confidence in your product. You have to know that what you have will make somebody's life better."
Quail Ridge Press' beginnings and growth are a quintessentially American story of entrepreneurship. A woman with skills, passion, ideas, and plenty of support from friends and family was able to turn a home-based venture into a full-time job, and then into a successful business. And while McKee may be retiring soon, she's sure that someone will pick up the reins of Quail Ridge to continue its tradition of publishing quality cookbooks for the whole country—from right here in Mississippi.
For more information and the complete Quail Ridge Press catalog, visit http://www.quailridge.com.
More like this story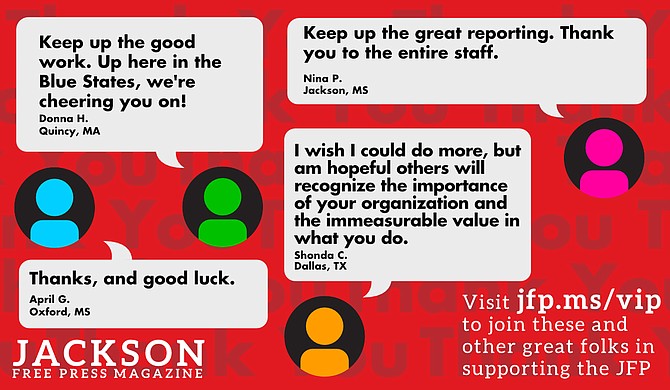 Thanks to all our new JFP VIPs!
COVID-19 has closed down the main sources of the JFP's revenue -- concerts, festivals, fundraisers, restaurants and bars. If everyone reading this article gives $5 or more, we should be able to continue publishing through the crisis. Please pay what you can to keep us reporting and publishing.