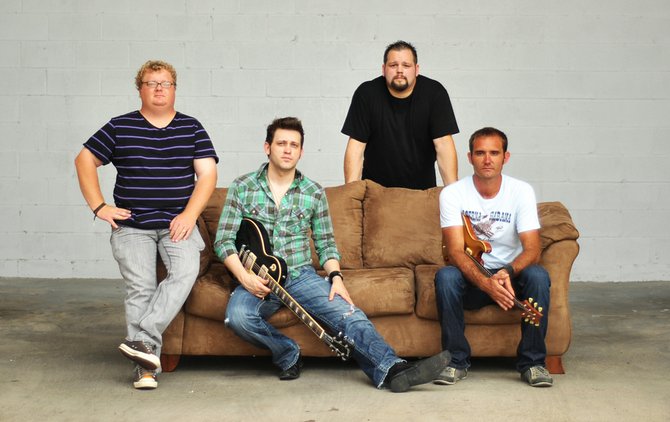 May was a big month for Small Room 9. First, Marlene Palumbo from the Rock Band Network chose the band to be featured as downloadable content for the video game Rock Band with the song "Paging Ground Control." The next week, Small Room 9's album, "SR9," rose to the top of AirPlay Direct's most-downloaded rock-album chart with 75 downloads in just a few days. The website allows radio stations to find and download songs to play on the air.
"It's kind of neat. You do all this work for all this time—it's nice when things start happening," guitarist Glenn Sasser says about his band's recent success.
This weekend, Small Room 9 will perform at Hal & Mal's.
The Hattiesburg-based Small Room 9 is lead singer Rod Mooney, guitarist Sasser, bassist ­Rusty Galt and drummer Joseph "Fluff" Kinkead. Together, they create a sound that is different and radio-ready at the same time.
Sasser likes to generalize Small Room 9's sound as alternative rock. "It's like that cross between U2 and Foo Fighters. I don't know how else to describe it," he says. Dave on HypeTree, a website where people can discover and rate independent musicians, first made that comparison. He says that they "take the inspirational lyricism and guitar versatility of U2 and mix it with the edge and rock and roll attitude of the Foo Fighters."
While it's an honor to be compared to two big names such as those, Sasser says that he and his bandmates don't chase a certain style. "We don't try to sound like anybody. There's just so much music out there, there's bound to be comparisons," he says. The band is, however, influenced by bands such as Oasis, U2 and Muse—bands that Sasser describes as more melodic and not so heavy.
Unlike most bands, Small Room 9 has not released any singles, yet. Instead, they upload to AirPlay Direct.
"We've had a demand for pretty much every song," Sasser says. "Being Human," "Again," "Paging Ground Control" and "All I Ever Wanted" are just a few of the most popularly downloaded songs. After the success of "Paging Ground Control" on the radio and with Rock Band, Small Room 9 plans to film a video for the song in January and release it as their first single.
"There's all these things that are going on in your life, and you can't really do anything about it," Sasser says about the song's message.
The band is preparing to do a European tour next summer, because European radio stations download and play Small Room 9 songs the most. "They don't think we're from the United States," Sasser says.
Unlike some popular bands these days, Small Room 9 tries to relay a positive message through its music. "Find Me" is about trying to reach out to someone who is following all the wrong paths. Sasser says they usually play it last at live shows.
Just as the late Herman Snell wrote in 2004 in the Jackson Free Press, Small Room 9 is "nothing too heavy, nothing too pop, just straight up rock and roll."
Small Room 9 performs at Hal & Mal's (200 S. Commerce St., 601-948-0888) Sept. 15 at 10 p.m. The cover charge is TBA. Find Small Room 9 on Facebook or ReverbNation.
Support our reporting -- Follow the MFP.