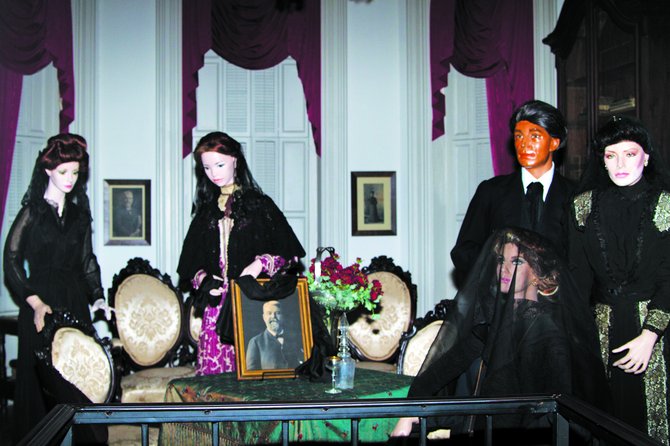 A cold, misty October evening and a Florence home alleged to be haunted provided an excellent opportunity for Mississippi natives John Bullard and Matthew Grantham to conduct an investigation into the paranormal.
This was not the first time Bullard and Grantham had been to the home that they regard as a consistent source of other-worldly evidence. Their investigation into the unusual occurrences at the home began over a year ago at the request of the homeowner who wishes to remain anonymous. During the course of several overnight sessions at the home, the investigators captured a substantial volume of audio and video recordings of disembodied voices responding to questions and unusual light activity. The evidence is available for review at Bullard and Grantham's website, smokeandmirrorspi.weebly.com.
The homeowner stated that the unusual occurrences began more than 20 years ago when the house was built, but the intensity and frequency had increased in the past few years. She recounts a series of incidents involving lights appearing with no apparent source, sounds of footsteps while home alone and, ultimately, the manifestation of a 3-foot-diameter ball of light that did not illuminate a dark room and lasted for five minutes.
A neighbor substantiated the unusual activity with several stories of strange lights, sounds and apparitions in windows when the house was supposed to be unoccupied. There was at least one incident during which the police were called to investigate. The homeowner said she has not slept in the house since the unexplained activity intensified over a year ago.
The "private residence" in Florence is just one of many haunted locations where the investigators have conducted overnight recording sessions during the past four years. Bullard and Grantham have conducted research at more than 20 haunted locations in Mississippi, Louisiana, Tennessee and even on the island of Jamaica.
Both investigators agreed that the Merrehope Mansion in Meridian was the most haunted location they have researched. It demonstrated the highest level of paranormal activity. "We have conducted three sessions at Merrehope and heard doors slamming where no one was present, footsteps following us in the hallway, voices telling us to get out and saw a woman's shadow on the wall where her hair was defined," Bullard said.
"The events at Merrehope were recorded on video and are available on the website," Grantham added.
Bullard's childhood experiences prompted his interest in spirit activity. "When I was a child, my grandfather would take me to an abandoned house in Brookhaven where I would hear distinct voices talking to me, although no one lived there. I referred to it as the crowded house. Since then I have been trying to validate that experience," he says.
The investigators use a critical approach and a wide array of technology in their quest to better understand the nature of spirit activity.
"We are interested in shedding light on questions such as what these energies are, why they are here, relationships between spirits and ultimately, is there life after death? We attempt to validate the phenomenon by using multiple electronic devices such as video cameras, sound recorders and instruments which measure energy levels. The history of the location is also considered," Bullard says.
The investigators have drawn some conclusions based on their work. "We are definitely detecting, communicating with and recording a form of energy which demonstrates intelligence and emanates from a dimension other than our physical world," Grantham says. "These energies vary in strength, and it is difficult to predict when they will manifest."
The ghost-hunting team is planning an investigation that may be its most challenging to date. They have been invited to conduct research at the notorious Villisca Ax Murder House in Villisca, Iowa. The house was the site of the unsolved murder of a family of six, as well as two young guests, and is reputed to harbor a high level of paranormal activity.
Support our reporting -- Become a JFP VIP.
The news business has changed dramatically in the past year, and we need your help more than ever to keep bringing you important stories about Jackson and the Metro. Become a JFP VIP with an annual membership or you can Sign up as a monthly supporter. Thanks for anything you can do to empower our journalism!