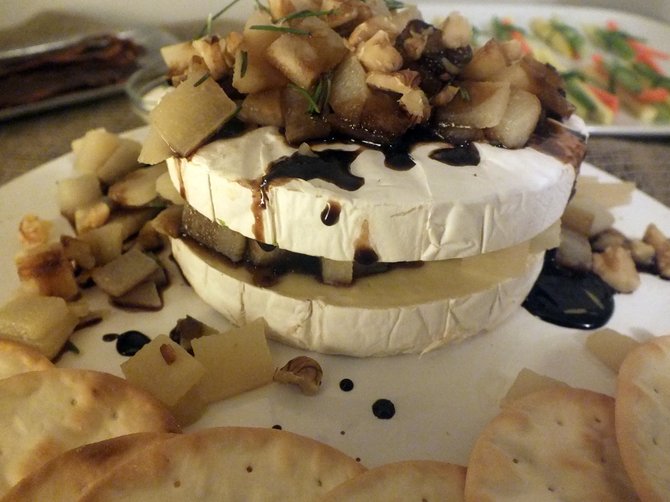 It's that time of the year again—holiday music, sweaters and an endless stream of party invitations. By your third party, you've seen it all before—the chips, hummus, salami and vegetable trays. Leave the cheese balls and fruitcakes for those other parties and lay out a spread that will impress even your Saveur-reading, foodie friend.
The Menu
Pears and Brie
Forget cubed cheddar cheese. This year, think creamy, tangy and aromatic. The pear adds a nice crunchy contrast to the creamy Brie. Fragrant rosemary lightens the flavor with fresh, piney notes. Balsamic vinegar and a bit of bourbon create a tangy-sweet sauce, and crisp watercress crackers provide a neutral foundation for each tasty bite. 
Parmesan Flatbread with Brussels Sprouts and Bacon
Brussels sprouts may not have been cool when we were kids, but as adults, they seem positively gourmet. Crispy phyllo dough plays the perfect host to the nutty, smoky goodness happening on top. Teaming brussels sprouts with bacon, caramelized onion and Parmesan will win over even your pickiest guest.
Caramelized Onion Tartlets
There's no need to offer Santa cookies when this sweet and savory bite is on hand. The buttery crust and sugary onions balance the smooth, tart crème fraiche and crisp, fresh chives. 
Chocolate-Dipped Bacon
Step aside vegetarians. Carnivores take heed. You're about to have a serious food-crush on the prettiest hors d'oeuvres at the party. This glorious creation combines America's two great loves into a bite that can only be described as divinely gluttonous. 
Root Chips with Thyme
Swap that tired bowl of nuts for these vibrant, colorful chips. Fried or baked potato, beet and sweet-potato chips are given a perfumed makeover with sea salt and fresh thyme.
Candied Citrus
No need to break out the M&Ms for this party. Candied citrus rinds are a refreshing, acidic element in this spread. Not only are they beautiful, they are positively yummy!
Winter Crudités 
It is the store-bought vegetable tray re-imagined! Use chives as an edible ribbon holding together your crisp julienned vegetables. These pretty bundles are great for easy party handling and dipping.
Truffle Bar
Who says adults don't like playing with our food? A truffle bar adds a fun, interactive element your guests will love. Offer basic bittersweet truffles accompanied by toppings like powered chocolate, sugar, or crushed peppermints. For an easy take-home favor, simply station small gift boxes nearby.
This menu's use of seasonal ingredients keeps things surprisingly affordable. The total menu for eight to 10 people and handmade decorations will cost less than $50. Now that's a holiday miracle!
The Preparation
Spreading the party prep across several days will allow you to greet your guests relaxed and ready, rather than frantic and frazzled.
Monday
Shop for groceries.
Tuesday
Make pate brisee for caramelized onion tartlets.
Slice citrus peels, blanch and cook in sugar. Let sit overnight.
Wednesday
Make crème fraiche (Mix 1/2 cup heavy cream with two tablespoons of buttermilk; cover bowl and let sit at room temperature for 24 hours. Stir and store in refrigerator.)
Drain citrus peels and cover in sugar.
Thursday
Cook pate brisee in muffin tins and store in airtight container.
Make truffles and store in refrigerator.
Caramelize onions for the tartlets.
Friday
Slice potatoes and beets for root chips and store in refrigerator.
Cook bacon for chocolate-dipped bacon; store in an airtight container.
Roast brussels sprouts and caramelize onions for the flatbread and store in refrigerator.
Saturday
Morning
Dip bacon in chocolate and store in refrigerator.
2 hours before
Slice vegetables and assemble crudités.
Assemble tartlets.
Cook and assemble Brie.
1 hour before
Cook chips.
Assemble and cook flatbread.
The Recipes
Pear and Brie
(serves eight to 10), adapted from Martha Stewart's Pear and Camembert recipe
1 8-ounce wheel of Brie
1 tablespoon butter
1 pear, peeled and diced
2 tablespoons bourbon
1 teaspoon fresh rosemary, chopped, plus more for garnish
2 tablespoons balsamic vinegar
1 tablespoon honey
1/4 cup chopped walnuts
Put Brie in freezer for five to 10 minutes to make it easier to slice. Slice Brie in half horizontally and store in refrigerator.
Melt butter in skillet and cook pear until tender (about three minutes). Add bourbon and cook another minute. Turn off the burner and stir in rosemary.
In a small pan, simmer the balsamic vinegar and honey until it thickens (about three minutes).
To assemble, pour half of the pear mixture on half of the cheese. Drizzle with the balsamic mixture. Place second half of cheese on top and repeat with remaining ingredients. Garnish with chopped walnuts and rosemary and serve with crackers.
Parmesan Flatbread with Brussels Sprouts and Bacon
(serves eight to 10)
2 cups brussels sprouts, cut in half
2 tablespoons olive oil, plus 1 teaspoon
1/2 teaspoon black pepper
1 small onion chopped (about 1/2 cup)
3 slices of bacon, cooked and chopped
1 sheet puff pastry (thawed)
1/2 cup Parmesan cheese
1 egg
Preheat oven to 400 degrees. Toss sliced brussels sprouts with two tablespoons olive oil and 1/2 teaspoon of black pepper. Roast for 10 to 15 minutes, until the edges have browned.
Meanwhile, cook onion in skillet with one teaspoon olive oil. Cook until the onions have become translucent and edges brown (about five minutes). Using the same skillet, cook bacon until crisp and let cool. Once cool, chop bacon in half.
Lay thawed puff pastry sheet on a cookie sheet lined with parchment paper.
Top puff pastry with Parmesan cheese, caramelized onion, brussels sprouts and bacon.
Whisk an egg and brush on the edges of the puff pastry. Cook at 400 degrees for 20 minutes or until the puff pastry is a golden color.
Slice into 16 square, bite-size pieces. Serve warm or at room temperature.
Chocolate Dipped Bacon
(serves eight to 10)
10 slices thick-cut bacon
1/2 cup dark chocolate chips
Cook bacon in oven until crisp. Cool.
Heat chips on a plate in the microwave for one minute (on 50 percent power), or until melted.
Dip half the bacon lengthwise in the chocolate and place on a parchment-lined sheet. Let chocolate harden in the refrigerator and serve.
Truffle Bar How-To
Truffles (serves eight to 10), based on Martha Stewart's Bittersweet Truffle recipe
1/2 cup heavy cream
8 ounces dark chocolate
Bring cream to a boil and pour over the chocolate. Let sit for several minutes before stirring to combine. Place in refrigerator until it is semi-firm (one hour).
Use a spoon or a melon baller to scrape the chocolate mixture (two teaspoons) and place on parchment-lined sheet. (If using a spoon, roll each chocolate mound into a ball.) Store in refrigerator until ready to serve.
Have guests create their own truffle by offering various toppings, such as chocolate powder, powdered sugar, coconut, cinnamon sugar, finely chopped nuts or candy.
Decorations
Popsicle stick snowflakes
($1)
Popsicle sticks
Hot glue gun
Use hot glue gun to assemble popsicle sticks in a snowflake design.
Hipster reindeer art
($3)
Canvas or cardboard cut into 18-by-24 inches
12-by-12-inch glitter scrapbook paper
Various 12-by-12-inch pieces of scrapbook paper
White tissue paper
Brown and black paint
Hot glue gun
Dyed tissue paper takes on a unique texture. Use at least three sheets of tissue paper at a time so the paper is heartier once it is dry. I mixed black and brown paint with water to create a neutral palette. Let dry overnight.
Cut scrapbook paper and tissue in large scalene triangles.
Starting at a point in the lower left corner of the canvas use the hot glue gun to glue the small end of the triangle. Work your way around the canvas until it is covered. Wrap the overlapped ends of triangles around the canvas and glue the ends.
Draw your reindeer silhouette or print a template from jfp.ms/reindeertemplate, and tape on the back of the glitter scrapbooking paper (Note, the neck of the reindeer will go over the 12-by-12-inch paper. That's OK; you'll just use the scrap paper after you cut out the reindeer antlers). Using the template as a guide, cut out the reindeer.
Glue reindeer onto canvas covering the spot where all the paper joins.
Wine cork tree
(the cost of lots of wine)
38 wine corks
1 champagne cork
1 foot of twine
Hot glue gun
Using a hot-glue gun, create a base of four wine corks. Layer with rows of wine corks in the following combination: 4 (the base), 6, 7, 6, 5, 4, 3, 2, and 1.
Glue champagne cork to the base to create the stem.
Create a bow with the twine and glue it on top.
More Recipes
Candied Citrus
(serves eight to 10), adapted from Martha Stewart's Candied Citrus recipe
2 lemons
2 tangerines
2 cups sugar, plus more for dusting
Cut citrus in half then cut it again making four pieces. Scoop out citrus and reserve for another use. Scrape any fruit remnants from the skin with a spoon.
Put rinds in saucepan with enough water to cover them and bring to boil, then drain. Repeat twice.
Bring two cups of sugar and two cups of water to a boil and add rinds. Simmer for 45 minutes.
Remove from heat and let sit overnight.
Remove rinds from the mixture onto a wire rack (with something underneath to catch excess syrup). Roll strips in sugar and let dry for at least 30 minutes.
Winter Crudités
(serves eight to 10)
1 carrot, peeled
6 green beans
3 celery
1 squash
12 chives
Julienne cut the vegetables.
To assemble, wrap vegetables and tie a knot with the chive sprig. Serve with ranch dressing.
Root Chips with Thyme
(serves six to eight)
1 white potato, peeled
1 sweet potato, peeled
1 large beet, peeled
1 teaspoon kosher salt
Fresh thyme for garnish
Preheat oven to 500 degrees.
Use a mandolin to slice potatoes and make sure the slices are dry before putting them in the oven. Cook for 15 to 20 minutes until brown. (Alternatively, you can fry them at oil heated to 375 degrees.)
Sprinkle with salt, and garnish with thyme.
Caramelized Onion Tartlets
(serves eight to 10)
Pate brisee (pie dough)
3 tablespoons butter
6 tablespoons sugar
1 large onion, thinly sliced (about 1 cup)
1/2 cup crème fraiche
2 tablespoons fresh chives, finely chopped
Preheat oven to 425 degrees.
Roll pie dough on a floured surface until it's 1/8-inch thick. Use a two-inch round cookie cutter to create 16 discs. Put disc in a muffin tray pan and cook for 10 minutes or until crisp and golden brown. Cool.
Meanwhile, melt butter over medium heat and add sugar. Stir until dissolved and the butter turns an amber color. Add onions and cook until caramelized (about 15 minutes). Cool.
To assemble, top tartlet with a dollop of crème fraiche (about one teaspoon), a half teaspoon of caramelized onion and sprinkle with chopped chives. Tartlet can be stored in the refrigerator for several hours before serving.
More like this story