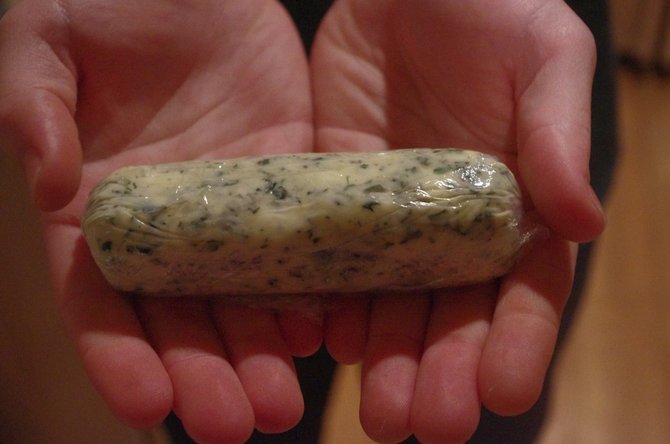 Autumn, to me, screams for comfort food and earthy, warm flavors. I turn away from lighter herbs such as tarragon and dill toward bolder, heartier herbs like sage and rosemary. It is the season that brings us a vast array of root vegetables and dark fruits. A juicy chicken thigh with crispy skin and warm root vegetables will always be my welcoming meal to fall. It's all about the crispy skin for me, and the best way to do this is by making a compound butter to stuff underneath the skin.
A compound butter is butter with herbs, spices and whatever you think is tasty. For fall, my compound butter consists of minced garlic, rosemary, sage, a touch of lemon zest, salt and pepper. The wonder of the compound butter when it is underneath the chicken skin is that it automatically bastes the chicken in the oven and turns the skin into a cracklin'.
Not only is this butter the secret to a perfect chicken thigh, but it is also great in a pan to cook eggs, as a blob of it on top of a warm steak or spread on your toast in the morning—the possibilities are endless and delicious. My recipe has a lot of garlic and other big flavors, which are not for everyone, but you can make it your own with flavors that appeal to you. Think of it as a canvas for your own spice and herb combinations.
  To accompany the chicken thigh, I like a smooth cauliflower puree and glazed baby carrots. Nothing fancy or difficult to make, but the creamy element of the cauliflower and the sweet caremelization of the baby carrots will complement the chicken nicely and make for a balanced meal that has a richness to it that does not overwhelm the palate.
To plate, spoon a dollop of the cauliflower puree across the plate, rest the chicken thigh on top of it and lean the carrots against the thigh. I also like to finish the dish with some toasted pine nuts to round it out. With the milky color of the puree, the brown of the chicken and the orange carrots, the plate will need some color to liven it up, so garnish with fresh thyme or even some flat leaf parsley. Chicken with carrots and cauliflower is nothing fancy, but with some finesse and time it is easy to make these simple ingredients extraordinary and flavorful.
Compound Butter
2 sticks butter
1/8 cup rosemary leaves
1/4 cup fresh sage
1/8 cup fresh thyme
5 cloves garlic, minced
1-2 teaspoons lemon zest
There are a few different ways to make a compound butter, but I simply leave the butter out for 30 minutes to an hour until soft, and then scrape and mix all the ingredients together in a large bowl with a spatula or fork. You can also use a food processor or standing mixer to mix everything together.
Chicken Thigh with Compound Butter
4 chicken thighs
The thigh is perfect because it's a dark piece of meat, on the bone with rich flavors. Make sure you get your thigh on the bone with the skin on (boneless+skinless=less flavor). The key to a perfect thigh is crispy skin and a juicy interior.
Take the thighs, and massage about half a tablespoon of compound butter underneath the skin of each. Be gentle so you do not take the skin off. Salt and pepper both sides of the thigh and place in an oven-proof dish or pan. Bake at 425 degrees for about 10 minutes and then lower the heat to 325 degrees for about 40 minutes. To ensure crispy skin, put the broiler on the chicken for just a minute.
Cauliflower Puree
1 head cauliflower
1-1/5 cups whole milk
¼ cup any hard Italian cheese, such as a pecorino
Salt and pepper
Trim and cut the cauliflower into florets of similar size, and steam them with boiling salted water for about 15 minutes. If you decide to boil the cauliflower, be sure to throw them in the oven for a few minutes to dry them out afterward. Puree the cauliflower in batches with the milk. You can use heavy cream if you please, but for me it dilutes the flavors and makes it a touch too rich. Add the cheese, salt and pepper to taste.
Simple, easy and it keeps in the fridge well.
Glazed Carrots
1 pound carrots
1/4 cup water
1 orange
1/4 cup agave nectar or honey
1/4 tsp allspice
Cut the carrots into smaller pieces—similar to the shape of a baby carrot.
Trim, wash and dry the carrots. Then, combine the water, agave nectar, allspice and the juice and half the zest of the orange in a saucepan, and bring to a boil. Add the carrots, reduce the heat, and let them simmer. After 12 to 15 minutes, they should be properly glazed. Salt to taste.
Support our reporting -- Become a JFP VIP.
The news business has changed dramatically in the past two years, and we need your help more than ever to keep bringing you important stories about Jackson and the Metro. Become a JFP VIP with an annual membership or you can Sign up as a monthly supporter. Thanks for anything you can do to empower our journalism!