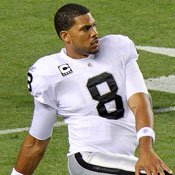 What a pleasure to witness a boy with a big vision and then see him live his dreams as a man. Jason Campbell, NFL quarterback, is doing just that.
I have known of Campbell since high school, but I was familiar with his basketball skills, not his football skills. He was a guard with a really good three-point shot. He played for Taylorsville High School, a small 2A school in rural Taylorsville, about 20 minutes from my hometown of Bay Springs. He had a laid-back demeanor and always appeared respectful. He was clearly gifted athletically, but still seemed to be a nice kid.
Born in Laurel, Campbell is the youngest of three children, with a sister, Melody, 39; a brother, Larry, 36; and four nephews. His parents, Larry Jr. and Carolyn Campbell, have been married for 40 years, but Jason Campbell, 30, is still single.
Campbell was a standout in both football and basketball. After graduating from Taylorsville, he attended Auburn University on a football scholarship. He graduated from Auburn in 2004, and the Washington Redskins subsequently drafted him 25th in the first round of the 2005 NFL draft. He has been with the NFL since, as a quarterback on the Redskins' roster from 2005 to 2009, with the Oakland Raiders from 2010 to 2011 and now with the Chicago Bears.
Admittedly, I never paid attention to how Campbell threw the football; I was more impressed with his basketball skills. But evidently, college and NFL scouts agreed that his real talent is football. I recently caught up with him to discuss life in the NFL.
How does it feel for your hobby to be your job?
Football isn't a hobby. It's a real job, but I do enjoy playing. It's a dream come true. To actually dream about something as a kid and to have it become a reality is a blessing. … It's a lot of fun.
Describe your normal day.
I get up between 5:45 and 6 (a.m.). I have to be at work for meetings at 6:30. We go out and do walk-throughs, have lunch, go practice; we meet again and then go home. It's an eight- to nine-hours-a-day job. We also have to lift weights and watch film. We don't just go to practice and go home.
How was it going from Taylorsville to Auburn?
It was a big move because I went to a big school with 30,000 people from a small high school, but my roots helped me adjust. … Auburn was a family-oriented school, and everyone was trying to make it to the pros.
What was it like going from Auburn to the NFL?
Playing in the SEC prepared me for playing in the NFL; the only difference is that now, I'm doing it for a living. … It was a dream come true, but I still have to push myself to excel.
 
What do you think you did differently that enabled you to get to the NFL?
You have to have a good work ethic, attitude and desire to continue to try to do it even when it's hard. You have to apply yourself. It's not just doing what people tell you to do; it's what you do after practice that makes the difference. It's your work ethic; you can't expect it to be given to you.
What adversities and struggles have you had to deal with?
Having to learn a different offense every year. I had a different offensive coordinator four years in a row in college, and I've had a different coordinator in the pros four times. A lot of guys who play would understand that and understand how difficult it is, but through adversity lies greater things ahead. You have to use it as an opportunity to make you stronger. ... Time away from family is the biggest sacrifice. People don't understand that playing in the NFL is a full-time job, and our job takes us away from our families because we have to live in different cities from our families.
What motivates you?
Coming from a small town and being in the NFL, there are young guys just like me who look up to me. They see me and realize that they can actually live their dreams. Knowing that I give them someone to look up to, even when it gets hard, I can look back and say that there are people pulling for me. I don't want to disappoint them. I'm not only impacting my life, I'm impacting a lot of youth that look up to me.
What's the hardest thing about being in the NFL?
The hardest part is being away from family and, from year to year, having to adapt to all of the changes. … Once you're in, they're always trying to find a way to get you out of the NFL. … Once you're in it, it's harder to stay in. You have to work even harder. … Each year is a different year. Also, you have to know who is in your circle. It's hard to differentiate who your real friends are, but it gives you an opportunity to network and meet new people. For example, I've met President Obama and Condi Rice. … You have to know that (the NFL) is a business that means "Not For Long." You have to have people to fall back on and lean on.
You're coming off an injury, right?
Yes, I broke my collarbone in October. We were six games into the season. I was having my best season in my NFL career. I remember sitting there thinking that this was my contract season. … I had to remember not to question anything; things happen for a reason, and that's how I'm approaching it. … I'm all healed up now. … This was my first major injury ever in football, but things happen for a reason, and you have to try to make the best of it and move forward.
More like this story
More stories by this author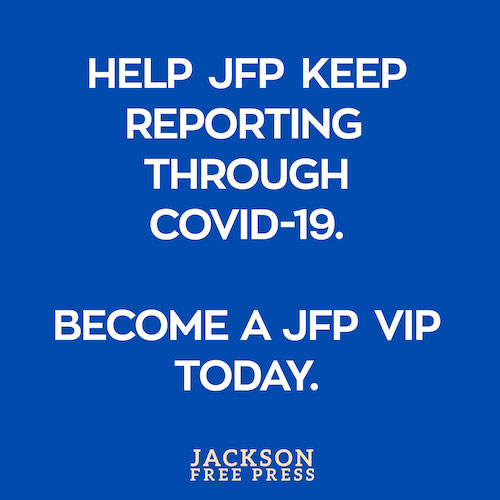 COVID-19 has closed down the main sources of the JFP's revenue -- concerts, festivals, fundraisers, restaurants and bars. If everyone reading this article gives $5 or more, we should be able to continue publishing through the crisis. Please pay what you can to keep us reporting and publishing.