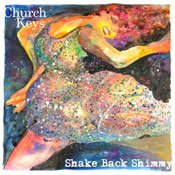 When The Church Keys release their new album, it's bound to be a funky night. With songs such as "Scrimshaw" and "NSFW," the album should prove to be a crowd favorite.
The Jackson-based Church Keys lineup as of 2009 is: bassist and backup singer Kelly Adams, drummer Chris Crothers, guitarist and co-lead vocalist DeMatt Harkins, percussionist Nathan McHardy, and guitarist and co-lead vocalist John Scanlon. Robert Chaffe plays the organ on "Rook City" and "Scrimshaw."
"Shake Back Shimmy" was recorded at Tweed Studios in Oxford, Miss., between August and December last year, and it has 14 original songs. Several songs that didn't make it on "Shake Back Shimmy" will likely appear on another album, which the band has already started working on. Anne Scott Barrett, a friend of the band, created original artwork for the album sleeve cover after listening to the CD.
The first track, "Blown Up," sets the stage for the remainder of the album. It starts with a catchy, fast-paced guitar lick that repeats throughout the song, followed by a groovy bass line.
"Rook City" begins sounding like one of the softer songs on "Shake Back Shimmy." The vocals are high and yearning, matching the lyrics. Harkins sings about losing a girl without knowing why: "It's hard to step back when you're the one involved/And it's hard to learn a lesson when this mystery's unsolved." Harkins wrote the song before The Church Keys were formed. Since then, the song has evolved with the band.
"Scrimshaw" consists of four short lines but is almost four minutes long. "I just wanted something nonsensical there," Adams says. "It's more of a vocal melody than lyrics." There's a guitar solo and an organ solo, giving it something different from the rest of the songs. Adams, who wrote this song, says the idea for the song originated when he saw a piece of scrimshaw carving on television.
Bands such as Little Feat, The Replacements and The Raconteurs influence the Church Keys as well as jazz, funk and classic rock. Adams says he was influenced early on by Red Hot Chili Peppers, which "NSFW" exemplifies.
"It's been a blessing having five people from diverse backgrounds come together and each bring their own flavors to the band," Adams says.
The Church Keys' release party for "Shake Back Shimmy" is 9:30 p.m. March 31 at Cherokee Inn (1410 Old Square Road, 601-362-6388). The $5 cover includes an album. Purchase "Shake Back Shimmy" at MorningBell Records and Studios (622 Duling Ave., Suite 212, 769-233-7468) or through iTunes, Amazon, CD Baby and BandCamp. Visit http://www.thechurchkeys.com or http://www.reverbnation.com/thechurchkeys to hear them for free and to find out more about the band.
Support our reporting -- Follow the MFP.