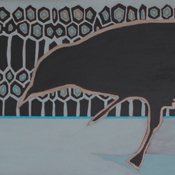 Gallery 119, nestled in the heart of downtown Jackson, may lack a grand entrance, but behind its doors is a sizable space that has housed myriad southern artists' works since the gallery's creation in 2010. The layout is open and rectangular, allowing visitors to take in a body of work as a whole, with plenty of room to examine individual pieces.
In February, the gallery was filled with the eclectic and often whimsical art of Jean Seymour. While Seymour uses a variety of styles and media, the motif of a blackbird unified the show.
The namesake of the show, "Sixteen Ways To Look at a Blackbird," is a series of monochromatic square panels, each with a gestural silhouette of the iconic bird. Overall, Seymour's work is a fusion of recognizable imagery, abstracted pattern and texture.
This body of work grew out of Seymour's repeated visits to the beach with her husband. "My husband and I are the definition of beach bums," Seymour says with a smile. "We love the beach."
All the birds, particularly seagulls and blackbirds, fascinated her, and she began taking pictures and drawing them. "They were just so funny, so I started painting them," she says. That body of work kept building and eventually became the show at Gallery 119.
Seymour says she had a lot of fun painting the blackbirds, but she admits: "I think I may be done with painting birds. I got it all out of my system."
 
The artist has painted a variety of subject matter and says she has trouble narrowing her focus. "It's all just so interesting," she says. However, her fascination with pattern and texture generally unifies her work. She mentions the artist Gustav Klimt as a major source of inspiration, though certainly not the only one. The bookshelf in her studio, located in the back of her spacious home near Fondren, is laden with books full of images, instructional advice and art theory. Paint, brushes and other supplies crowd the counter adjacent to book shelves. Paintings are stacked against the walls and stuffed in drawers. Seymour is in her studio from noon to 5 p.m. every weekday, and the work accumulates quickly. She takes the weekends off to spend time with her husband. 
"The hardest part is getting started," she says. "Staring at the blank surface can be intimidating. The most satisfying part is the process itself. It takes you to a whole other place. It sucks you in." When a piece seems finished, Seymour will sit down with a cup of tea and stare at it to decide what else it needs. She'll make the adjustments, then have another cup of tea and look again. 
Seymour has always loved making art. "Some people were born with a silver spoon in their mouth," she says. "I was born with a crayon in my hand."
It wasn't until she retired from the paralegal profession at age 50, though, that she was able to start focusing on being an artist. "My husband has been very supportive, which has been great," she says.
The artist meets with a group of other artists once a month for a friendly critique.
"Each artist needs to have a real good friend who is savvy about art. Someone you trust and admire," Seymour says. "We all make suggestions and offer advice and then go back to our studios. If we want to, we take the advice and if not, we leave our paintings the way they are, and there are no hard feelings. It's important to get out of the house and socialize." 
Community and support are two things Seymour has had in abundance. She was raised in the Jackson area by her music-loving father, William Reid Gainey, and her two older sisters were both singers. Fondren has also provided her with an outlet for her art. She has been invited to participate in several of Fischer Gallery's themed shows. "I would like to see some kind of list of all the artists working in Fondren," she says.
"Sixteen Ways" is Seymour's fourth solo show, and she continues to gather acclaim. "I was recently accepted into the American Watercolor Society show in New York, which is an international juried show," she says proudly, and justifiably so. The American Watercolor Society will be the fourth major arts society she has been invited to join. She is a signature member of the Pastel Society of America, the International Society of Acrylic Painters and the Mississippi Watercolor Society. 
Seymour is in a comfortable place that she describes as, "loving what I do and where I am, but knowing I've got farther to go."
See Jean Seymour's work at Nunnery's at Gallery 119 (119 S. President St., 601-969-4091) and at SummerHouse (1109 Highland Colony Parkway, Suite D, Ridgeland, 601-853-4445). Visit her website at http://www.jeanseymour.com.
More like this story
More stories by this author
Like independent media outlets around the world, the Jackson Free Press works hard to produce important content on a limited budget. We'd love your help! Become a JFP VIP member today and/or donate to our journalism fund. Thanks for considering a JFP VIP membership or one-time support.