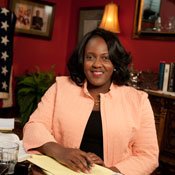 Democratic Primary
President
Barack Obama
Born in Hawaii, Barack Obama attended Columbia University and Harvard Law School and worked as community organizer, constitutional lawyer and professor. He served three terms in the Illinois Senate and one term in the U.S. Senate where he served from 2005 to 2008. He became the 44th U.S. president in 2008. He is unopposed for the Democratic nomination for president in Mississippi.
U.S. Senate
Albert N. Gore Jr.
Albert N. Gore Jr. Is the chairman of the Oktibbeha County Democratic Executive Committee. A Vietnam war veteran, Gore says he completed 91 jumps as an army parachutist and received numerous military honors, including the Purple Heart, Bronze Star, and a Meritorious Service Medal. He has degrees from Millsaps College and Duke University divinity school.
Will Oatis
Born in Silver Creek, Oatis earned a bachelor's degree in history from the University of Southern Mississippi and did three combat tours in Afghanistan as a member of the military. In 2011, he ran for Mississippi governor as an independent and cites education, economic development and restoring Mississippi's image as among his top priorities.
Roger Weiner
Dr. Weiner, a cardiologist, runs the Weiner Heart and Cardiovascular Institute in Clarksdale. He is originally from Philadelphia, Pa., and has made the topics of education, health care, the economy, creating jobs and restoring voters' rights the focal points of his campaign.
U.S. House of Representatives, 2nd District
Heather McTeer
Heather McTeer became the first female and first African American mayor of Greenville in 2003 when she was 27, and served two terms. She has a law degree from Tulane University and did her undergraduate studies at Spelman College. She has said that she would like to sit on the House agriculture and transportation committees, which she said are vital to the development of the district.
Bennie G. Thompson
Thompson is an eight-term congressman from Bolton. He won in his seat in a 1993 special election when then-U.S. Rep. Mike Espy became Agriculture Secretary. Previously, Thompson was an alderman and, later, mayor of Bolton and a Hinds County Supervisor. From 2007 to 2010, he chaired the House Homeland Security Committee and is now its ranking member.
Republican Primary
President
Mitt Romney
Mitt Romney founded and ran private-equity firm Bain Capital until 2002 when he became governor of Massachusetts. During his tenure, the state passed a health-care reform that served as a model for a similar federal law, which Congress passed in 2010. He ran unsuccessful campaigns for seats in the U.S. Senate and for president in 1994 and 2008, respectively. Romney ran the 2002 Salt Lake City Olympic Steering Committee. His father, George Romney, served as governor of Michigan and also ran for president.
Rick Santorum
Rick Santorum represented Pennsylvania for two terms in the U.S. Senate, from 1995 to 2007. He has made several attempts to capture the GOP presidential nomination, and is considered one of the most socially conservative candidates still in the 2012 race. After a sluggish start, Santorum surged late and is in now in a tight two-way race with Romney.
Ron Paul
This makes Ron Paul's third presidential campaign. In addition to his 2008 campaign for the Republican nomination, he ran as a Libertarian in 1988. Paul is a medical doctor and served three stints in the U.S. House of Representatives from the Houston, Texas area.
Newt Gingrich
Former Georgia Congressman Newt Gingrich represented north-central Georgia (including parts of the Atlanta suburbs) in the U.S. House for 20 years before he resigned under pressure from his own party in 1999. In his last two terms, he was the House Speaker, from 1995 and 1999. He is credited with engineering the Republican House takeover of 1994, which broke the Democrats' four-decade-long lock on power. Speaker Gingrich also presided during temporary government shut downs in 1995 and 1996.
Also on the ballot are these candidates, who have withdrawn from the race:
Jon Huntsman, former Utah governor
Michele Bachmann, U.S. Rep. Of Minnesota
Gary Johnson, former New Mexico governor
Rick Perry, Texas governor
U.S. Senate
E. Allen Hathcock—Information not available
Robert Maloney —Information not available
Roger Wicker
Starting in 1994, Roger Wicker held seven terms in the U.S. House. During his last term, Wicker requested topped the list of Congressional earmark requesters. In 2007, then-Gov. Haley Barbour appointed Wicker to fill the seat vacated by retiring U.S. Sen. Trent Lott. In 2011, Wicker introduced an amendment to the defense-spending bill that would let military chaplains decline to perform marriage ceremonies if the chaplain objects for reasons of conscience.
Legacy Comments
99% of the comments made on Newt Gingrich are inaccurate to put it nicely! Find the truth here.... http://www.newt.org/answers/ Then look at his plans to turn America around here: http://www.newt.org/solutions/ Don't let the Republican establishment and pundits lead you astray. Do your own research, then make up your own mind, based on facts, not calculated misrepresentations. Conservatives win elections by running on and standing firm on their Conservative principles.
2012-03-10T08:57:26-06:00
Support our reporting -- Follow the MFP.