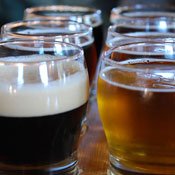 Beer drinkers get a bad rap. Winos might be stereotyped as the classier drinkers, but the world of well-made craft beers is as varied as that of fine wines––if not more so––and it behooves any beer drinker to learn about the myriad styles available.
Despite the many beer styles on the market today, nearly all beer can be classified as either an ale or a lager. It all comes down to the yeast.
Lagers are made with yeasts that prefer to stay around 50 degrees Fahrenheit. They tend to congregate at the bottom of the fermentation vessel and are called "bottom-fermenting yeasts" because of this. Lagers tend to be smoother and mellower than ales.
Ales, in contrast, are made using top-fermenting yeasts that prefer the 60- to 75-degree range, which gives them the opportunity to impart more of their flavor to the beer. In terms of number of varieties, ales beat lagers two to one. (Refer to http://www.beeradvocate.com/beer/style for an exhaustive list of lager and ale styles.)
Lager
Pilsners
Medium to light gold in color with a medium to medium-heavy body, the hallmark of these beers of Czechoslovakian origin is a light flavor with a crisp, bitter finish and floral notes from the hops varieties in them. These could be the blueprint for mass-produced American beers. Examples in Jackson: Pilsner Urquell, Samuel Adams Noble Pils and Covington Brewhouse Pontchartrain Pilsner.
American Light Lagers
Light lagers are the style that most Americans associate with beer. They're lighter bodied and more lightly hopped than true Pilsners but retain some of the characteristic crispness. Some cheaper brands use rice or corn in place of malted barley to lower production costs. When someone says "lawn-mower beer," this is what they mean. If you haven't already guessed, examples include Budweiser, Heineken and Pabst Blue Ribbon.
German Bocks
This style and its derivatives (doppelbock, maibock and Oktoberfest to name a few) originated in medieval Germany. Compared to pilsners they tend to have darker colorings and maltier flavors. To sample some in Jackson, look for Shiner Bock or Rogue Dead Guy (ale). In Louisiana, try Abita Andygator.
Vienna Lager
Maltier and a little darker than pilsners but lighter than bocks, many Americans' first taste of something outside of the lawn-mower beer rut is a Samuel Adams Boston Lager. Abita Amber is a more local example.
Ales
Pale Ales
Light colored and hopped to favor floral, fruity aromas, this style usually features a clean, straightforward malt flavor, allowing the brewer to show off creativity in hop selection. Almost every craft brewery makes a pale ale; in Jackson try pale ales from Sierra Nevada and Yazoo Brewing Company, or Mississippi's own Lazy Magnolia's Deep South Pale Ale.
India Pale Ales
The pale ale turned up to 11, IPAs are highly hopped, favoring citrus and piney varieties for a big nose and high bitterness. More malt to help balance the hops means they tend to have a little more alcohol than pale ales. Look for Tallgrass IPA and Rogue Yellow Snow IPA.
Hefeweizen/Witbier
These straw-colored, sometimes golden ales stand out for including large amounts of wheat in addition to the typical barley. Special yeasts impart the aroma of bananas and cloves, and citrus and yeast flavors. Hefeweizen is the German style of this beer. Witbiers, developed in Belgium, add herbs and citrus peel (lemon or orange) to the brew. Yazoo Hefeweizen and Hoegaarden Belgian Wit are good examples of these styles.
Brown Ales
Dark amber and light- to medium-brown in color, these ales have their origin in English breweries. They are typically maltier and sweeter than pale ales, with nutty and caramel flavors. Hopping tends to focus on bitterness without floral flavors or aromas. Local examples include Lazy Magnolia Southern Pecan, Samuel Smith's Nut Brown Ale, Sierra Nevada Tumbler and Newcastle Brown Ale.
Stouts
These are the darkest beers, from deep brown to black, with dark roasted malt flavors and aromas emphasizing chocolate, coffee and sometimes even molasses. Sweetness ranges from extremely dry (Irish dry stouts) to sweet (English milk stouts). Guinness draught is probably the most recognizable brand, but Samuel Smith's Oatmeal Stout, Samuel Adams Cream Stout and Rogue Chocolate Stout are all worth tasting.
More like this story
More stories by this author