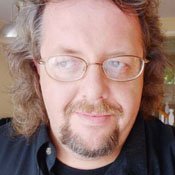 I left Jackson in 2008 and knew I'd miss it. I'd miss the people, the music, the arts scene, the Crossroads Film Festival, the parades, Hal & Mal's—all of that. But fortune sent me west to settle near San Diego, in what the natives call the South Bay, a multicultural swath between the big city and Tijuana, Mexico. For all of its dynamism, its culture and its multifaceted personality, this whole area—in fact, much of San Diego—leaves me thinking about some of the best things in Jackson that I miss most.
I have woken up in the middle of the night craving a burger. Not just any burger, but a huge Stamps turkey burger. I haven't eaten beef in over a decade, but I love a good turkey burger. For my money, that's the best there is, particularly if you include the sweet potato fries. I'm told that Stamps is now Cool Al's. I don't know if it's the same, but I do know that it would be the first or second place I'd eat if I came back.
Here, just north of Mexico, tamales are as common as tacos and served by the dozen. They're traditional: pork or chicken wrapped in masa and served in cornhusks—boring. I want tamales served up Mississippi-style, smaller and spicier and crafted from cornmeal and Delta blues. I want it served up with pico de gallo, sour cream and sweet-corn sauce. I want tamales from Walker's Drive-In. I don't care what else I get there; it's all wonderful. But I want tamales with it.
I've had a lot of good food in a lot of good restaurants on the West Coast between Rosarito, Mexico, and Vancouver, British Columbia. Just like every other place, many of the restaurants are all about the hype, not the food.
When I'm trying something new, I sometimes think back to Julep, the standard from which I measure. The honey-rosemary fried chicken, the fried green tomatoes Napoleon, the shrimp and grits—all of these are the best, and I haven't found better versions anywhere.
I didn't only eat out when I lived in Jackson. I actually shopped for groceries and cooked. Way back when, I could get everything I needed at the Jitney Jungle 14 on Fortification. But as my tastes broadened and expanded, so did the Jitney, becoming a local McDade's Market. Living in Belhaven, I spent a lot of time at that McDade's. If you think that's not a big deal, let me assure you: It is.
Here in the suburbs of San Diego, grocery shopping is an all-day venture. Supermarkets yank inventory and replace stock on a weekly basis. None of the stores do any of their own ordering; they do it all from corporate headquarters. And none of them seem to actually care what they carry. I go to Von's for dairy and most meat, to the Imperial Beach farmer's market for fresh produce, Trader Joe's for specialty items, Albertson's for cheese and ground turkey, Walmart for all sorts of things, and Henry's for odds and ends that no one else sells. We have a local grocery here in Imperial Beach, Wally's, where I shop every chance I get. They just don't carry much that I want—except for a smashing selection of wines.
I'd give anything for a McDade's where I could buy all of my groceries and not spend the rest of the day looking elsewhere.
The other thing I'd give anything for is a great daily newspaper. We're missing one of those, too. We have the San Diego Union-Tribune, the U-T. It is just slightly less honest and a touch more politically biased than The Clarion-Ledger, but thankfully the writing inside it is of a marginally lesser quality to balance out the increased bias.
The U-T has been almost violently anti-union, stridently anti-gay and transparently pro-big business. Supposedly they're going to moderate that, but the new owner is a local right-wing gay-basher, Doug Manchester.
Like Jackson, though, we have a great alternative press scene. San Diego has CityBeat, Reader, and numerous English, Spanish, and Tagalog newspapers. As might be expected, some of the writers are good and some not so much. What we don't have is a consistent, regular series of voices, working together to inform, enlighten and uncover. I miss that.
I once spoke with a CityBeat writer, Kinsee Morlan. When I told her I'd lived in Jackson, she asked whether I knew Donna Ladd or the Jackson Free Press. I said I did. She said she had met Ms. Ladd, learned from her and thought the world of what the JFP was doing.
I had to agree. Like McDade's and Walker's and Julep's fried green tomatoes Napoleon, this newspaper is not only the Best of Jackson: It's the gold standard here on the West Coast, too.
Nickolas Furr lives in Imperial Beach, California. He is a freelance writer, Democratic activist, and non-traditional college student. He is usually the oldest guy in every class.
More like this story
More stories by this author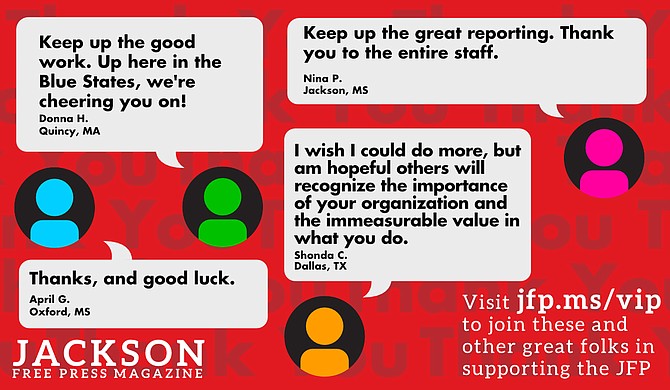 Thanks to all our new JFP VIPs!
COVID-19 has closed down the main sources of the JFP's revenue -- concerts, festivals, fundraisers, restaurants and bars. If everyone reading this article gives $5 or more, we should be able to continue publishing through the crisis. Please pay what you can to keep us reporting and publishing.