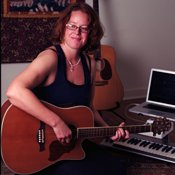 Laurel Isbister Irby released her sophomore album, "Nautilus," Jan. 21 at the Commons at Eudora Welty's Birthplace. "It's something for the creative community of Jackson," Isbister Irby said. "Jackson has been a really nurturing place for me as an artist so I wanted to share that with other artists and spread that around." The event featured visual art from Tony Davenport, Jessica Russell and Ellen Langford.
Isbister Irby contributes to the growing community of Jackson in several ways. The content of her work expresses where we are and where we could be. She also chooses to share her music in specific places. Isbister Irby tries to reach out to a diverse group of people. "When I play at events, I really try to pick ones that support the type of community that I'm talking about." She played at the first five years of Jackson Free Press' Chick Ball.
"I work in a place that does some pretty neat stuff," Isbister Irby says about the D. L. Dykes, Jr. Foundation. The D. L. Dykes, Jr. Foundation is a nonprofit organization that promotes critical thinking about religion and more specifically, a liberal, progressive view of Christianity. As vice president, she does a lot of project management and coordinates projects.
After a week off of her job at the foundation, she decided that it was time for another record. She had more than 40 songs to choose from and didn't know where to start until she started reading about how people blended the art of haiku with other styles of art like painting.
"I was like, wow," Isbister Irby said. "Maybe I could take this new record and every song title could become a word in a haiku poem, so that's what I did."
Isbister Irby also performs with Lazy Jane and is working on a new electronic project with Wes Hughes and her husband, Daniel Irby.
Isbister Irby moved to Jackson in 2003 and previously lived in California. Her mom's side of the family has lived in Mississippi for about nine generations. As a child, she often visited the Delta, which is where her grandmother lived. She was sent a copy of the JFP so that she could see what was going on and liked what she saw.
"I'm a southerner at heart and the south is really where I need to be and want to be. I wasn't really aware of that until I went away and came back," the North Carolina native says.
"Part of why I'm here is I feel like there are problems that my family contributed to, and it's up to the next generation to try to heal those problems and try to heal those divides," she says. "I'm definitely inspired and supported here, but also part of why I'm here is to address the challenges of the history of race relations and trying to create a new vision for how the city could be. I'm just one part of that and I find that to be valuable as a way of living. I just want to dig in and try to make things a little better if I can."
Support our reporting -- Follow the MFP.