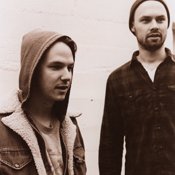 "All bands have their humble beginnings where they just want to play shows and write music," Sean Kirkpatrick says, and tonight Colour Revolt celebrates. Colour Revolt's Vinyl Release Party is tonight at Hal and Mal's Red Room. The band will play alongside The Weeks to celebrate the rerelease of Colour Revolt's first EP on vinyl.
"We had so much demand and many requests for it, since we have our other albums on vinyl," Kirkpatrick said.
While the core members of Colour Revolt are from the Jackson area, they rarely get to play here anymore. All of the members live in different places in the south. Kirkpatrick, 28, backup singer and guitarist, lives in Water Valley outside of Oxford. Lead singer and guitarist Jesse Coppenbarger, 28, lives in Nashville. Drummer Patrick Ryan, 28, lives in his hometown of Tulsa, Okla. Keyboardist Brooks Tipton, 30, lives in his hometown of Little Rock, and bassist Robert Chisolm, 28, lives "on a farm somewhere in Mississippi." They meet wherever is most convenient to practice.
"We used to play in Jackson a lot more, but now we only get to play in Jackson once or twice a year, Kirkpatrick said. "But people always show up and there's still some loyal fans, so we're always happy to play in Jackson."
The initial members of Colour Revolt met while attending various high schools in the Jackson area, but they didn't form a band together until around 2005 when they were all attending Ole Miss. They were involved in various bands that brought them together in the Jackson music scene. Coppenbarger, Jimmy Cajoleas and Len Clark were in a band called Fletcher. Kirkpatrick, who attended Madison Central High School, was in a band called City Lights.
"Let's get some shows together and let's see if anyone likes what we're doing and it seems like a lot of people did," Kirkpatrick said he thought when they first started playing together. "I mean, it kept us going, and it's still keeping us going. I always say that we'll stop playing music when people don't want to hear us anymore, and I still stick with that. But so far people have been enjoying music that we write and create, and that's enough motivation."
The band moved quickly after forming in Oxford. In 2006, they released the Colour Revolt EP through Esperanza Plantation and then released "Plunder, Beg and Curse" in 2008 through Fat Possum Records. Their latest album, "The Cradle," was released through DualTone in 2010. Colour Revolt has toured with the likes of Brand New, The Breeders and Dinosaur Jr. Most recently, however, Colour Revolt toured with The Empires out of Chicago and a band from Stillwater, Okla., called Colour Music.
Colour Revolt plays indie rock "in just the general sense of the term," Kirkpatrick said. "We sum up a lot of genres in our music. There's a little bit of straight rock, a little bit of folk. Sometimes maybe some jazz tempos."
Bands that influence Colour Revolt's music are those that Kirkpatrick describes as "a band's band," such as Fugazi and Sparklehorse.
"We don't want to sound just like what everybody's heard before. You have your Kelly Clarksons and Eminems," Kirkpatrick said. "We'd rather just let them do what they do best, and we sort of stick to more of the roots of rock music."
Since the band was based in Oxford, Kirkpatrick said southern culture and southern writers influenced them. He cites their popular song "Mattresses Underwater" as a good example.
"It sort of has a feeling of sleeping or sinking underwater where you're always dying or always thinking of death. I feel like in southern culture, death is brought up a lot," Kirkpatrick said about the message of "Mattresses Underwater." "You're in a culture that is constantly reminding you that you're going to die, and you only have so much time to live. It depresses you as a kid."
Order the Colour Revolt EP on vinyl now and get a few extra songs that were not on the original version and a T-shirt.
Colour Revolt plays with The Weeks tonight at 8 p.m. at Hal & Mal's (200 Commerce Street, Jackson 601-948-0888). The cover charge is $5.
Support our reporting -- Follow the MFP.