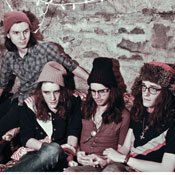 After missing the Esperanza Plantation Holiday Showcase in December, The Weeks return to Jackson. On Friday, Feb. 3, the band performs with Colour Revolt at Hal and Mal's at 8 p.m. Here are a few fun facts about their songs to get you geared up for the show.
1. "Buttons" is probably The Weeks' most popular song while being the least representative of the band's overall style.
2. The lyrics of "Stigmata," which are about losing friends and family members, are based on true events.
3. Before releasing their first full-length album, "Comeback Cadillac" with Esperanza Plantation, The Weeks pressed about 1,000 copies of an EP called "Dog Days."
4. The members of The Weeks all live together in a house in Nashville.
5. The original bass player for The Weeks (for a total of two band practices) was Peyton Randolph of the Da Vincis.
6. Some "fans" of The Weeks actually get agitated when the band doesn't play "Buttons" at live shows.
7. The members of The Weeks love to play disc-golf on sunny days.
8. Cyle Barnes (vocals) is Sam Williams' (guitar) favorite rock 'n' roll vocalist of all time.
9. The Weeks got its name from a street sign that said "Weeks Place."
10. The Weeks love to dance.