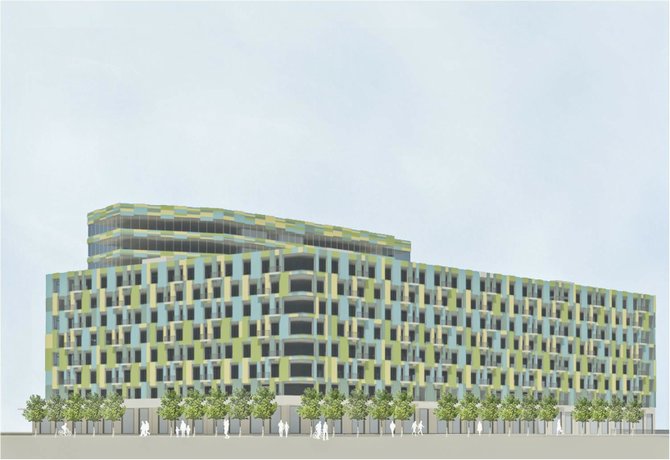 Full Spectrum South is searching for financing for its ambitious Old Capitol Green development.
The company announced last week that it has signed long-term leases with the state for the first phase of the larger Old Capitol Green development plan, called 1822 Square. The lease includes the building that currently houses Hal and Mal's and a 2.74-acre tract of land behind that building where Full Spectrum plans to build.
Monica Shepherd, spokeswoman for Full Spectrum South, said Hal and Mal's rents the building on Commerce Street from Full Spectrum. The developer plans to make improvements to the building, she said.
Full Spectrum was seeking a $17-million bond issue to help fund a state-of-the-art automated parking garage. The developer plans to build the parking garage as the first piece of the development, and hoped that the Hinds County Board of Supervisors would request the bond issue from the Mississippi Development Authority. The board voted against that request in July.
Shepherd said the board's rejection has not stopped Full Spectrum's progress.
"We're seeking other financing sources at this time," Shepherd told the Jackson Free Press. "This is a public-private partnership. We wanted to have that partnership with Hinds County." Shepherd said she was unsure what sources Full Spectrum's finance team is approaching.
McAlister's Headed to Atlanta
It's a wrap for McAlister's Deli's Ridgeland corporate headquarters. The company, which specializes in fast, high-quality sandwiches, is moving its HQ to Atlanta, the Jackson Free Press has learned.
Officials at neither McAlister's Ridgeland office, which remains open, nor its Atlanta-based parent company Roark Capital Group returned calls and emails as of press time. However, current employees of the restaurant chain confirmed a move is taking place, but would not provide details.
The first McAlister's opened in Oxford in 1989. Roark Capital acquired McAlister's in 2005. At the time, McAlister's generated revenues of around $200 million across 170 locations in 19 states. The company has grown to more than 310 restaurants in 23 states as of the end of November. At the time, sales at company-owned and franchise stores were up by about 7 percent thanks to an increase in entree sales.
Roark Capital--a private-equity firm whose franchises operate in 50 states and more than fifty countries--manages $3 billion in equity capital. The firm's brands--which also include Arby's, Auntie Anne's, Batteries Plus, Cinnabon, Corner Bakery, Massage Envy, Schlotzsky's Deli and Wingstop--generate $10 billion in revenues.
Olympians Flip into Jackson
The nation's 450 best junior gymnasts are coming to the capital city. On Dec. 18, government and tourism officials announced that Jackson would host the Junior Olympics National Meet in May 2014, Jackson's first-ever Olympic qualifying competition.
During the event, athletes from eight age divisions will compete for national titles; the top four in each age category qualify for the 2014 Junior Olympic National Team.
College coaches will be on hand to recruit for gymnastic programs. Past Olympians and hopefuls for the 2016 Summer Games in Rio de Janeiro are also expected to attend.
In April 2013, Jackson will also host the southeastern regional competition for athletes in Alabama, Georgia, Florida, Louisiana, North Carolina, South Carolina, Tennessee and Mississippi. The top performers from regional competition will compete will compete at the national meet. Both events take place at the Jackson Convention Complex.
Pinnacle Buys Ameristar
Vicksburg's largest casino has new owner for the first time since opening its doors in February 1994.
Ameristar Casinos Inc. announced Dec. 21 that Pinnacle Entertainment Inc. will purchase all of the gaming company's properties, cash holdings and debt for $2.8 billion. The publicly traded Ameristar will receive $26.50 per share, 45 percent more than the average closing price of the stock from mid-September through mid-December.
The acquisition will add eight gaming properties to Pinnacle Entertainment's holdings, including casinos in St. Charles and Kansas City, Mo.; Council Bluff, Iowa; Black Hawk Colo.; East Chicago, Ind.; Jackpot, Nev.; and Vicksburg.
More like this story