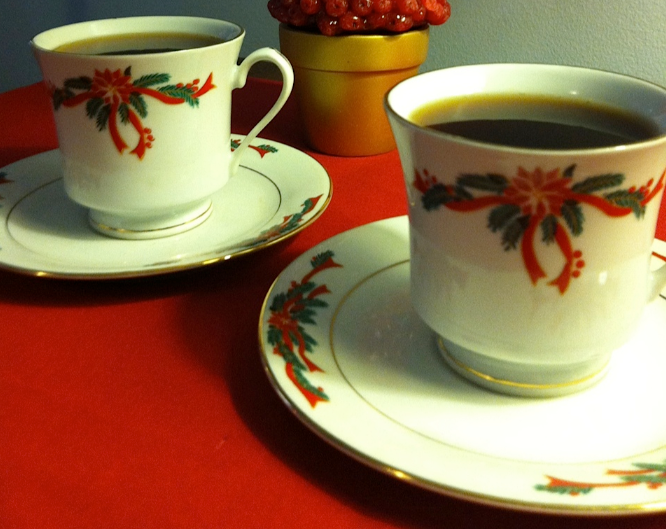 The idyllic neighborhood in which I grew up in the early '70s, in a small town in Georgia, was full of children of all ages. It provided a very fun and happy existence, though not many surprises or glamour. To be in such an ordinary place, the lady across the street was as breathtaking as a movie star. She wasn't famous, but she was lovely—with a dark beehive hairdo and colorful, floaty outfits, except for when she mowed the lawn in tiny Marilyn Monroe shorts and high heels. And (besides my mother, of course) she was the most beautiful mom on the street.
One December evening, my sister organized a holiday caroling night with all the children in the neighborhood, and we ended our ragtag tour at Miss Melba's house. Melba was late, I remember, but pulled in to the driveway as we were shivering on the front lawn, stepping from her car, wrapped in glamorous faux fur with matching hat and arms full of packages. She quickly ran from her car to greet us with great excitement.
Melba ushered us all in to her living room to sit under the tree—which we were all enamored with. Our homes had green trees, multi-colored lights and homemade decorations. Melba's was white with blue and white lights and only blue and silver ornaments and was covered in "angel hair." We were all in awe of the lavish glamour. After we sang for Melba and her husband, she placed a hot cup of cocoa with marshmallows in each of our hands and passed around plates of Christmas cookies, toffee and fudge.
It's easy to host your own caroling party, and a great way to get to know your neighbors better during the holidays. Organize the children and adults with song sheets and, whether door-to-door singing is performed or just singing for the group, treats are always welcome. Warm drinks like hot chocolate and mulled cider fill the house with delicious aromas and can be spiked for adults, if desired. Christmas cookies, toffee and cheese treats are sure to delight all tastes.
Depending on the crowd, consider cookie decorating as an activity or enjoy it on your own prior to the party. Pre-cut a simple butter-cookie recipe into holiday shapes and have available small dollar-store paintbrushes and colors for painting. To make vibrant colors, place one egg yolk each in several teacups, dash each with food coloring and paint on cookies. The yolk bakes in the oven along with the cookies, and the colors are vivid.
Candy Cane Hot Chocolate
This hot chocolate is lovely topped with whipped cream and crushed peppermint candy. Adult versions can include the addition of peppermint schnapps,
if desired.
12 cups milk
9 ounces good-quality white chocolate
1 cup red-and-white striped candy canes, crushed
1/4 teaspoon salt
1-1/2 cups peppermint schnapps (optional)
Whipped cream
Additional red-and-white striped candy canes, crushed
Bring milk to a simmer in a heavy, large saucepan. Reduce heat to medium low and add white chocolate, one cup of the crushed candy and salt; whisk until smooth. Add schnapps if desired and ladle hot chocolate into mugs. Top with whipped cream and additional candy.
Serves 12.
Mulled Cider
The aroma alone is worth simmering this delicious, hot drink. Guests will appreciate the tangy and sweet taste.
12 cups apple cider
1/4 cup orange juice
Peel from one orange, cut into strips
1 bay leaf
1 tablespoon brown sugar, packed
2 cinnamon sticks
3 whole cloves
3 whole allspice berries
2 tablespoon fresh lemon juice
Pinch of salt
1-1/2 cups applejack brandy (optional)
Mix all ingredients except brandy in a large saucepan. Bring to a boil then reduce heat to medium-low and simmer mixture for 30 minutes to blend flavors. Strain mulled cider into mugs. Pass brandy separately.
Serves 12.
Support our reporting -- Follow the MFP.