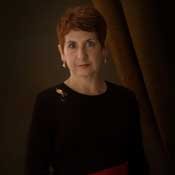 Walking up to the blond brick building that houses Premier Bride of Mississippi's headquarters, I was nervous. I have interviewed people I respected before, but this felt different. This was Lynda Jungkind, owner of the bridal magazine I put under my pillow when I was planning my wedding.
As owner of the go-to bridal magazine in the state, Jungkind has earned accolades such as being named one of the 50 Leading Business Women by the Mississippi Business Journal in 2004. She credits her parents, Harry and Joyce Ehrenburg, for her integrity, business-savvy and creativity.
Jungkind has won the hearts of Mississippi brides and the respect of wedding professionals. These relationships are essential to her magazine, she says; "to marry brides and businesses." Ten years ago, Jungkind started Premier Bride of Mississippi magazine to gain control over her career. Despite being in college at a time when many young women were only interested in obtaining a M.R.S. degree, Jungkind says she wanted a career. With a bachelor's degree in fine arts and advertising from Southern Methodist University, she began a career in media sales including working for LOVECOMM, Miss-103 and MIX96 and several advertising agencies in Dallas, Texas, and Little Rock, Ark. As she saw companies merge and people lose their jobs or being transferred in 2001, she decided it was time to take control.
"I wanted to be in control of my own destiny," Jungkind says.
Her love for weddings was the one constant in her life. Jungkind had directed weddings for church members, family and friends, and is still involved in the Wedding Guild at her church. "Weddings just give you so much hope," she says. "I felt that with my love of weddings and my success in media sales, advertising and marketing, starting the magazine was bound to work."
The Premier Bride brand is a national operation with chapters in many states across the country, such as Atlanta, Nashville and Houston. Started by Stephen Doumar of Doumar Marketing Corp. more than 20 years ago, Premier Bride now works with more than 30 local franchise owners in the print market and more than 90 on the web. Jungkind's business, located in Ridgeland, is in both markets. She has seen her company grow over the last 10 years.
"When I first started, I primarily did use the national articles and pictures, but then, as I listened to my clients, I would write articles about the trends they wanted to see in the magazine," she says. "A lot of our growth has come from listening to our clients, brides and mothers and writing articles unique to this area. We are not a magazine that comes out once a month (the magazine is published twice a year), and you look at it and then put it down. We are a planning digest and resource guide for brides and mothers. It is something that when they get it, they hang on to it. They sticky-note it. They dog-ear it. Therefore, it is imperative we grow and evolve."
Jungkind continues to evolve the magazine. With brides planning 87 percent of their weddings on the Internet, the magazine uses social media marketing and blogging to reach is target audience. "I want us to be very interactive and immediate with the brides," Jungkind says. "That is why doing this blog (http://msbridalguru.blogspot.com) was so important to me because we can say to brides 'OK, this is the trend.'"
Another goal is having a more local vibe. "Even though we have the access to more national information with the pictorials and such, we would like to go more and more local," Jungkind says. "The professionals you see in the magazine giving tips to brides are actual people brides can meet and talk to now. You will see them in your grocery store, schools and community events. We want to see the brides of Mississippi happy with the services they render from vendors right here in the state."
Jungkind gives back to the community. She donates $1 from every ticket sold at her bridal shows to a selected charity. This summer's Girls' Night Out show benefitted Dress for Success, an organization helping women in need. Jungkind is a charter member of the Wish Upon a Wedding Mississippi chapter. This group gives a wedding to a couple facing a terminal illness. Wish Upon a Wedding has planned a Make a Wish Charity Ball for Jan. 26. The Jan. 8 bridal show will donate $1 from each ticket sold to this cause.
In Jungkind's business, women take six months to a year to plan weddings. Ironically, she met and married her husband of more than 25 years, Johnny, in a little more than one month. "We just knew that God had brought us together," Jungkind says.
Top 10 Points For Planning Your Wedding
• Establish a budget. This will dictate your other choices.
• Keep your eye on the goal: the marriage of you and your fiancé.
• Look at the big picture and don't get hung up in the little things. People don't care and guests won't remember.
• Get help; don't do it yourself. I strongly recommend a wedding coordinator. If not for the entire planning, let the coordinator handle the day-of details for a stress-free day.
• Determine the type of wedding you want: large or small, intimate or grand. Determine if you want a particular style or theme.
• Start looking through magazines, books and websites, and save pictures of what you like.
• Go Green. There are many ways to have an eco-friendly wedding. Choose a central location close to where most of your guests live. Have the ceremony and the reception at the same venue. Hold your ceremony in a location that's dedicated to sustainability, such as parks, protected areas, museums, or historic homes and buildings.
• Serve local, organic and seasonal cuisine, and include vegetarian or vegan options. Avoid farm-raised salmon and foods shipped from foreign countries that may contain vaccines, pesticides, antibiotics and synthetic pigments.
• Make arrangements to donate leftover food to homeless shelters or soup kitchens.
• Save trees by going high-tech: Use a website or email for Save the Date notifications to list directories, maps, accommodations and other details. For invitations, programs and other paper items, opt for 100 percent recycled and reusable paper made from cotton scraps, and vegetable or soy inks that use less energy to produce than petroleum-based inks.
• Make a list of what is important to you: a certain designer's wedding gown; particular flower; style of photography or photographer; band or DJ; venue for your ceremony or reception. Prioritize the list.
• Stay true to yourself. This is your wedding, not your mother's or your wedding coordinator's.
—Tips from Lynda Jungkind
More like this story
More stories by this author
Support our reporting -- Become a JFP VIP.
The news business has changed dramatically in the past year, and we need your help more than ever to keep bringing you important stories about Jackson and the Metro. Become a JFP VIP with an annual membership or you can Sign up as a monthly supporter. Thanks for anything you can do to empower our journalism!