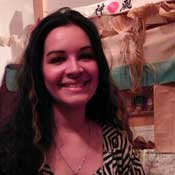 During October, Belhaven University's Bitsy Irby Visual Arts and Dance Building gallery was home to Megan Prosper's artwork. Black-and-white photographs lined one wall while another had seemingly random dangling items. Her artwork consists of "bits and pieces of scraps and old throw-away things" that she has put together to make something beautiful.
Originally from Moreno Valley, Calif., Prosper has never lived in any one place for more than three years. Her father was in the Air Force, and as she was growing up, Prosper lived in many different places including Korea and Germany. She says a search for home is a prominent theme in her work as a result.
Prosper, 23, is a 2011 Belhaven University graduate with degrees in biblical studies and visual arts. She specifically wanted to go to a school that had these two majors.
"For me, they're really similar. When I'm creating artwork or researching for a piece that I want to do, a lot of themes and ideas that run through it have a thread back to the Bible," Prosper says. "For me, art is a way to get closer to God and understand the truth of this world and about Himself. ... I knew that I needed to study both biblical studies and art."
Prosper's senior show last March was such a huge hit that the school invited her back last month to show it again. In March, the show lasted for two and a half weeks, and approximately 200 people showed up for the reception. She also had a classical guitarist playing flamenco music in the rotunda.
Now, the Fondren resident is pursuing her passions in two different ways. Prosper has her first part-time art-teaching job at The Veritas School in Ridgeland. She says that it has been an enjoyable learning experience. In the classroom, she incorporates art history and other things that she learned at Belhaven.
"Art is one of those areas where it's OK to break the rules," she says, adding that projects she gives her students encourage them to think outside societal boundaries. "It's awesome to be able to inspire kids to do that."
Prosper also works as a sales associate at Anthropologie and hopes to be on its design team one day.
Another important aspect of Prosper's life is mission work. She traveled to Sao Paulo, Brazil, with a group called ZOE Ministry and to Peru with Twin Lakes Camp, a ministry of Jackson's First Presbyterian Church.
Prosper sees Jackson as a good place to get one's feet wet. She strives to do the unexpected with her artwork and refuses to let anyone, including herself, tell her that any idea is too big or too crazy. "I still feel like there is something more for me here as far as opportunities in art," she says. "I think there is a lot of potential here in this city."
Support our reporting -- Follow the MFP.