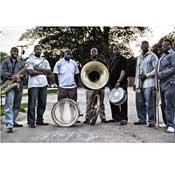 By day, the men are schoolteachers and repairmen. But by night, the gentlemen of Southern Komfort Brass Band bring New Orleans-style brass-band music to Jackson.
Traditional New Orleans brass-band music dates back to the late 19th century. It started out as a mixture of European-style military band music and African folk music, and developed into a style of jazz you hear today. A variety of instruments can be featured in such bands, but the tuba and drums usually make up the backbone by providing steady beats.
Drawing from influences such as Rebirth Brass Band and Soul Rebels Brass Band, Southern Komfort incorporates older covers, contemporary music and original songs.
Formed in summer 2010, Southern Komfort Brass Band now has seven members, each with an extensive background in music performance.
Tim Boyd, 32, attended Tougaloo College after living in New Orleans all his life. He plays the snare drum. Sousaphone (aka tuba) player Jamie Abrams, 39, and saxophone player Cedric Eubanks, 36, both started playing the piano in first grade. Lorenzo Gayden, 36, plays the trombone and attended Jackson State University. Trumpet players Joseph Handy, 28, and Terry Miller, 42, also attended JSU and majored in music. New Orleans native Gerard Howard, 33, has been playing the drums since his childhood and also attended JSU.
People may not be accustomed to hearing brass music, but at their show this spring at Sneaky Beans, everyone just latched on. "It was almost like we brought New Orleans right to Jackson, right there in Fondren," Howard says. "People were remembering their favorite part of New Orleans while hearing us."
At Sneaky Beans, as well as during parades, they could not help but dance. They had their own little second line. (In New Orleans, when parade watchers start to follow the band to enjoy the music, it is referred to as the "second line" of the parade. The first line is the official parade.)
Having second lines in Jackson, with their own style and dancers twirling umbrellas or handkerchiefs in the air, is on Southern Komfort Brass Band's to-do list.
"The pot of gumbo has been simmering since June 2010, and we're just now starting to hand out bowls," Gayden says.
Southern Komfort Brass Band has played Mal's St. Paddy's Parade and the Zippity Doo Dah Parade, as well as at churches and for charity events.
"The brass band format is more of a soulful invested format," Howard says. Boyd backs him up, saying that when he's playing his snare, "I just want people to feel good. I'm gonna beat it until they feel good."
"We were trying to find a name that captures the spirit of the ensemble," Eubanks says. "We all happened to share the same spirit."
The members of Southern Komfort met through a mutual friend and musician and can be considered a break-off from Bayou Connection, another band in town.
"A lot of people who aren't really familiar with the art form from the musician's perspective would think it's a very loose form of music," Gayden says, adding that it takes work to perform brass-band music well. "With brass-band music, everyone has to know exactly what it is that they're doing. Once you know what you're doing exactly and precisely, then you can loosen it up."
Eubanks says that it takes "a keen sense of awareness about the melody and the harmony and what your fellow musicians are playing" to liven up a song while staying within the form and structure.
Handy and Eubanks are music teachers in Jackson Public Schools. Miller teaches music in Madison County Schools and Gayden is a music instructor at Jackson Academy.
"There is a correlation between academic achievement and involvement in extracurricular activities, especially music," Gayden says. "We wouldn't exist as a band if it weren't for public music-education programs."
Music education in Mississippi is nowhere near where it should be, they say. Southern Komfort wants to give young people in Jackson more options for what they can hear around town, imitating the deeply rooted music culture of New Orleans.
For Miller, exposure is key. He wants kids to see what Southern Komfort is doing and recognize that they can do it, too.
"Teach music to the child and give the soul a voice," Miller says.
The brass band is just the next step up from the marching band for serious musicians who play because they want to. Abrams, Eubanks, Handy and Howard were members of JSU's Sonic Boom marching band. Southern Komfort is not around to make a profit; they did not even charge half of the events they have done. This is just a group of men playing music because they love music.
To find out where Southern Komfort Brass Band is playing next, check out the band's Facebook page.
Support our reporting -- Become a JFP VIP.
The news business has changed dramatically in the past year, and we need your help more than ever to keep bringing you important stories about Jackson and the Metro. Become a JFP VIP with an annual membership or you can Sign up as a monthly supporter. Thanks for anything you can do to empower our journalism!