Look, I get it. People want someone to blame, and you've got Obama right there. But this exchange on Facebook (names changed) the other day was a bit too much for me:
(news.yahoo.com) Two leading makers of lighting products are showcasing LED bulbs that are bright enough to replace energy-guzzling 100-watt light bulbs set to disappear from stores in January. (Summary: The bulbs are 50 bucks currently.)
Ricky: Im going to buy a trailer of old bulbs and make a fortune on the black market!!
Sandy: Isn't this the most ridiculous nonsense you have ever heard? It keeps getting worse and worse.
Mark: I was thinking on the same lines too....hummmold bulbs were .50 cents new bulbs 50 bucks...what is wrong with that Obama economics !!!!
Mark: But of cousre they do last a lot longer and are filled with Mercury so don't bust one in the house it could deform or kill your babies...
Ricky: In line with everything else gas will soon be at 10 dollars a Gallon. We won't be able to afford food, energy or housing. I think the country us headed in the right direction if we are trying to emulate Cuba!!
Mark: Got to change this soon...
Now, why I'm forced to see this Facebook exchange is my own fault -- I will occasionally say OK to people who I don't know who want to be my "Friend." Probably a character flaw. I love the idea of having lots of friends; unfortunately, I'm a pain in the ass to be around.
But I'm glad I did it, because it gives me this wonderful window into how folks think. What's interesting about the exchange is how little accurate information is required for an indignant Obama-bashing session to get started.
To provide a little context -- while incandescents aren't actually being banned in the U.S., the threshold for efficiency in lightbulbs is being set high enough that the current dirt-cheap (and very inefficient) bulbs won't be acceptable. It starts in 2012 with 100-watt bulbs and reaches 40-watt bulbs in 2014. The efficiency standard is roughly equivalent to the 30% increased efficiency you'll find with halogen bulbs -- those weird little bulbs you've been buying for your desk lamps for years now.
Fortunately, when the "ban" goes into effect, $50, 100-watt LED bulbs will not be the only alternative. A six-pack of 26-watt (100-watt equivalent) fluorescent bulbs is $14 at Amazon, or $2.33 each. A four-pack of old-school GE incandescent "soft whites" is $6 or $1.50 each. The incandescent is rated at 750 hours; the fluorescent at 8000 hours. Cost *just* for bulbs (forget energy savings, gas to get to the store to buy the bulbs, etc.) is $15 for the 10 bulbs you're going to have to buy while the one $2.33 bulb continues to shine.
So "Obama" is actually saving you $12.67. For every bulb in your house.
Are fluorescents perfect? Nope... that's why we're talking about LEDs, which are gaining popularity. They're still very expensive -- nothing like the actual cost savings of fluorescents -- but they're advancing rapidly and offer amazing benefits; for instance, a 45-watt-equivalent GeoBulb-II runs on 7 watts of energy (math again... 6 times more efficient) and costs $25, but is rated at 30,000 hours. That's the equivalent of 40 incandescent bulb-lifetimes. The Pharox 300 is a 60-watt equivalent for $27 that gets good ratings from Amazon buyers, although they note the bulbs are best for "directional" lighting like reading lamps, ceiling fans, etc.
And 100-watt halogen bulbs rated at 3,000 hours are available with "Edison" bases (...ever wonder why they're called that...) for old-school lamps can be found for $4 -- incandescent equivalent would be $6 over that lifespan.
OK... the math makes sense. But, damn it, you're an American and you hate being told what to do. Damn that Obama, right?
Well... Obama didn't sign the bill. The law in question is the 2007 Energy Independence and Security Act, signed (and, indeed, championed) by George W. Bush as part of his "Twenty in Ten" challenge to get Americans to use 20% less fuel in 10 years. (Dick Cheney would certainly have disapproved, but he was busily overseeing expensive and unnecessary war expenditures.)
Now this leads me to my other thesis, but I'll have to save that for a longer post -- this War on Math (apologies, apparently, to Rachel Maddow... I don't have cable...) extends elsewhere amongst those that swill Tea. And I'm talking, my friends, about our current debate over the deficit in this country. Stay tuned!
Previous Comments
ID

163624

Comment

I enjoyed your article. No one can seriously question that the new technology is way more efficient in the long run, and prices will come down in the future. But, you hit the nail on the head when you said that Americans don't like being told what to do. I like to think, maybe too idealistically, when people are given facts they will make smart decisions, thereby driving a market. On the other hand, necessity is the mother of invention, and government can speed up that necessity in certain instances for good. Necessity is usually uncomfortable or we would not try to improve the situation. I'm just not sure where I draw the line on government created necessity. Smart independent policy makers will make smart policy - kind of like father knows best. But what if father is a dummy or has a secret family he likes better than you? As conflicted as I am about the role of government in this matter, I am certain in my belief that the flourescents are ugly - there are some applications I just can't do. If the government is ultimately going to kill the incandescent, I think we need a pretty light bulb commission.

Author

ksb

Date

2011-05-25T15:07:14-06:00
ID

163635

Comment

Check the stores out.. some manufacturers are now making CFLs with globes so they will look like the bulbs people are use to...

Author

833WMaple

Date

2011-05-26T08:39:37-06:00
ID

163637

Comment

Making them look like traditional bulbs doesn't make those CFLs any less hazardous to dispose of.

Author

Jeff Lucas

Date

2011-05-26T08:57:30-06:00
ID

163638

Comment

I was speaking more to market acceptance and not hazard concerns. Most cfls contain less mercury than a household thermometer.

Author

833WMaple

Date

2011-05-26T09:02:42-06:00
ID

163639

Comment

An article promoting the advantages of CFL's and LED's is missing the point -- our government isn't elected to decide our consumer preferences for us. If the new bulbs are really that much better, then they don't need government enforcement to gain market share. I find it amusing how the disadvantages of CFL's are just swept aside now that LED's are here -- ignoring the fact that LED technology was still very expensive and not-commonly available just a couple of years ago. I wonder what those people who are allergic to fluorescent light were supposed to do? Use candles? (I'm betting Smokey the Bear, another government employee, might have an issue with that plan.) I'm also curious what percentage of CFL bulbs have been properly disposed of rather than just being tossed in with the rest of the trash. Does anyone here even know (without first doing some research) where the nearest toxic waste depot is, or what the proper procedure is for disposing of CFL bulbs? I spend a fair amount of time in Lowe's and Home Depot, and I have never, ever seen anyone walking in with a bag or box of CFL bulbs for disposal. It doesn't really matter to me if Statist A (Bush) or Statist B (Obama) signed the bill -- it's still unnecessary and over-reaching government intrusion.

Author

Mark Geoffriau

Date

2011-05-26T09:26:37-06:00
ID

163640

Comment

As a sidenote, there's a guy in Germany who has circumvented their incandescent bulb ban by reintroducing them to the market as "heat balls". He states that they are intended for heating, not lighting.

Author

Mark Geoffriau

Date

2011-05-26T09:37:14-06:00
ID

163644

Comment

Mark, I generally tend to fall in the free market camp also. However, I can see where the market needs a nudge sometimes. For instance when the first 1.6 gallon toilets came out they were terrible and the common gripe was that having to flush twice actually used more water than the old 3.5 gallon toilets. It was a conspiracy for new toilet manufacturers. Now, 15 or so years later, they have improved to the point that no one misses the old and we use one half the water. I too wonder about people who are allergic to flourescent light (my mother actually) and am suspicious of the motives of groups that push government policy from which they stand to gain. I remember seeing a piece years ago about how Detroit and either Goodyear or B F Goodrich (I can't remember) teamed up to lobby for policies that eventually destroyed mass transit to their benefit. Are we better off now that only a few major urban areas have robust mass transit? So, I really am conflicted on this one. I guess maybe the distinction is that where matters of consumption affect society as a whole there is a valid place for government intervention. I just don't have a bright line answer.

Author

ksb

Date

2011-05-26T11:45:03-06:00
ID

163645

Comment

Why did the market need a "nudge?" Did a government bureaucrat design the newer toilets? Doubtful. Did government stop people from flushing twice when the first new design toilets were introduced? Nope. Do we really believe that people wouldn't buy more efficient toilets that save them money, when those new toilets actually work? Instead, we had 15 years of government-mandated wastefulness, inefficiency, and frustration. Heck, even EU nations are allowed to sell the 2 button toilets...small flush button for liquids, and big flush button for...well, I'll let you figure it out.

Author

Mark Geoffriau

Date

2011-05-26T12:53:13-06:00
ID

163646

Comment

Every lightbulb in my house is a CFL bulb. They recently came out with a "warm glow" bulb that mimics the old light bulbs. I really can't tell the difference in my house and I'm a "mood lighting" queen. (All candles and low light lamps in my house. Full force light sucks my brains out) They are wonderful and don't constantly "blow" like the old bulbs did in my old house. Also, I have 2100 square feet and pay $75 a month for my energy bill and I keep my house at 68 degrees. I prefer to spend the bulk of my energy money not freaking sweating. :)

Author

Lori G

Date

2011-05-26T12:54:46-06:00
ID

163648

Comment

FYI--GE now makes a "Reveal" CFL bulb to mimic their Reveal incandescents.

Author

Lori G

Date

2011-05-26T13:04:59-06:00
ID

163650

Comment

Thanks, Lori. I will have to check them out. I don't mind the uglies under a shade, but I just can't do them hanging fully exposed in my antique hanging fixtures. They frighten me. You are definately right about the others "blowing" constantly in an old house. You are doing great on that electricity bill! Do you know how much it ran before with incandescent?

Author

ksb

Date

2011-05-26T13:52:09-06:00
ID

163651

Comment

Mark, Kohler actually has sold a two button version for quite a while. I know, I know way too much about toilets, but I have been doing various projects for a good some years. It hasn't been 15 years since they managed to come up with a good product, it has been about that long since they had to quit making the 3.5s. I guess where I sit on the fence is we all would agree that conservation is good, I agree that excessive gov't is not good. But when it comes to something vital like water or energy, does it make sense to wait until a shortage (as already exists in some parts of the country) to create the necessity that drives innovation. Public utilities are just a bit different than private companies. Like I said, I don't have a bright line answer.

Author

ksb

Date

2011-05-26T14:03:58-06:00
ID

163653

Comment

Todd, To make a statement about relative cost, you do need to take energy savings as well as bulb costs into account AND the time value of money. You are advocating making an upfront investment (the higher cost) to save money over an extended period, so you need to know whether the return is positive or negative and how much. If it is positive, your case becomes compelling because (i) it is an after-tax return, (ii) interest rates are low and (iii) the stock market very iffy given the economic outlook. A positive return of 4-6% would look pretty good. Where people get the money to make that investment in these cash strapped times is another matter. If no one there can get the data and do the calculation, search the web for unbiased people who have done the research. It should be easy to find and there should be analysis run by both sides (pro and con), so you can see the difference in the assumptions and methodology (just like the stuff I send you on incremental tax rates for low income individuals). If the JFP is going to be a superior pubication, it needs either to do the full research before expressing opinions or find the results of people who have. Otherwise make the case or a moral or some non-quantitative basis. Rich Sun, CFA

Author

RichardASun

Date

2011-05-26T15:09:46-06:00
ID

163660

Comment

Rich: Well, I'd think you might cut a brother some slack in a blog entry, but, regardless, I would never turn down a challenge to be a superior publication. ... The familiar term "watt" is used in reference to each of these bulbs, regardless of the technology to turn those watts (purchased from our friendly neighborhood power company) into light and heat; that should be something we can use for comparison. A 26-watt fluorescent should use roughly 1/4th of the electricity of the 100-watt incandescent that it is designed to replace. An equation would look something like this: energy cost of a 100-watt bulb * .26 = energy cost of equivalent 26-watt bulb If Entergy charges .10 per kilowatt hour, then 1 hour of light from the 100-watt bulb is $.01; over the lifetime of the 8000-hour rated 26-watt bulb, that cost could be $80. The cost for the 26-watt bulb would be $20.80 over that same amount of time. ... Now, as for time value of money, I'll go ahead and do the math, but I have to say that it seems to me that reasonable people can be allowed to have opinions -- even if we own newspapers -- based on a modicum of common sense. To whit: (a.) Economics is a social science for a reason -- I would hazard to guess that relatively few people would make a light-bulb purchase decision based on the interest that they believe they could make on the difference between the cost of two bulbs. They'll probably just go ahead and buy a new bulb with the first one burns out. (b.) How can the math possibly work for you? I understand it may have appeared to be a handy flyswatter for my buzzy little argument above, but you should be required to do at least a little of this math yourself before you suggest that my not doing it speaks to the credibility of my argument. Nonetheless: If an incandescent bulb costs $1.00 and lasts 800 hours and an 8000-hrs bulb is $4, we'd have to set a baseline for usage. Let's say it's 2.2 hours per day, which gets us a year and makes the math easier. So, at 10% interest compounded monthly (nice return, right?) the $3.00 you don't spend becomes $3.38 at the end of the first year. (I'm using this guy to calculate.) You then spend a dollar on another bulb (I'll put aside the shipping, hush money and/or bonding fees since you're now doing something "illegal") and you're down to $2.38. Compound that at 10% and you've got $2.68. Spend another dollar, go another year, and you're at $1.89 in the bank. It's the end of the year, so you'll have to buy another incandescent bulb, and you're at $.89. Now, wait, and check your balance on New Year's and you've got flat $1.00 in the bank. Spend that on a bulb... and you're done. You've gotten through five years of bulbs, halfway there on bulb cost alone. The 26-watt equivalent in this scenario would be rated at over 10 years. So, let's do it for 50 bulbs. Let's say Irrational Joe decides that because the U.S. government is going to legislatively encourage the phase-out of the 100-watt incandescent bulb, he's going to toss them all NOW and purchase $2.50 10-year bulbs instead of $1.00 1-year bulbs. That's $50 for 1-year bulbs and $125 for 10-year bulbs, a $75 difference. Let's wisely invest the difference at a sweet little 10% interest compounded monthly and see what happens... In the first year, the $75 grows to $84.51, and another $50 purchase is made when the one-year bulbs burn out. The remaining 35.51 grows to $40.01. After the second year, Joe buys $50 more worth of bulbs and he's out... in fact, he owes $10 more. From there he spends about $400, in today's dollars, and I'm sure you could back into an additional opportunity cost on that money. So on his 50 bulbs, over 10 years, he's lost over $400 on the purchases themselves, as well as spending what looks to be $2,960 in additional energy costs over 10 years on those inefficient bulbs that he insisted on using. I did that quick and could have missed something vital, and I apologize that it hasn't been peer-reviewed... but part of my point is that, at this level of decision making and this amount of money, it seems like a time-value argument is a bit of a waste of neurons, no? What'd I miss? Todd Stauffer, BA, English Literature

Author

Todd Stauffer

Date

2011-05-26T18:03:19-06:00
ID

163661

Comment

Note: rereading I see I used two different prices above; for the fluorescent bulb I chose 4 for ease initially and switched to 2.50 in the 50x example. 2.33 is the number in the original entry. Will revise aftfer the play. :)

Author

Todd Stauffer

Date

2011-05-26T18:53:31-06:00
ID

163663

Comment

OK, here's the updated math. If we go ahead and assume that $2.50 is safe for the 8000-hour bulb and $1.00 is safe for the 800-hour bulb (both in the ballpark of my original Amazon links) then the time-value discussion for the single-bulb decision would look like this: At 10% interest compounded monthly the $1.50 you don't spend on the 8000-hour bulb becomes $1.66 at the end of the first year. You then spend a dollar on another 800-hour bulb and you're down to $.66. Compound that at 10% and you've got $0.73. Spend another dollar and the end of year three and you're in the red. We could re-do both equations at $2.33 for the 8000-hour bulb and $1.50 for the 800-watt a bulb -- the numbers I found above on Amazon -- and you're really not going to get a difference in magnitude that would credibly affect decision-making on this issue; in fact, the decision would lean even more toward the CFL.

Author

Todd Stauffer

Date

2011-05-27T09:53:50-06:00
ID

163674

Comment

Todd, My comment was not intended disagree with your conclusion. It was more to suggest how to validate it and make it more powerful, i.e. do the full analysis or get full analysis from the web. I admit to a personal bias to full analysis since there is so much incomplete (sometimes intended to be misleading) analysis in the public forum. The first page of my Goggle search return led me to the Department of Energy page on the subject which is a tremendous resource, has an extremely complete analysis and a downloadable calculator (in EXCEL). http://www.energystar.gov/index.cfm?fuseaction=find_a_product.showProductGroup&pgw_code=LB The calculator is extensive with numerous additional measures of value. It turns out that in their default case in the DOE Energy Star calculator, the payback is about 3-4 months—extremely fast. The life of CFL bulb the savings are about 25 times the initial incremental outlay. A high cost of $1.80 returns $69 of savings. That's stunningly high. You can't get those returns on a professional venture capital portfolio--neither Soros nor Buffet do that well. Returns at that level makes your statement interest rates are irrelevant to the decision correct, because interest rates analysis breakdowns when returns are that high. So you conclusion is right, but the case could have been made much more powerfully if you had taken a few minutes to see what is on the web. Dare I say you fell into the same trap Wyatt Emmerich did when he attempted to calculate the incremental tax rates on earnings for low income individuals—doing it himself rather than checking the web for readily available advanced work already done by experts. I have not gone into the reasons why your assumptions seem to be a less favorable that DOEs. I am not sure I need to since economics of CFLs are so strong. (I am a little nervous that my CFLs seem to be burning out more quickly than they should, but that maybe a issue with power quality from the local utility or buying low quality bulbs.) Rich Sun

Author

RichardASun

Date

2011-05-27T19:00:42-06:00
ID

163677

Comment

Hardly any of the CF bulbs will reach rated life expectancy in real world use. In any case, once widespread adoption occurs, we will begin to have a real problem with mercury in landfills. The other, common, prohibited items in the trash (paint cans, car batteries, etc) are easy for the trash guys to spot and skip picking up. They are not going to see that light bulb buried in with your leftovers from last night's supper. Also, public utilities are known for promoting savings and then charging higher rates to make up for the lost revenue. By the time the law takes effect, a good portion of people will have switched to CF anyway. I see them in more places everyday. Sadly, this still does not address the mercury issue. What we really need is a CF bulb without toxic, heavy metals.

Author

turbodog

Date

2011-05-28T16:08:41-06:00
ID

163687

Comment

I have not gone into the reasons why your assumptions seem to be a less favorable that DOEs. I am not sure I need to since economics of CFLs are so strong. My point exactly. Cheers.

Author

Todd Stauffer

Date

2011-05-31T09:38:59-06:00
ID

163718

Comment

Thanks to Lori G for the info she posted. I hate CFLs b/c the light is harsh. And my neighbor has two on the outsode of his house that he leaves on overnight and lights up the entire dang neighborhood. Hello! Some of us are trying to sleep here, nimrod. So I am not a CFL fan. I am glad to hear that GE makes some CFLs that mimic Reveal bulbs. I love the clean white light of Reveal bulbs and was not even wanting to change. But I may have to check those "Reveal" CFLs out. Thanks again.

Author

redlion

Date

2011-06-01T17:19:42-06:00
ID

163723

Comment

I have to say that all of this hand-wringing over the mercury in CFL's strikes me as misplaced. The fact is that CFLs are not a major source of mercury pollution. Coal-fired power plants are by far the largest source of mercury pollution, according to the EPA and U.S. Geological Survey. Nationwide, these power plants emitted about 68,000 pounds (31 million grams) of mercury in 2009, while each CFL bulb contains only about 4 grams of mercury. Airborne mercury from power plants is also far more dangerous than mercury in landfills. Yet, when the Obama administration proposed reducing mercury pollution from power plants, conservatives howled. Another major source of mercury is cement kilns. Again, the Obama administration has taken aggressive action to reduce mercury pollution from cement kilns. These efforts will have far more impact on the amount of mercury in the environment than CFLs could ever have. In fact, because coal-fired power plants release so much mercury, incandescent bulbs actually cause more mercury pollution than CFLs improperly dumped into landfills. According to the EPA (PDF), "A power plant will emit 10 mg of mercury to produce the electricity to run an incandescent bulb compared to only 2.4 mg of mercury to run a CFL for the same time." CFLs are not perfect, but this sudden worry about mercury from conservatives is nakedly opportunistic and relies on confusing the public. It reminds me of the way some folks have suddenly become fervent bird conservationists when it comes to wind turbines but remain completely indifferent to the fact that vastly more birds are killed by domestic cats and impacts with buildings.

Author

Brian C Johnson

Date

2011-06-02T14:10:51-06:00
ID

163728

Comment

ksb--the bill previous to the $75 was in a different home. It was actually a smaller place which DID have updated energy efficient windows, etc (in Fondren. Built in the 30's. Updated two years previous to me living there). That bill would run about $110 for the month of April. So, in a larger home, I'm still looking at about $35 in savings. None of my other energy "habits" have changed other than going from a house with ALL old incandescents to a house built in the same decade (energy efficient updated windows as well) with all CFLs. I can't say with 100% certainty that the ENTIRE savings is from the bulbs since I can't control for the major variable of it being two houses. But, its enough to be significant. Redlion-You're welcome! We had several "harsh" CFLs for our outdoor lighting when we moved into our house. I changed them to the new "warm glow" bulbs because I told my husband it looked as if aliens were landing on the house at night. I hear you! ---As far the mercury issue, I've violently thrown one of those bulbs at the ground (didn't mean to) and it bounced. So, I'm thinking as long as I teach The Terror not to EAT LIGHTBULBS, we'll be fine.

Author

Lori G

Date

2011-06-02T15:26:04-06:00
ID

163730

Comment

Brian, Mercury pollution has two aspects. One is the overall level you addressed. The other is in the home when they break. There seems to be some difference in their tendency to break; some I purchased broke as easily as incandescent bulbs. It is worth reviewing what those "nakedly opportunistic conservatives" infesting the EPA say on what to do if a bulb breaks in your house. http://epa.gov/cfl/cflcleanup.html Very sobering. Fortunately, my children are grown. Brian, am I to understand that we should not consider bird kill by wind turbines? If not, is it because conservatives oppose wind turbines? Actually I find it amusing that liberals seem not to care about bird kill when their pet projects are the cause, especially since they will protect the most obscure endangered species at great cost to this country when killing other projects. Their logical seems inconsistent. There are stronger arguments against the current generation of wind turbines—cost, inability to use as base load, storage of electricity, cost, lack of economic viability absent subsidies, etc. Rich Sun, CFA

Author

RichardASun

Date

2011-06-02T16:52:56-06:00
ID

163737

Comment

Great points Brian. I think you've put your finger on something that is core to the debate in this country between progressives and conservatives with lightbulbs vs. coal plants as something of a fabulous metaphor. Using CFL lightbulbs -- even if the technology currently has a little mercury in it and would require intelligent disposal (you know...like *fish*) -- might, in the aggregate, be considerably better for your neighbors, your municipality or your country than burning more mercury-emitting coal and dumping it into lakes. Hence, Progressives (and, it should be said, responsible legislators, pretty much anyone who can perform arithmetic and perhaps even George W. Bush) cheer. "But what about inside my mini-mansion?!" cries the modern conservative. "Why should I be expected to change a single behavior of mine in the interest of the overall good; even if some of that overall good, by definition, helps me? And even if the behavior change would be, at most, a minor inconvenience like remembering to take exhausted CFL bulbs with me once every eight years on my weekly jaunt to Home Depot? After all... it's a perceived infringement on my inalienable right to fail to contribute to civil society." That particular brand of American conservatism, in its forty-year quest to make selfishness a virtue (...damn you Ayn Rand!...) has brought us to this point. It's certainly fascinating to watch, if more than a little disappointing.

Author

Todd Stauffer

Date

2011-06-03T08:57:42-06:00
ID

163738

Comment

Rich, I never said that we should disregard bird kills by wind turbines. I said that conservatives are not credible when they suddenly discover a passionate concern for the welfare of birds. Obviously, ongoing efforts to make turbines safer for birds should continue, and turbines should not be sited along important migration routes. But turbines cause only a tiny fraction of all bird kills. That consideration alone is not a good argument against building wind turbines. Your argument about endangered species holds no water, because the ESA applies as much to wind turbine development as to any other project. Wind turbine projects that might kill endangered species would not be approved. Moreover, you'll have to provide evidence that "liberals" support energy projects that threaten endangered birds. While you're at it, provide evidence that "liberals" refuse to support projects that might kill unthreatened birds. I am a liberal who has shot and killed mourning doves, which are abundant. How does that make me a hypocrite? Similarly, mercury contamination of the home is a valid concern, though opening the windows for 5 to 10 minutes and cleaning up the debris does not chill my blood as it does yours. CFLs are a transitional technology. This thread began with a discussion of LEDs, which is where lighting technology is headed. But on the whole, CFLs greatly reduce pollution, including mercury pollution. There are many other, far larger sources of mercury contamination in the home, including plumbing traps, old paint, thermometers, barometers, and so forth. Where is your crusade against them? By the way, I noticed an error in my earlier post. Each CFL contains 4 milligrams of mercury, not 4 grams. So we would have to launch more than 7 billion CFL bulbs into the atmosphere every year to reach levels equivalent to the mercury released by coal-fired power plants. Would you care to make war on that math?

Author

Brian C Johnson

Date

2011-06-03T09:25:17-06:00
ID

163739

Comment

Todd & Brian, in the interest of fairness you should advise anyone who has or is considering installing CFLs in their house to READ THE CLEANUP INSTRUCTIONS before they break (after is too late). I certainly wonder, why are the clean up instructions so rigorous when the accompanying written reports say there is minimal risk? Something is out of whack. The "abundance of caution" argument does not seem sufficient. Brian, let me get this straight, the truth or validity of an argument is based on the identity of the person who makes it, irrespective of the argument itself? Surely you don't mean that, but that is the way your post seems to read. Todd & Brian, It demeans your case when you describe people who disagree with you as cartoon figures, putting words in their mouths or identifying a fringe with the mainstream thought. (Don't you find it objectionable when conservatives do that to liberals?) It suggests you can't or won't deal with the specific points. In the interest of civil discourse, let's focus on the specific issues not the people who hold an opinion. Brian, I never questioned you general mercury pollution argument. But were I to develop an opinion on the subject, I will do so based on the best experts I can find in the field (usually on both sides of the issue), not from someone who self identifies as holding strong ideological and political opinions. Your opinions may well be correct, but to me they are not actionable until they are confirmed at the source. Brian, in turbines and bird kill, I pointed out that there were other better arguments against wind turbines. You argument "holds water" only if wind turbines kill only non-endangered species and there are no endangered bird species. Part of the argument for subsidizing turbines is that if lots more of them are built, they will become cheap enough to be competitive with conventional fuels without subsidy and with carbon and other pollution costs factored in. If they are build in such scale, I find it hard to believe that they won't kill material numbers of endangered birds along with non-endangered. Further, the test is not whether other factors kill birds, but whether the specific project or technology kills them at some rate. Rich Sun, CFA

Author

RichardASun

Date

2011-06-03T10:05:29-06:00
ID

163740

Comment

It demeans your case when you describe people who disagree with you as cartoon figures, putting words in their mouths or identifying a fringe with the mainstream thought. (Don't you find it objectionable when conservatives do that to liberals?) It suggests you can't or won't deal with the specific points. In the interest of civil discourse, let's focus on the specific issues not the people who hold an opinion. I note for the record that you said this above to Brian: "Actually I find it amusing that liberals seem not to care about bird kill when their pet projects are the cause, especially since they will protect the most obscure endangered species at great cost to this country when killing other projects. Their logical seems inconsistent." I submit that your protestations against the use of generalizations about conservatives would be more powerful if you didn't break your own rule by generalizing about liberals. ... Meanwhile, I would agree that people should read the instructions on CFL light bulbs and follow the recommendations for disposal, just as they should with spray paint, bug spray, computer monitors, thermometers, anything with "contents under pressure" and the myriad household poisons that you'll find under the typical cabinet sink. This notion that people can't change their behavior through sustained education is a bizarre one to me.

Author

Todd Stauffer

Date

2011-06-03T11:07:15-06:00
ID

163742

Comment

Todd, I think that is a bit of a stretch, but let me rephrase: "Actually I find it amusing that the people who seem not to care about bird kill when their pet projects are the cause, tend to be the same people who will protect the most obscure endangered species at great cost to this country when killing other projects. Their logic seems inconsistent." While I was guilty of using the phrase "liberal" as shorthand to identify a group of people typically holding a common set of beliefs, what I did not do that Brian did was use pejorative qualifiers such as "nakedly opportunistic". I might add that it is my sense that most conservatives and libertarians like Ayn Rand's writing for two reasons (i) it documented the hypocrisy, unintended consequences and incompetence of socialist-leaning central governments and their inability to deliver on their promises and (ii) the value of free enterprise in delivering value to society compared to such governments. When she was writing, virtually all "right thinking people" though that extreme socialism was the future of all developed countries. Her enshrinement of unlimited selfishness is repugnant to most conservatives and libertarians, especially ones with strong religious beliefs. All successful societies depend on limited selfishness or self interest. With altruism being the antonym, it might be useful to identify large, complex modern societies that have been successful in long run where the dominant value is altruism. It certainly did not work for the communists. Even the European socialists have not tried to operate their societies in the complete absence of self interest. As an economist said, "people respond to incentives, all else is commentary." "From each according to his ability, to each according to his need" has never been the basis for a successful government. Rich Sun CFA

Author

RichardASun

Date

2011-06-03T12:50:35-06:00
ID

163743

Comment

Rich, you are misreading my remarks. I have not said that the truth of an argument depends upon the speaker. Rather, I've said that conservatives are inconsistent in their arguments. If conservatives rail against mercury when it comes to CFLs but are sanguine about mercury from coal-fired power plants, pointing it out is not an ad hominem attack. Rather, it shows that conservatives are using the argument opportunistically. That is not identifying a character flaw. It is identifying a flawed, inconsistent, and unconvincing argument. Todd and I are dealing with the issues in great detail. We are not attacking individuals. But engaging in civil discourse does not preclude discussing the politics at play here. In fact, the entire thread began with a discussion of those politics. You should follow your own advice and address the substance of what we are discussing rather than complain that my critique of conservative arguments is somehow a personal attack. It is not. The information I have provided is not my opinion. In my first post, I cited publications from the USGS, EPA, the Department of Energy's Energy Star Program, Reuters, and the Chicago Tribune to substantiate my claims. Go back and read those sources if you doubt any of my claims. Then dispute them with sources of your own, if you can find any that are credible. Saying that the findings of the USGS, the EPA, and the DOE are somehow merely my opinion does not help your argument. As for your comments on birds and wind turbines, you may find it "hard to believe" that wind turbines will not eventually, someday pose a threat to endangered birds, but we are not discussing what you find hard to believe. We are not discussing hypotheticals. We are discussing facts. The Department of the Interior does not make ESA determinations based on what might someday be true. It follows carefully delineated rules on whether actual projects would have actual impacts on protected species. Wind turbines must abide by the same rules as any other project. Claiming that wind turbines will inevitably threaten endangered birds without any evidence to substantiate the claim is merely handwaving. Again, that is not a personal attack. It is an attack on a poor argument.

Author

Brian C Johnson

Date

2011-06-03T15:11:01-06:00
ID

163745

Comment

"Actually I find it amusing that the people who seem not to care about bird kill when their pet projects are the cause, tend to be the same people who will protect the most obscure endangered species at great cost to this country when killing other projects. Their logic seems inconsistent." And I submit you're still generalizing about other people's emotional and moral decision-making while presenting no evidence to back up you claims. (Which seems to violate your own ministrations. If you're going to be scold, you might as well try to follow your own rules, no?) Please point to a survey, poll or scientific study that documents this assertion: "the people who seem not to care about bird kill when their pet projects are the cause, tend to be the same people who will protect the most obscure endangered species at great cost to this country when killing other projects." That's a caricature, using loaded language ("most obscure," "great cost"), for which I doubt you have empirical evidence. I know people who lunch frequently on slaughtered cows and yet volunteer at local animal shelters. Clearly there's an abundance of people willing to hunt and kill wildlife while, at the same time, working to protect wildlife habitat. One might have great difficulty finding a frequent fisherman or woman who would be a staunch advocate for dumping *more* chemical pollution into our streams and lakes. (Perhaps a Dow employee in a guarded moment.) It's perfectly conceivable -- even rational -- to be willing to substitute the occasional bird lost to a windmill -- while, perhaps, encouraging improvements that limit those deaths and intelligent regulation of them to avoid migratory patterns, etc. -- if the upshot is renewable energy with all of its inherent benefits and sidestepping many of the problems with fossil fuel burning, including its affect on the environment and habitat for species, endangered and otherwise. The only drawback that I can see to assuming people are actually thinking some of this through is that it might make it more difficult for you to find "amusing" your stick-figure portraits of them.

Author

Todd Stauffer

Date

2011-06-04T11:50:13-06:00
ID

163764

Comment

LOL @ hummmold bulbs

Author

HooYoo2say

Date

2011-06-06T22:47:19-06:00
ID

163765

Comment

"Operation Mathematical Freedom" would sound more politically correct and less intimidating to the mathematically challenged.

Author

HooYoo2say

Date

2011-06-06T23:34:29-06:00
More like this story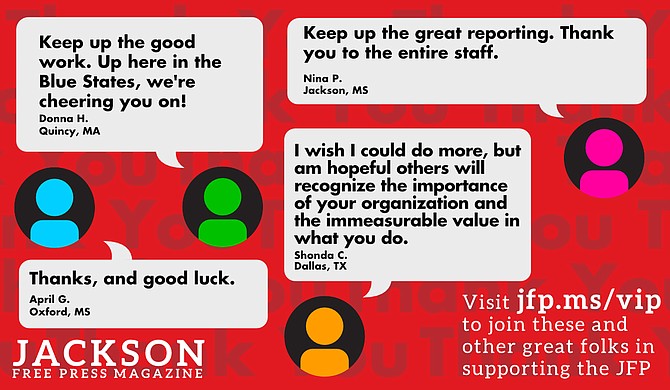 Thanks to all our new JFP VIPs!
COVID-19 has closed down the main sources of the JFP's revenue -- concerts, festivals, fundraisers, restaurants and bars. If everyone reading this article gives $5 or more, we should be able to continue publishing through the crisis. Please pay what you can to keep us reporting and publishing.