Current battles over redistricting—which can have extremely far-reaching effects on the lives of everyday Mississippians—are partisan, divisive and frustrating to watch, as one party or another jockeys to rework and control districts. The process is one of the most blatantly partisan power games we've seen since the last time the U.S. Chamber funded its latest slate of judges to try to protect corporations from lawsuits.
Currently, partisan fingers are pointed at the "other side" because the political enemy—wait for it—is trying to influence how the districts are redrawn. That part is predictable, if sad.
But the political gamesmanship going on right here in Hinds County just shows how ridiculous the whole scheme has become. For one thing, Hinds County hired NAACP President Derrick Johnson to oversee its redistricting process. In Madison County, the board hired the Central Mississippi Planning and Development District to develop its redistricting maps. Neither contract went out for bid under rules that allow professional-service exemptions.
Then, this week, here comes the Hinds County Republican Party chairman, Pete Perry, promising a lawsuit over Johnson's contract. Johnson's not an attorney, Perry says, even though Johnson's LLC has an attorney on staff (his wife). Meantime, when a JFP reporter asked Perry who he represents at the county meeting, Perry didn't mention the little issue of being the chairman of the county GOP (as if we wouldn't know and print that part). He did mention that he's a lobbyist, and assured that redistricting wouldn't help any current clients.
Folks, who are we kidding here? The county asked for a Republican outcry when it gave Johnson the gig: Republicans still use any connection with the NAACP as a way to scare white voters, and it wasn't a very subtle way for the county to try to guarantee an outcome beneficial to Democrats.
On the other hand, the fact that Perry himself is showing up to make a stink about the NAACP president being involved is equally as absurd and just as nakedly partisan. Obviously, he has a dog in the hunt. Look at the website for his lobbying company, Paradigm Government Relations. He and his partner, Michael Goode, are Republican royalty. And even though the "Who We Represent" page is oddly blank at the moment, the two men's bios show that they are Republican superstars and have been involved on many Republican campaigns and administrations; watch for names like Lott, Bush, Wicker and such.
Obviously, Hinds County redistricting is going to have an effect on potential clients of Perry's, if no one currently. We're not idiots out here.
We want to play Pollyanna and call for all the insulting partisanship to stop, and for everyone to admit their biases and play fair. We know how unlikely any change in the current racially and politically charged climate is, but we can always hope and pray for higher political ground.
Previous Comments
ID

162547

Comment

In my opinion, and let me stress that, the reason Mississippi and even Jackson are viewed with such contempt is it's always "us against them" Whether it's democrat vs republican, black vs white, or Ole Miss vs State, everyone views the others gain as their loss. To vote along party lines without consideratin for the facts on the table has destroyed this country. But the country is just now catching up with Mississippi in that area. We have remained last because we are a state that despises compromise. Regardless of what they say at some point a democrat has a good idea or a white person in Jackson has a good idea but the source of the idea automatically voids any intention of considering it for the other side. How do you stop it? You can't it's too far gone now and the gulf between "us and them" has gotten much to wide to overcome now. How depressing is that?

Author

Alex0393

Date

2011-03-15T15:20:21-06:00
ID

162551

Comment

@ Alex - that's a good post, as a "carpet bagger", to me at least - there just seems to be a attitude and/or air of "ignorant bliss" or that of apathy. It's very depressing - because you have the people up here that are trying to make people aware - but to no avail. I still think if and when our Governor makes the announcement that he's running for President, and he get's into that dog-eat-dog Republican primary for the #1 spot, the exposure will have to wake people up to where we are at as a state. But then again people may chalk it up to them vs. us? lol!!! We can't win for losing?

Author

Duan C.

Date

2011-03-16T08:07:59-06:00
ID

162565

Comment

Thanks Duan. Unfortunately it seems to me that it's been that way for a long, long time with no hope in sight. Even when two sides start agreeing a little it takes no more than a very small spark to ignite the differences. And when they come out all compromise is immediately taken off the table and we're back to square one. But what do you expect when politicians around here get elected by selling their community on the black or the white people are the problem? In order to keep getting elected they don't want to be seen as selling out so they defeat ideas that are good ones. That, again, is why this state will always be at the bottom. As for the good Governor, I can't see how you can win an election when your resume shows you were the leader of what the country sees as the worst state in the country. Then again Bill Clinton did it so it's possible I guess. Fair or unfair the national media, the liberal media in particular, will search tirelessly for anything racial that makes him look bad. At his age in this state it won't be hard to find. So goes the media though. A good person who sincerely wants change and to do the right thing will not run for political office now because they do not want to subject themselves and their families to the scrutiny that at times is very unfair. Donna Ladd who I think runs the show over here wrote a good article about that today if I'm not mistaken. Who wants that much invasion in their personal lives? I'm sorry but I do believe in forgiving people for things they've do within limits and I believe people can change. So to use something they did when they were 20 years old is unfair.

Author

Alex0393

Date

2011-03-16T22:52:28-06:00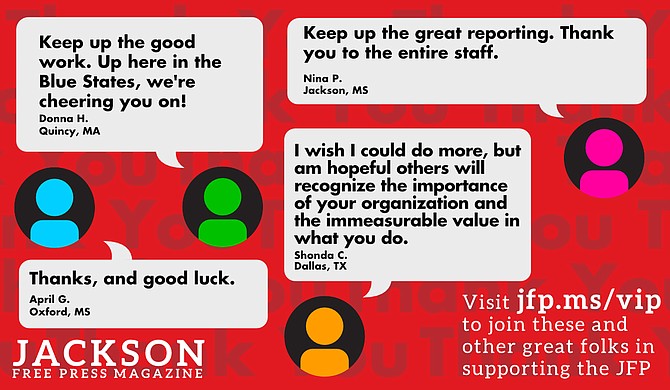 Thanks to all our new JFP VIPs!
COVID-19 has closed down the main sources of the JFP's revenue -- concerts, festivals, fundraisers, restaurants and bars. If everyone reading this article gives $5 or more, we should be able to continue publishing through the crisis. Please pay what you can to keep us reporting and publishing.