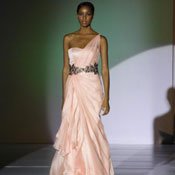 After choosing the wedding gown, selecting a bridesmaid's dress should rank high on a bride's to-do-list. Ideally, a bridesmaid dress complements the wedding gown, flowers and the women wearing them, and selecting one can be fun or stressful.
Brides have many factors to consider when choosing the bridesmaid's dress: the season; the color; the fabric; the length—short, long or cocktail; what works best for the body types of her bridesmaids (including plus-size); and, most importantly, style. Today's trend is simple elegance. More brides are choosing slip or sheath dresses because they flatter a wide variety of figure types and are easily re-purposed as cocktail dresses. Two-piece separates, column and short dresses are also quite popular this year.
One of the hottest colors for bridesmaid dresses is purple, whether in hues of lavender, violet or plum. Other popular choices include pastels, corals, lime green and electric blue. And more saturated and rich colors, like browns, sapphires and scarlet red are great for evening or more formal weddings.
When deciding on a color scheme, a bride should take cues from the color wheel. Go with a monochromatic look, using different hues of the same colors, try something a little more daring like analogous colors (next to each other on the color wheel, like yellow and green, or red and purple); go for complementary colors (opposites, like white and black, or aqua blue and tangerine). With these combinations, options are practically limitless. And a bride should never hesitate to introduce new colors through accessories: shoes, jewelry, dress sash or flowers (bouquets or in the hair).
For the perfect wedding day look, dear bride, start early in your search for the perfect bridesmaid dresses to complement the centerpiece: you.
For more fashion tips, tricks, and sales, check out this week's JFP Issuu and follow us on Twitter FlyJFP for sales and fashion news.
Where2Shop
Look for these and other bridal gown and bridesmaid dress options at these local vendors:
Alfred Angelo Bridal (1230 E. County Line Road, Suite D, Ridgeland, 601-956-1806, http://www.alfredangelo.com)
A Southern Affair (4500 Interstate 55 N., Suite 160, 601-487-6218, http://www.asouthernaffair.net)
Bella Bridesmaid (118 W. Jackson St., Ridgeland, 601-898-0303)
Bridal Boutique (300 E College St., Clinton, 601-924-8345)
Bridal Path (4465 Interstate 55 N, Suite 104, 601-982-8267, http://www.bridalpathinc.com)
Fashion Post (4800 Interstate 55 N, Suite 9, 601-362-5171)
Finishing Touch Alterations (4551 Office Park Drive, 601-362-5288)
Glitz & Glamour (6791 South Siwell Road, Byram, 601-502-8274, http://www.glitzandglamour.us)
Imaginations Bridal (131 West Cherokee St., Brookhaven, 601-833-6280)
Jaki's Bridal & Formal Wear (5404 Interstate 55 N., 601-957-2929, http://www.jakisbridal.com)
Puttin' on the Glitz (322 Highway 80 E., Suite 10, Clinton, 601-924-7252, http://www.puttinontheglitzms.com)
Silver Gallery (6380-B Ridgewood Court Drive, 601-952-0525 and 378 Ridge Way, Flowood, 601-919-3008, http://www.silvergallery.biz)
More like this story