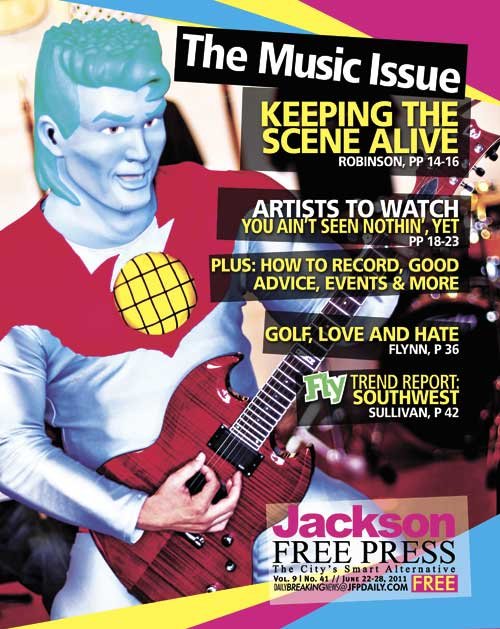 Even professional musicians constantly learn, adapt and experiment. Recently, the band French Camp from Brooklyn, N.Y., spent two weeks in Jackson to record at Byron Knight's private studio. Knight knew the guys in the band, and the band knew his studio offers both digital and analog recording. They came for the analog experience, which Knight said offers better sound quality.
"No musician who records at home could sound like that," he said. "Bands always opt for analog. They don't have any money."
Analog recording stores audio as a wave instead of numbers. It is more cost-effective, but the equipment and expertise is becoming scarce. Knight got the analog equipment as payment for a job in Nashville a few years ago. One reel of analog tape that records 15 minutes costs about $350. Three or four of those can make an album.
Knight calls analog recordings a "pure" sound. "You are not waiting on a computer to hold it," he said. A digital home studio that could capture music close to that quality might cost as much as $20,000.
Rohit Sharma, 21, hasn't spent that kind of money. An amateur musician who studies English at Mississippi State University, Sharma spends hours working on tracks, uploading them to free websites when complete. In his bedroom, he has his own mini-studio: MXL 991 condenser microphone, Alesis Multimix 8 USB mixer, FL Studio and Adobe Audition software. He doesn't expect much out of making music other than personal satisfaction.
"I just wanted to contribute to the big ocean of music that's out there," he says.
Building a Home Studio
    Home studios can be good for artists who do not want to spend too much money on recording and who feel comfortable using equipment at home. The necessary tools can all be bought for under $500.
"It can be a computer, a good microphone, an interface to connect the microphone to the computer and some recording software. That's really all you need," Jackson musician Scott Albert Johnson says. "You get that, and you'll have a home studio."
Knight, who owns Sneaky Beans coffee house as well as a private recording studio, thinks an aspiring musician might need to spend closer to $1,000 for a basic home studio. This is assuming the musician already has a computer, a guitar and electricity. He suggests Apple Logic software (about $200), Apogee Duet (a two-channel recording apparatus that runs about $500), and a Rode NT1 microphone (about $200). It's not going to be the same quality as a $20,000 digital home studio, but it's what aspiring musicians need.
"Ten years from now, you wouldn't regret buying this," he said.
A home studio helps a musician with the writing process. "It's hard for a musician to tell whether it's a good song or not," Knight says. "If I get used to playing a song myself, I won't know what is sounds like until I play (the recording) in the car."
A home studio is a good tool, but it has its down side. Knight said few people know how to record, so they often make poor recordings. To balance that, he recommends aspiring artists to play live music as much as possible.
"If you want to put a record out, get it done professionally," he says.
Musical instrument and accessory retailer Guitar Center (1189 E. County Line Road, Suite 4, 601-956-8053) has also recognized the trend of home recording. Its free "Recording Made Easy" workshops cover rotating topics, including effects, mixing and publishing, signal flow and microphone techniques, and virtual instruments and loops. Workshops are open to the public and held from 10 a.m. to 11 a.m. Saturdays. (Call first to check the schedule.)
"Overall, I think that it's a good thing that this technology has become open to everyone. The barrier of entry has been made a lot lower," Johnson said. "I think it's a great thing that you don't have to have a lot of money or access to a professional studio to make a record. All you need is the talent and that's the way it should be."
Some musicians prefer to use a combination of professional studios and home recording. One method is to professionally record the rhythm track, which includes the basic drums and bass, and then take it home to work on.
"Home studios are less expensive, and it's more easily accessed since you're not dealing with an engineer's time," musician Jamie Weems says. He's used both home and professional studios to record. "In a more established studio, however, the artist can put energy into recording and not have to manage the technical aspects."
Get the Word Out
    Many artists and aspiring artists recording at home share their music online on Facebook, and at sites such as http://www.thesixtyone.com, http://www.bandcamp.com and http://www.soundcloud.com. One most Jackson artists use is http://www.ReverbNation.com The sites give fans unlimited listening opportunities. They can download songs at the artists' price.
"Facebook is so much more streamlined, and it's easier to keep track of what you're doing," Johnson said. "It's the most integrated way of getting music out there and seeing where your fans are. Since it's a social media website, it has the best chance of reaching the most people."
Cody Cox, a musician who plays with the bands Furrows and Liver Mousse, advises musicians not to rely on Facebook alone. "You have to tell people when you self-promote," he says.
Posters, flyers and telling people face-to-face about your next gig is great advertising. That's not enough, though.
"You've got to deliver when they get there," Cox says. "Anyone can tell when a band is bored."
Some instruments or techniques may need a more intricate home set-up or maybe even a professional studio to get the best sound. Drums, especially, need the right kind of room for acoustics. Professional studios are sure to have it, but some houses might not.
Having a professional sound is important to the guys at Sonic Signature, a Jackson-based recording company. Leroy Jones, managing partner, says professional studios offer more options to fine-tune recordings. Achieving isolation between instruments is important, for example. "It's key for having the right dynamics of having a live band recording," he said.
Sonic Signature offers workshops that cover how to advertise, how to get on the radio, marketing, publishing and producing.
Join the Community
    Cox believes in making community with his music. He books other bands for Ole Tavern on George Street and Sam's Lounge. Occasionally, if he needs a bigger room for a group, he'll book them at Hal & Mal's. His company, Elegant Trainwreck, produces albums and markets them as well as books talent.
He has sold CDs at Sneaky Beans, Cups Espresso Café (where he also works) and Black Diamond Tattoo.
"That works well for me. I've even sold at Pizza Shack—places you don't expect. It's more eye-catching," Cox said.
Every time he works on an album, Cox has to decide whether to go for "lo-fi charm" or spend time and money up front. He advises musicians who want to go professional to spend as much money as possible on record quality and on packaging. He gets local artists to help him conceive and design his covers.
Like Cox, Weems shares advice with other musicians.
"More local artists have recorded in the past few years, and more knowledge is being built," Weems said. "We collectively learn from each other's mistakes."
All the technology and business plans are moot if a musician isn't any good. How to you get to be good and get a following around town?
"Practice," Knight said. "Most people practice what they already know. There's no sense in that."
While the democratization of technology has hurt record companies, Malaco Music Group director Tommy Couch Jr. says it can help aspiring musicians. Recording songs, posting videos on YouTube and figuring out grassroots marketing can create a small following.
"You need to get music heard," Couch said. "Do the best you can to play coffee shops, bars and jam nights."
Valerie Wells contributed to this report.
Keep yourself in tune with Jackson's music scene and scope out music acts by visiting the JFP Music Blog and see what's going on.
Related Stories
[Editor's Note] Vow to the Music
[Editorial] To Be a Music City, Support Musicians
More like this story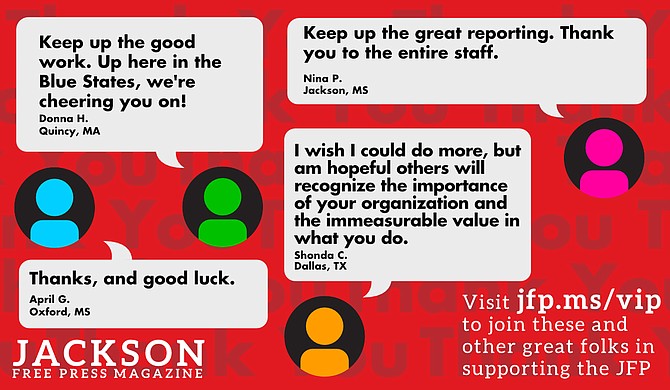 Thanks to all our new JFP VIPs!
COVID-19 has closed down the main sources of the JFP's revenue -- concerts, festivals, fundraisers, restaurants and bars. If everyone reading this article gives $5 or more, we should be able to continue publishing through the crisis. Please pay what you can to keep us reporting and publishing.