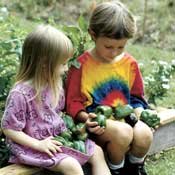 In just a couple of generations, we have gone from home-cooked meals and gardens to fast food and mow-and-blow landscapes, and our waistlines have super-sized in the process.
Want to have a little garden—grow a few herbs and vegetables, and maybe some fruit to get off the grid just a tad— but don't know how to get started? Or worse, tried it already and it didn't work out, so you gave up?
Slow gardening to the rescue! The relaxed, all-senses, all-seasons approach to gardening was inspired by the slow food movement, which encourages us to savor locally and sustainably produced foods.
For folks with small spaces or busy lifestyles, the easiest way to grow a little extra food is to stop thinking "large scale row-crop" and start growing veggies and herbs as flowers, and fruits are regular landscape plants. Slow gardening frees us up to garden the way we want to, not the way farmers do it.
One of the keys is drawing the line in what to grow. Forget corn, carrots and potatoes, which are cheap to buy; go instead for what is colorful, seasonal, highly productive or nutritious, pest-resistant and easy to grow, and you can stop wondering where it came from or whether it was sprayed with pesticides.
For example, super-nutritional, pretty peppers have more vitamin C than oranges and you can freeze them for winter use (when stores charge more than a buck and a half each). Add a few tomatoes and a cucumber vine or two. In cooler weather, grow colorful lettuces and Swiss chard, broccoli and collards.
Throw in those herbs you are most likely to actually cook with such as basil, oregano and rosemary—all attractive, super productive, and easy to use in soups and sauces. Together with a few regular flowers, you can have a pretty garden that, when you are tired of looking at it, you can eat.
The easiest ways to grow these are either in ordinary flowerbeds or in small raised beds (boxes filled with a mixture of dirt and potting soil or compost) or large containers. I grow most of my veggies and herbs in recycled five-gallon paint buckets on my sunny front deck. With regular watering and a little fertilizer, I grow enough to make soups, salads and seasonings in a very small space nearly all year.
C'mon! Forget the bread. Who can't appreciate a simple plate of sliced tomato, cucumber and basil grown in a pot right outside your own door?
In addition to herbs and vegetables, there is little more satisfying that putting up a few jars of homemade fig preserves in the summer or eating blueberries right from a shrub.
While most "tree" fruits such as peaches, plums, apples and pecans are hard to grow in our climate without spraying for pests, there are some fruit plants that are both easy to grow and double as landscape plants. These include figs, blueberries, pomegranate, some pears and muscadine grapes.
The main thing is, there's no excuse to not grow a little of your own food and have enough to share with friends and neighbors. Forget getting back to the farm—start small, and build on success.
Felder Rushing is a hands-on Jackson cottage gardener who shares advice through his newspaper columns and Mississippi Public Radio program. For information on easy gardening, visit his website, http://www.felderrushing.net.
More like this story
More stories by this author
Like independent media outlets around the world, the Jackson Free Press works hard to produce important content on a limited budget. We'd love your help! Become a JFP VIP member today and/or donate to our journalism fund. Thanks for considering a JFP VIP membership or one-time support.