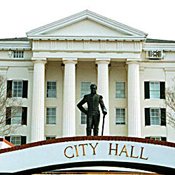 Tomorrow, the Jackson City Council will schedule a public hearing to give residents the opportunity to weigh in on the establishment and reauthorization of downtown Jackson's Business Improvement District.
Downtown Jackson Partners represents the district and is proposing to expand the BID by adding a block of Farish Street, and maintain assessment rates for properties to receive services from DJP at 10 cents per square foot.
In 1996, the Mississippi Legislature passed a bill that created Business Improvement Districts and allowed cities to levy an assessment on all taxable property in those districts. The law allows DJP to collect 10 cents on each square foot of building space and "unimproved" real estate on properties in the district. In return, DJP provides support services for the properties. The district must undergo a reauthorization process every five years.
Also see: Property Owners to Vote Biz District
CORRECTION: A previous version of this story reported that the public hearing was scheduled for tomorrow. City council members will meet to set a date for the public hearing tomorrow. We apologize for the error.
More like this story