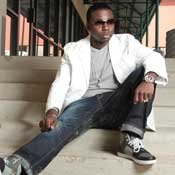 Marland "ML" Williams came close to a Grammy nomination this year. The R&B artist, who goes by ML "The Truth," had two songs make the last round of voting Nov. 30 to choose a list of nominees, but neither song found a place on the ballot.
"The great individuals that made it were major artists," he said. ML plans to attend the February awards show to support other artists and to make new connections.
ML grew up in west Jackson, and while attending Blackburn Middle School, he sang with the school's quartet. He credits this experience to his musical ear. A 
graduate of Jim Hill High School, he later earned his bachelor's degree in music and graphic design from Jackson State University.
"I've never had any formal (voice) training. Everything I pretty much pick up and teach myself," ML says. "My range is still pretty high, from my low notes to falsetto, which is a blessing."
He says groups such as Take 6 and Boyz II Men have been the biggest influences on his music. "The real R&B groups were my main focus. I wanted to be like those guys who could actually sing together and last," he says.
In his own music, he sings about his experiences with relationships and love. "What people don't realize is that most women just want you to listen. That's why I have such a huge female fan base," ML says.
His first single, "I Will," hit the radio in 2003. He says he believes in longevity instead of living for the moment, making his music relevant now and in the future.
"It can always be put on as a classic. It can still be brand new and fresh to someone hearing it for the first time," he says.
ML entered and won the "Here I Am Talent Search with Monica" last year. The website OurStage.com featured the competition to give undiscovered artists a chance to get recognition. His single, "First Time," quickly rose to the top of the competition. As the winner, he had the opportunity to perform with Monica in Atlanta's Philips Arena.
ML says he stays busy, not just with performances, but he also produces music for other artists as well as working as a songwriter and engineer. In 2006, he started a production company, 100 Drums Productions in Jackson.
"I've gotten a major response from people here from day one. That was the main reason why I didn't want to leave," ML says. "I want to make (music) for my city, to shine some real light on Mississippi and expose the hidden talent that's here."
Support our reporting -- Follow the MFP.