Gosh durn it. I should have known this would happen again. One learning experience doesn't cure you of inanity.
I am what my father has lovingly termed a "dummish." Dummish – noun – One who, despite his/her/its being of moderate intelligence, has no common sense and/or street smarts. I'm that obnoxious Indian kid who takes all the AP classes, but forgets what her own house looks like in a fit of excitement or and misses her street/exit three times when trying to get home.
Until I started interning here at the JFP, I was blissfully unaware of the fact that I am a dummish. Then I realized, while running an errand downtown for Lacey McLaughlin, how painfully lacking I am in the common sense department. If you've read my last blog post, you know all about that "field trip."
This post is a scary case of déjà vu. Same place, same issue. Field trip #2 took place fifteen minutes ago. I should be doing the responsible thing and working on an assignment due in two hours; instead I'm writing about my airheaded-ness. Ronni Mott told me today that teenagers are supposed to be lacking common sense – just doing some name-dropping. But I don't think teenagers are supposed to be this dummish.
I had no cash on me… again. I drove the opposite direction down a one-way street. I stole a parking meter. And I inadvertently carried a mini switchblade into the Hinds County Courthouse.
None of this would have happened if I'd been doing my job. Well, maybe it wouldn't have happened. Actually, I can say with certainty that I would not have been downtown today, were I a little bit more important and responsible.
Impeccably dressed Elizabeth Waibel, reporter extraordinaire, walked into the newsroom at the most inopportune moment: I was taking pictures of myself making wacky faces on my laptop, instead of working on my Fall Arts Preview piece on "Beauty and the Beast."
Her face was saying, "You're obviously wasting your time," while her mouth said, "Sadaaf, are you busy?" I love Elizabeth. She's awesome.
She needed someone to take a camera down to Lacey at the Courthouse. I clearly wasn't doing anything important, so the task fell to me.
I experienced that burst of excitement associated with being on an adventure quest, where my vision went white and my heart soared. I skipped off downtown, without a dollar in my pocket. So by the time I got down there, I'd realized that I couldn't park. Of course, it didn't readily occur to me that I'd only be away from my car for five minutes, and I could just steal a meter. It took me ten minutes to come to that realization. In the meantime, I'd driven west on Pascagoula Street (a big no-no), and east on Pearl (an even bigger no-no).
It is a miracle I did not 1) die, or 2) get stopped by the police. No, the police encounter came later. I stole a meter that had twelve minutes left on it. I'm not proud of it, but that's the most sensible thing I did today. At the time, despite my dilemma and the 100-degree weather, I felt good. I was on my way to efficiency. I'd deliver the camera to Lacey, and be on my way, and it would only take 20 minutes.
Then they found my switchblade. To clarify: it wasn't my switchblade. And it's not even really a switchblade; it's more of a pocket knife.
The story behind the switchblade: A friend of mine was showing me his new knife (I don't know why he needs a knife) and left it in my car. I was going to return it today, after I left the JFP. I kept it in my purse, to hide it from my parents, and consequently forgot about it.
The kindly guard who searched my bag at the Courthouse seemed surprised to find a young girl carrying such a knife. To be honest, I myself was surprised to find it sitting in the bottom of my purse. It was kind of incongruous with the other objects in there: my sunglasses, my floral Vera Bradley wallet, and my car keys attached to the St. Andrew's Episcopal School keychain.
I almost cried. I begged the guards not to call the cops. Another miracle: it worked. They threw it away. Sorry, friend whose switchblade it was. But I would have thrown it away too, had I been the guards. I can imagine I didn't seem very stable, blubbering about the police and a pocket knife. And my skin color definitely doesn't help.
You know what else doesn't help? I have no food in my stomach. Ramadan Mubarak, y'all.
So I delivered the camera, got back to the parking meter in time, returned to the JFP in one piece. I took a six-minute nap in the parking lot.
This post, like its predecessor, was completely pointless. I apologize, but I'd like to share with the world that learning is not a one-time thing, if that makes any sense. You can't have a learning experience and expect that you have changed completely after that one incident. Learning doesn't work that way. And of course, you can't have a learning experience without first making some sort of mistake.
Thanks, Jackson Free Press, for teaching me a thing or two… or five about learning and life. I'm sorry for cluttering up jackblog with my ramblings.
Previous Comments
ID

164369

Comment

Sadaaf will be with us after school this fall, too. We definitely want her to keep blogging! (And we've now told her where the roll of quarters lives. Smile.)

Author

DonnaLadd

Date

2011-08-10T14:56:21-06:00
More like this story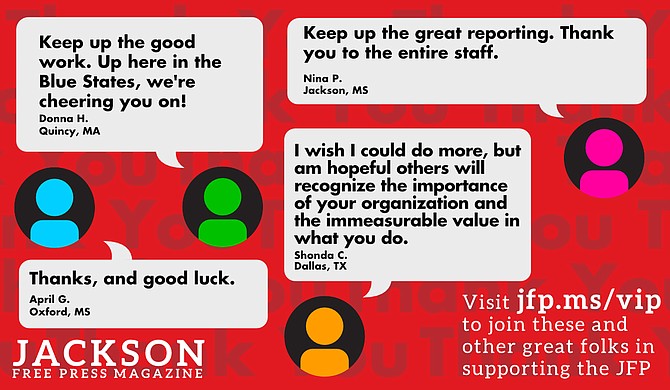 Thanks to all our new JFP VIPs!
COVID-19 has closed down the main sources of the JFP's revenue -- concerts, festivals, fundraisers, restaurants and bars. If everyone reading this article gives $5 or more, we should be able to continue publishing through the crisis. Please pay what you can to keep us reporting and publishing.