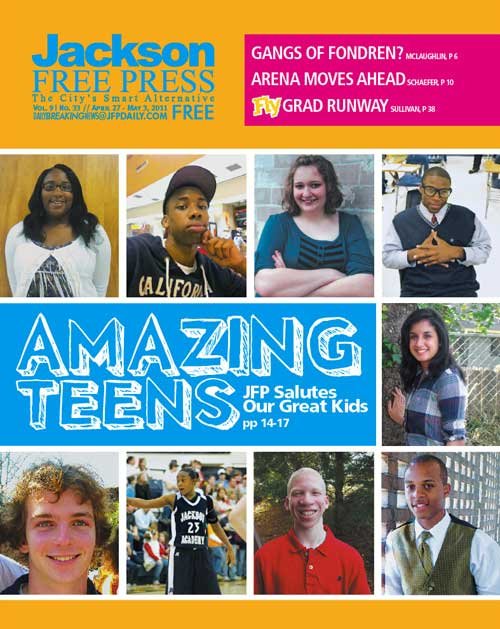 In honor of graduation month and new beginnings, the Jackson Free Press is honoring a group of amazing high school teens from throughout the Jackson metropolitcan area this issue.
We asked the community to suggest young people who have overcome challenges or who are working to make a difference and, thus, influencing other kids as well as adults. Readers nominated teenagers who volunteer, study and persevere. Not all these young people are seniors, but all them are influential leaders and optimistic about their future. Jackson should be proud.
Neha Sharma
Neha Sharma, 16, is an 11th-grader at Mt. Salus Christian School in Clinton. As a member of the Mt. Salus yearbook staff, she served as an editorial assistant and helped to preserve the memories of the past year for the students and faculty. Sharma serves on the student council and is an avid tennis player. She is a graduate of Youth Leadership Jackson and regularly volunteers at Horses for Handicapped. Sharma plans to attend Mississippi State University or the University of Southern Mississippi where she will study anthropology or enter a program to become a crime-scene investigator.
Music inspires Sharma, and in her spare time she enjoys playing the guitar and piano. Sharma says she identifies with others who have overcome teenage depression.
Katie Fulton
Katie Fulton, 14, will be a freshman at Brandon High School in the fall. Her brother Pierce was born in 2010 with a heart defect and died three months later while waiting for a heart transplant. Her brother Jonathan was killed in 2003 at age 2 in a car accident. Through these tragedies, Fulton has grown as a young woman. She works through organizations such as Mended Little Hearts, founded to raise awareness of heart defects, to help others who have faced similar heartache. She is active in her church and says that her faith is an important factor helping her weather the events of her life.
Fulton regularly donates her time to Mississippi Blood Services and acted in a commercial encouraging others to help save a life. Fulton is a soccer player and hopes to attend Louisiana State University on a soccer scholarship. Eventually, Fulton wants to become a cardiac nurse and continue her campaign to help others.
Justin Rollins
Justin Rollins is a 17-year-old 11th-grader at the Mississippi School for the Blind where he treasurer of the student council. He works with the Salvation Army to provide the community with clothes and toys at Christmas time and year round. Rollins volunteers with Gateway Missions to provide canned goods and other food to the needy. His ambition is to study programming and become a video-game designer for a large company such as Microsoft or Sony. Though his vision is impaired, he still gives back to the community rather than taking, never seeing his disability as a handicap.
YoDitra Davis
YoDitra Davis is an 18-year-old senior at Jim Hill High School. Growing up the youngest of four to a single mother, Davis has faced not only financial, but social adversity. Rather than taking from her community, Davis chooses to give back.
Through the Young People's Project, she volunteers as a math tutor, helping students after school at Operation Shoestring.
"By investing in herself, Davis learns how to work with young people and engage them," YPP Lead Organizer Albert Sykes says of Davis.
Davis will attend Jackson State University in the fall where she will study education. Her ultimate goal is to move into administration and one day become superintendent of Jackson Public Schools. Through the YPP, she had the opportunity to attend the Student Nonviolent Coordinating Committee's 50th anniversary in Raleigh, N.C., as well as the U.S. Department of Education's Youth Listening Tour and National Youth Summit.
Davis has a passion for teaching, finding it a wonderful jumping off-point for service. "You've got to start somewhere," she says.
Andrew Deleeuw
Andrew Deleeuw is an 18-year-old senior at Northwest Rankin High School in Brandon. Deleeuw is the editor of his school newspaper and is involved with the Model United Nations, participating each summer in simulations at Mississippi State University. He presented his senior project on the effect of globalization on the developing world. Through this, he became heavily involved with the Mississippi Immigrant Rights Alliance and helped lobby against recent anti-immigration bills in the Mississippi Legislature.
Deleeuw is a member of the William F. Winter Institute for Racial Reconciliation, through which he helped organize and attended a summer youth program that gathered young people of every race and creed from all over the state to spend 10 days exploring race relations and civil rights in Mississippi. He is also a member of the Young Democrats at his school and worked on campaigns for Jim Kitchens, Hillary Clinton and Barack Obama.
For his academic efforts, the Korean Foundation and the travel agency CIEE awarded Deleeuw a study-abroad scholarship, and he spent two weeks in Seoul, Korea. He plans to study international relations and public policy at the University of Mississippi where he has received a Croft Scholarship. His dream is to become a U.S. ambassador.
"Every human being should be treated with respect and dignity," Deleeuw says.
Cedric Hampton
Cedric Hampton is a 15-year-old sophomore at Forest Hill High School. At school, Hampton plays varsity tennis, varsity soccer and junior-varsity baseball, as well as serving as an anchor for his Quiz Bowl team. He likes to traverse his neighborhood trying to find good things to do, such as mow a lawn or take out the trash for elderly residents. He is active with Stewpot and Operation Shoestring as well as Youth Leadership Jackson and Gateway Missions. He wants to attend an SEC school so that he can stay close to home and, eventually, become a doctor. His plans are to stay in Mississippi and give back to the community that has given so much to him.
"I don't believe we are a bad state. I want to get Mississippi (away) from being known that way," Hampton says.
Hampton is inspired by seeing good deeds that others do. He says when people look down on him, it only makes him stronger and more determined.
Zarius Johnson
Zarius Johnson is a 16-year-old sophomore at Lanier High School in Jackson. Through the Young People's Project, Johnson attended the 50th anniversary of the Student Nonviolent Coordinating Committee in Raleigh, N.C. The second of six siblings, he resides in the Sunset Community and has seen financial and social adversity. He volunteers with the Young People's Project and works with other students through Operation Shoestring. He is also a participant in Junior ROTC.
While still unsure about his college of choice, Johnson knows he wants to open a soul-food restaurant one day. Inspired by God and his family, Johnson continues to set an example for other young black men to make the most of their education.
Iasia Collins
Iasia Collins is a 17-year-old 11th-grader at Clinton High School. She is involved with the basketball team by playing center and participates in track, throwing the shot put and discus.
To serve her community, Collins helps the homeless by donating clothing, and she is helping clean up the Jackson Zoo through AmeriCorps. Collins says she feels God's calling for her life is to become a researcher, and she plans to major in biology with a minor in microbiology. She is inspired by God and is striving to be someone who serves people by helping them to understand that they can get better, and God can help them.
Alexis Banger
Alexis Banger is a 16-year-old sophomore at Callaway High School in Jackson. Her already impressive resume of honors and societies shows her to be an exceptional scholar. She works with the Student Government Association as the president of her class and reaches out to her community through seminars and meetings designed to lower the student dropout rate. She also participates in the Show Choir.
Banger is a member of the National Honor Society, National Society of High Scholars and DECA, the international honor society of marketing students that prepares high-school and college students for the entrepreneurial world by encouraging to get a job. She is in the top 10 in her class of accelerated classes. She is donating her time and effort to the recovery from the recent storms in the Jackson area by donating clothing and non-perishable items.
With plans to become an English teacher, Banger wants to attend a college close to home, such as Mississippi College or the University of Southern Mississippi, to study education. She is inspired by music and dance and has been dancing since the second grade. Banger is a skilled hip-hop dancer and is studying lyrical dance taking a class in majorette skills to try out for the Callaway dance team.
Drodriguez Williams
Drodriguez Williams is an 18-year-old senior at Wingfield High School in Jackson. Known as "Peanut" to his friends, Williams has faced adversity in the classroom and in the community. As an eighth-grader having "reading trouble," he pursued a Mississippi Occupational Diploma, only to be informed later that this degree would not gain him entrance into the military. He went on to pursue his GED at Camp Shelby, but circumstances led him to come back to Wingfield to work for his diploma.
His challenges have only made him stronger as he continues to work through his difficulties and persevere. He works with Mississippi Families As Allies for Children's Mental Health, speaking at regional and national events. His attention is focused on joining the military, either the Navy or National Guard. Williams likes being active and feels that the armed forces would be a good fit for him, and he wants to serve his country.
Bryston Tucker
Bryston Tucker is an 18-year-old senior at St. Joseph Catholic School. Each summer, Tucker works at the YMCA, from May to August. He tries to keep his service to the community local by helping an elderly neighbor who Tucker says has no family and could use someone looking out for her. He also focuses his attention statewide by working with the Mississippi Lung Association, the Mississippi Diabetes Association and Stewpot.
Tucker is a member of the Mayor's Youth Council and a graduate of the Youth Leadership Jackson program. At St. Joe, he runs track and is a member of the Retreat Team. This student-led group organizes retreats for young people in grades 8 through 12 to discuss relevant topics over the course of a weekend. Tucker says this year they concentrated on abstinence and helping the participating students grow closer to God. He is a member of FLASH or Future Leaders Always Serving Him.
Tucker plans to attend the Ole Miss where he will major in political science and then pursue a degree in law at Pepperdine University. His goals are to become a lobbyist and, ultimately, run for the Senate. His desire to be a lobbyist came from his time paging for former Lt. Gov. Amy Tuck and Lt. Gov. Phil Bryant. At St. James Missionary Baptist Church, Tucker is president of the Future Christian Leaders Society and serves on the usher board and lends his voice to the mass and youth choirs.
Matthew Warren
Matthew Warren is a 16-year-old 11th-grader at St. Andrew Episcopal School in Ridgeland. He participates in football as a guard on the offensive line and is vice president of his class.
Warren went with his church, Northminster Baptist Church, on mission trips to North Carolina, Arkansas and New Orleans. A few years after Hurricane Katrina, he participated in a clean-up of the 9th Ward, primarily gutting houses. On his trip to North Carolina, Matthew spent time in low-income neighborhoods. He said that it may be cliché, but you really don't realize what have until you see other areas where people have so little.
Every other month on the first Saturday, Warren makes his way to Stewpot to help feed the homeless.
Warren wants to attend the University of Southern Mississippi after high school. At Northminster, he was a member of his church choir and was on the selection committee to for a new youth minister. Warren also enjoys playing the guitar.
Henry Murphy
Henry Murphy is a 17-year-old senior at Murrah High School in Jackson. As the editor of his school newspaper, the Murrah Hoofbeat, Murphy helped create the newspaper's first website. Captain of the quiz-bowl team, Murphy led the team to second place at the state competition this year. He is also a member of the Base Pair Program at the University of Mississippi where students participate in medical research studies for one period out of their school day. Murphy participated in the program during the summer and worked full 40-hour weeks during one of his vacation months. He worked in neurology where his research was published in the medical journal, The Cerebellum.
As a Student-Teacher Achievement Recognition student, Murphy has to hold a high grade-point average and score in the top rankings of the ACT to graduate the program. Murphy will attend Columbia University in the fall to study computer science and film. He hopes to go on to the graduate program in journalism at Columbia to study next-generation media.
"I want to do well for the people around me who have supported me," Murphy says.
Anja Scheib
Anja Scheib is a 16-year-old 10th-grader at Madison Central High School. An all-A student, Scheib has been a member of the Beta Club since 5th grade and has participated in many community service activities with Sunnybrook Children's Home, Relay for Life and outings with local special-needs children. She was once a part of the Duke of Edinburgh Program that encouraged students to reach out with community service and, at the same time, learn a skill. Scheib is trying to get the program reinstated at her school.
Scheib is an active member of Highland Chapel Church, and is instrumental in hosting a weekly meeting at Fusion Coffeehouse for discussions about Christianity.
"Instead of teaching the Bible, we have a topic, and people can put their input in," Scheib says.
She says that people from many walks of life, including atheists and agnostics, are welcome to join the discussion.
"I judge people by what they become. I want to plant a seed and watch them grow themselves," she says.
Scheib wants to pursue a degree in psychology or political science and work for a non-profit organization.
Quinton Bradley
Quinton Bradley is an 18-year-old senior at Bailey Magnet High School who is taking classes in the allied-health program to prepare for a career in veterinary medicine.
Bradley has come a long way since being diagnosed with ADD when he was 12. In middle school he struggled with his grades, but with tutoring and assistance from his family and teacher, he now makes As and Bs.
He participates in the Upward Bound program at Tougaloo College. Through this government-funded college preparation program, he's had an opportunity to travel to colleges and universities in other states.
Bradley has been on the drill team, football team and Junior ROTC at his school. He works part-time and has volunteered at Community Animal Rescue and Adoption.
When he's not studying, you might find Bradley playing video games, watching anime, or practicing archery or martial arts. He also attends New Dimensions Ministry with his family.
"God inspires me because I know he will always be with me to help me out in any situation," he says.
Bradley will attend Hinds Community College in Raymond to earn his associate's degree and then plans to continue his studies at Mississippi State University.
Scott Blackwell
Scott Blackwell, 18, is a senior at Jackson Preparatory School. He is involved in youth groups at Christ United Methodist Church and Covenant Presbyterian Church.
Blackwell's most significant endeavor is Life Renewed Clothing. He started Life Renewed in 2009 with former classmate Jack Strahan. They came together to raise money for poor and homeless people of Jackson through the sale of T-shirts they design. They modeled their T-shirt venture on a company out of Los Angeles, "Can't Ignore the Poor." They approached Ron Chane, owner of Studio Chane, who prints all their shirts at wholesale cost.
Blackwell and Strahan now have two designs available, and 100 percent of proceeds go to Country Oaks Recovery Center, a drug and alcohol rehabilitation center for men living with HIV/AIDS. Blackwell also volunteers his time at the center.
According to his mother, Ann Blackwell, his drive stems from seeing the effect of alcohol and drugs in his own family.
His mother, a recovering addict, ran a halfway house for women in Jackson for several years. Blackwell regularly speaks to other youth groups and the community about Country Oaks to raise awareness for this often-overlooked population.
Blackwell is encouraged by Mother Teresa's words: "If you can't feed a hundred people, then feed just one."
His other passion is film, and he is working on one he hopes to submit to the Crossroads Film Festival next year. He has also volunteered at Crossroads for the past three years.
Blackwell is undecided about his college choice, but is considering the University of Mississippi and the University of Southern Mississippi to major in film studies.
Jerrod Antoine Robinson
Jerrod Antoine Robinson, 18, is a senior at Provine High School. He is president of Mu Alpha Theta, National Honor Society, student body president, and involved in the Exceeding and Beyond club, National Beta, the Jackson Mayor's Youth Council, Mississippi Coalition, Sigma Beta Club and tuba section leader for the Pride of Provine marching band.
Robinson is a member of the New Galilean M.B. Church, has served his community through various toy drives, community clean-ups, blood drives and canned food drives. His achievements include the honor roll, all-city band awards and, citizenship awards.
As captain of the Provine Rambunctious Rams Robotics Team, Robinson recruits and trains team members, and serves as the builder and supervisor of the design and construction of a robot for FIRST, or For Inspiration and Recognition of Science and Technology. FIRST is a multinational non-profit organization that aspires to transform culture, making science, math, engineering, and technology as cool for kids as sports are today.
"I am the person to come to when anyone needs help," he says.
Joining in his sophomore year, Robinson says that the robotics team gives members a chance to experience situations outside of their normal comfort zone. It also challenges their minds through problem solving and exposes them to real world situations, such as job interviewing and networking. He plans to continue helping and mentoring the team, which is the only one of its kind in JPS, after graduation.
In the fall, Robinson will attend Jackson State University majoring in computer engineering. His ultimate goal is to create better computer programs by enhancing their concept and design and to dismantle the limitations of computers.
Robinson says his father's work attitude and his mother's unbridled, fierce determination inspire him. He lives by the motto, "Never think outside the box or inside of it, but keep it in your mind to refer back to it. For the most difficult questions have the simplest of answers and vice versa." He also enjoys writing and composing music, reading and writing poetry, and studying ancient cultures.
Brooke Reed
At the age of 16, Brooke Reed has reached a level of maturity that can only come from experiencing the hardships life can bring. But instead of dwelling on setbacks, the boisterous teen wants to inspire others to overcome obstacles.
Five years ago, doctors diagnosed Reed with cold urticaria, a rare disorder that causes Reed to have an allergic reaction to weather 30 degrees or colder. Winters are dangerous for Reed and she is normally confined to her house.
"That means when I get cold, I start to swell, and I could die," Reed says. "It's like being under house arrest."
Then, in September 2009, Reed received another diagnosis: she has Crohn's disease; an inflammatory bowl disease. Despite her illnesses, Reed, who is home schooled, is a chaplain for the Brandon Mayor's Youth Council where she leads area youth in prayers and devotionals before leadership meetings. Reed is also a member of the Generation-Free Youth Advisory Board, a youth-led program based out of the Mississippi Department of Health, which conducts anti-tobacco campaigns.
Reed has found her passion in motivating others. Over the past year, she has spoken to seven churches through out the state about her life and how to overcome obstacles. Reed often uses humor to deal with her illnesses, and has no problem laughing at herself.
"I love talking to people and making them laugh. It's really one of my passions," she says. "... I think being as a young as I am, people are amazed by the amount of faith I have. They don't expect someone as young as I am to want to stand up in front of people and tell them about an embarrassing disease like Crohn's. Most people don't want to talk about Crohn's Disease but I find humor in it. If you don't find humor in it, you can't laugh "
Reed is working on a book about her life experiences and wants to be a full-time motivational speaker.
"Sometimes we go through obstacles in life, because it makes us who we are and in develops the purpose we are suppose to fulfill," she says.
Shelbretta Ball
Shelbretta Ball, 18, is a senior at Jackson Academy. A native of McClain (south of Hattiesburg), Ball moved to Jackson with her mother and sisters in 2006.
The only African American student in her class at the time, she says the transition to JA was challenging, but she is thankful for the experience. She didn't know how to grasp it all at first and felt like she didn't belong, but her classmates soon embraced her.
Ball has played basketball at JA since the 7th grade. Last season, she made the All-Conference team for district and state tournaments and made the All Metro 4th team. This year her team made it to the state championships, only to lose by 10 points to Brookhaven Academy.
"I felt like I was incomplete ... that the job wasn't done. Time had run out," Ball says. After a lot of self-reflection, the experience made her look at what was beyond basketball to the people and friendships that will last long after the final buzzer.
When not on the court, Ball is an honors student, a member of the Diamond Girls club, Senior High Student Council representative. She is an advanced-placement art student and received an honorable mention for her art in the Scholastic Art competition. Her senior art project, in the medium of acrylics, represented her views on race.
"In God's eyes we are all the same," she says.
She used black and white paints and colored tissue paper to illustrate the interconnectedness of people across racial lines.
Ball has served the community through Habitat for Humanity, Serving and Learning Club, Youth in Action, tutoring at the Neighborhood Christian Center, and volunteering for the Walk for Diabetes and Jingle Bell Jog for the Mississippi Children's Hospital. She organized the Black History student program at Jackson Academy to celebrate positive contributions and images in the black community. This year's theme was "We All are One."
Inspired by the positive people in her life that include her family and her JA family, Ball hopes to attend either the University of South Carolina or the University of Southern Mississippi in the fall. She will continue playing basketball, and she wants to major in graphic design, criminal justice or paralegal studies.
Related Links
Passions Fulfill
Now What?
Coming-of-Age Flicks
Grad Gifts
A Gift with Meaning
The Student-Loan Maze
Commencement Ceremonies 2011 in Jackson
Project Graduation Runway
Previous Comments
ID

163293

Comment

Folks, all of these teens were nominated by readers. PLEASE help us feature more great teenagers in the JFP year-round. Send ideas for young (and older) Jacksonians to: [email protected] Cheers to the amazing teens! We're proud of you.

Author

DonnaLadd

Date

2011-04-27T15:20:09-06:00
Support our reporting -- Become a JFP VIP.
The news business has changed dramatically in the past year, and we need your help more than ever to keep bringing you important stories about Jackson and the Metro. Become a JFP VIP with an annual membership or you can Sign up as a monthly supporter. Thanks for anything you can do to empower our journalism!