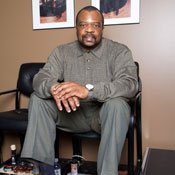 Darrell "Doc" Cousins doesn't care about making a few extra dollars. All he sees is a pair of brown leather boots in need of some polish. "Care for a shine?" he asks in the middle of our interview.
He goes about the act with the precision of a painter. The polish and waxes are his paints, and his rag and blow dryer his paintbrushes.
With the motto, "When you look good, you feel good," Cousins opened The Shoe Shine Doctor and Company in Jackson about a year ago. Cousins' main location is the Shops and Parking at Jackson Place, and he can also be found at the Marriott Hotel and the Jackson Convention Center.
Cousins, 55, spent 25 years in California and five years in Las Vegas, where he opened several shoeshine parlors. While in California, he got a job at NBC Studios after shoe shiner Floyd Jackson retired. There, Cousins shined shoes for hosts and contestants on game shows, soap operas and various talk shows.
"You've got to be a special person to go and to represent NBC Studios and be able to approach different stars who needed a shoeshine," he says.
He finds the conversations with his customers rewarding.
"I love shining shoes and being able to meet people. I have a lot of famous faces on my wall," Cousins says, pointing proudly to the photos of him with his customers. Cousins has had the pleasure of working with B.B. King, Clint Eastwood, Jay Leno, Whitney Houston and many others.
One of his trademarks is using a blow dryer to melt in the wax and rejuvenate the leather. "I have a passion for it," he says. "I love seeing the leather come back. That's why I call myself the shoeshine doctor."
Originally from Youngstown, Ohio, Cousins has been in the business for 43 years. He learned the trade when his father started a shoeshine company after retiring from a steel mill.
"I love shining shoes, and now I'm able to give it away," Cousins says. He is the only shoeshiner offering free shines in Jackson, although he accepts donations.
Cousins believes that after one shoeshine, customers will return and even bring drop-offs, for which he charges $7. When not working, Cousins enjoys playing the xylophone and sewing.
Cousins made his way to Tupelo in 1999 and quickly earned popularity. He was featured in the National Inquirer for his quality shoeshines. He made the move to Jackson a year ago after the Tupelo economy started going downhill and Parkway Leasing requested his service.
"I'm trying to grow and do better for myself. Jackson is a great place to live," Cousins says. "I saw that Jackson was growing and wanted to be part of it."
Support our reporting -- Follow the MFP.