Like Halley's Comet, it might happen at most twice in a lifetime, where two of the most widely recognized names in poetry come together at the same time and place to enlighten and inspire. That time is this weekend. Get outside, because the stars are shooting: Sonia Sanchez and Amiri Baraka are coming. This year marks Jackson State University's Margaret Walker Alexander National Research Center's fifth Creative Arts Festival, and nationally and internationally acclaimed authors Sanchez and Baraka are two of the special guests.
Neither of these seminal artists are strictly poets; they are students of sociology, history, human nature and, finally, they are social commentators. And while this writer interviewed the two separately, their spirits are kindred. Both friends of writer and poet Margaret Walker Alexander, who lived and worked in Jackson for years, Baraka and Sanchez are just as important to the American literary landscape as Robert Frost and Emily Dickinson but aren't recognized as such nearly enough.
That might be by design. Baraka, who came into America's consciousness in 2001, after a poem he'd penned about the Sept. 11 attacks titled "Somebody Blew Up America," says those who run the literary councils of the United States advertise poetry as an intimidating literary genre.
"(They) really like to push poetry as very indirect, very abstract, very formal. And so anything that speaks directly to the world--what's happening in the world--they feel intimated by, and they try to keep a majority of Americans from understanding what poetry is really about," he says.
"(Poetry is) supposed to clarify the world, not make it more abstract. ... It's like the economy: A few people got it, and the rest of the people don't."
But just like any vanguard, this alleged fact doesn't keep either of them from producing. "It just means you'll stay poor for the rest of your life," Baraka says, only half joking.
Most recently, Sanchez, known for her adherence to structural poetic form, published her 18th book, "Morning Haiku." She chose haiku, three-line poems, because the haiku "makes us be mindful of ourselves, our beauty, our non-beauty, and it makes us be careful with our tongues."
"Careful," however, does not mean there is no room for a poet to be challenging. Baraka lost his Poet Laureate of New Jersey distinction after some people took offense to four lines in "Somebody Blew Up America," as anti-Semitic. To handle that, he says, one develops a defensive posture.
"What we learn when we defy 'the power' is just how effective that power is (when) used against you," Baraka explains.
Sanchez, who has also inspired her share of provocation as one of the first poets to use urban language in her written works, championed having black-studies programs on college campuses and taught the premiere seminar on black American women in the country. She says it's a part of the call of a poet.
"What we attempt to do--we poets--is to do what Frantz Fanon said ... to hold one's self like a sliver to the heart of the world; to interrupt, if necessary, the rhythm of the world; to upset, if necessary, the chain of command ... I do battle for the creation of a human world," she says. "So what we've attempted to (do) as poets, is to answer the question 'What does it mean to be human?'"
But the duo not only reflects about humanity but the black experience. The theme for the Creative Arts Festival is "The 50th Anniversary of the Freedom Rides," and Baraka says the difference between now and 50 years ago is surface change.
"The dialogue has changed; names of certain things have changed; but, in essence, racism is still very much in place in the United States. And it's even gotten more surly since Obama's been there, because they believe they can use Obama's presence to mask the fact that there's a vicious kind of racist recidivism going on in the United States. ... The tea party is proof."
Sanchez adds: "It's the poet's job to not only to learn the form but to transform the form. Transformation is inevitable. That's what I'm doing here. Transforming."
In addition to Amiri Baraka and Sonia Sanchez, featured guests at the Margaret Walker Alexander National Research Center's Creative Arts Festival April 8 and 9 include Jackson State University professor and poet C. Liegh McInnis, JSU graduate and hip-hopologist Charlie Braxton and Chezia Thompson-Cager. To see a complete schedule of events, visit http://www.jsums.edu/margaretwalker/artsfestival2011.
More stories by this author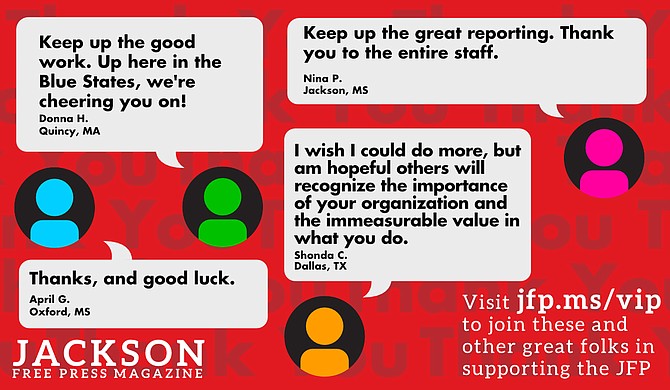 Thanks to all our new JFP VIPs!
COVID-19 has closed down the main sources of the JFP's revenue -- concerts, festivals, fundraisers, restaurants and bars. If everyone reading this article gives $5 or more, we should be able to continue publishing through the crisis. Please pay what you can to keep us reporting and publishing.