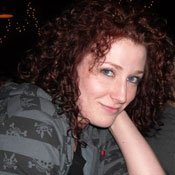 At first all I heard was a crash. I looked up and saw a young woman carrying a child. I saw the Kroger grocery buggy's contents going in her direction, but she stopped in time. I didn't register right away that a car had hit my buggy. I honestly was confused as to how it ended up on its side. My main concern was that the woman and child were OK.
This woman was beautiful, as was her child. She was only a few years younger than me, maybe 25. Her eyes were blue like mine, her skin just as fair. Her son could have passed as my own. He had big blue eyes and honey-gold hair with a light curl. I didn't see the color of her hair because a beautiful, colorful scarf covered it. She was Muslim, a fact that didn't register until after we spoke.
She started to walk toward me and hesitated. I smiled warmly, and she asked if I was OK. I told her I was, then sighed, looking down at the mess. The young woman then asked me, "May I help you clean this mess up?" She had a faint Middle Eastern accent with an edge of fear and trepidation coursing through it.
I must have looked confused when I responded with, "Yeah." She took a few steps toward me, baby on hip, then stopped again. She looked at me hesitantly before asking, "Is it OK with you if I touch your things?" Her voice still held a note of fear and trepidation. She looked braced for rejection.
Confused again, I responded, "Yeah." I started to move to help clean up the mess when the realization hit me; she was scared because she was Muslim. She was scared that I would not want her to touch my things because she was Muslim. My heart ached suddenly.
The woman who hit my buggy came around finally and started yelling about her car. She never once asked me if I was OK. She never once asked me if I needed help to clean up the mess she had caused. All she did was complain about her car and the paint that was now missing from her bumper.
I tuned her out until a deputy walked up. He informed the woman she was at fault. Needless to say, she didn't like that. The deputy also asked her if she realized she could have injured me, and she could have injured the woman carrying the baby. Her response to the deputy: "But what about my car?!?"
I was so flustered I had not noticed what the young Muslim woman was doing. With the baby on her hip, she was trying to put 12- and 20-packs of canned drinks into my backseat. At one point she was pushing a 20-pack of canned diet drinks with her foot to the open back door of my car. I tried stopping her, but she just turned to me and smiled saying," I want to help you; please allow me?" I was humbled. She seemed genuinely happy I was allowing her to help me.
The woman, as a last dig in her anger over her car, turned to the young Muslim woman. She put her hands on her hips and said nastily, "I bet you gonna take her side, aren't ya? All you people turning against all of us! You don't even deserve to be here—you or your baby!" The Muslim women stopped immediately and brought her free hand up to protectively cover her child's head. She looked terrified and, again, my heart ached.
I turned quickly, ready to give this woman a good southern talkin'-to just like my momma taught me. The deputy stepped in before I said a word. He looked at this woman and suggested she leave and not come back. He said it much nicer than I would have, to be honest.
I turned to the young Muslim woman and wrapped my arms around her and her child. I thanked her for helping me. I thanked her for her compassion. I told her I was glad that she was here and that I wanted her here. I told her I was blessed that my path had crossed hers. I pulled away, and there were tears in her eyes, but no fear. I told her to have a good day and she said the same to me.
I put the rest of the canned drinks in my car, exchanged a few pleasantries with the deputy, and then was on my way to work. It took everything I had not to lose it. I wanted to sob and hit something hard. I thanked my Higher Power at that moment for giving me the parents he did. I thanked Him that I was taught to never judge anyone based on color, gender, religion or sexual orientation. I thanked Him that the first thing I noticed about her was not the fact that she was Muslim. I noticed the beauty in her and her child's face.
I thanked Him for that gift above everything else.
A south Jackson native, Amy Hendry—better known to Magnolia Roller Vixen fans as C.H.B.—is a full-time college student majoring in nursing.
Previous Comments
ID

160137

Comment

Simply stunning. I cannot read this column without crying. Welcome to the JFP columnists circle, Amy. I look forward to publishing more of your pieces.

Author

DonnaLadd

Date

2010-09-29T19:08:19-06:00
ID

160146

Comment

wow. wonderful to hear from people of faith who want to live in a world of love rather than a world of selfish hate.

Author

Izzy

Date

2010-09-29T22:21:57-06:00
ID

160163

Comment

Great story!

Author

Lori Kincses

Date

2010-09-30T12:57:14-06:00
ID

160202

Comment

This is so beautifully written - capturing all your emotions. I have tears in my eyes after reading this and no more words to add.

Author

bcsimpson

Date

2010-10-05T14:24:46-06:00
More stories by this author
Support our reporting -- Become a JFP VIP.
The news business has changed dramatically in the past year, and we need your help more than ever to keep bringing you important stories about Jackson and the Metro. Become a JFP VIP with an annual membership or you can Sign up as a monthly supporter. Thanks for anything you can do to empower our journalism!