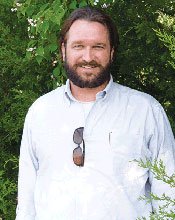 Heath Patterson is ready for Halloween. This year, he's making an appearance as Richie Tenenbaum of "The Royal Tenenbaums" with the perfect accessory: the quintessential brown beard.
The Jacksonian of eight years is in charge of the third annual Blocktober Halloween Party the Jackson Downtown Neighborhood Association is hosting.
As a JDNA member, Patterson is heavily involved with making downtown a vibrant community for residents.
Patterson, 31, was born in Martin, Ky., but lived in five places before making his way to Mississippi. Patterson's father became a Baptist music minister while the family was living in Belmont, N.C. When Patterson was in high school, his family moved to Honduras to do mission work for four years. After high school, Patterson set his sights on Mississippi State University, mostly because he had extended family in Mississippi and both of his parents spent time growing up in the Delta.
"My roots are here," Patterson says. "I've told people, 'I'm not from Mississippi, but I got here as soon as I could.'"
After graduating in 2002 with a degree in civil engineering, Patterson began work as project engineer with the Mississippi Department of Transportation. He had worked with MDOT through a co-op program in college. Two years ago, MDOT promoted Patterson as an area engineer of District 5, which includes the city of Jackson. In his current job, he oversees the construction of highways.
"My favorite part of what I do is that I have the Jackson area," Patterson says. "It's immediate gratification in that I see my projects on a constant basis and get to be involved in the place that I live."
He has lived downtown for the past two years and loves riding his bike only five blocks to work each day. He's excited that downtown is starting to blossom and looks at events like the Blocktober Halloween Party as a way of showing future residents the active community that exists downtown.
Patterson plans on staying in Jackson indefinitely. He loves his job and the connections he has made in the city. Patterson loves being involved, although he is modest about the work he's done to organize this year's Blocktober Halloween Party. For him, it's all about working to improve the capital city.
"As a state, this is the capital, so it's very important for (Jackson) to be strong," Patterson says. "This is the central governing body as far as law is concerned. It's what people should associate with Mississippi."
Although Patterson isn't allowed to win Blocktobers' costume contest since he is organizing the event, he's excited to spend this Halloween putting on a free party downtown promoting his community and providing a place for people to have a good time.
More stories by this author