Going into Sunday night's game, the defending Super Bowl champs of 2009 -- the New Orleans Saints -- were slight underdogs to the Super Bowl champs of 2008 -- the Pittsburgh Steelers. The Steelers' consistency had netted them a record of 6-1; the Saints inconsistency had them struggling to stay above .500, with commentators wondering aloud if the Saints were experiencing a Super Bowl hangover.
The Saints-Steelers game was played under perfect conditions for a New Orleans upset -- in the Dome, on Halloween, at night, on a weekend -- thereby ensuring a full day's drinking leading up to an insane 12th man performance. The Steelers were clearly affected by the crowd, with the Steelers problem-child QB Ben Roethlisberger burning a timeout early in each half, having no hard count effectiveness and an inability to audible out of called plays. The crowd also appeared to give an edge to the Saints defense in their ability to get a jump on R-berger's snaps.
The Saints defense -- which played with a defensive secondary so depleted by injury that they at one point fielded five safeties and no cornerbacks -- relied on blitz after blitz to keep Rothlisburger throwing quick passes, often with lackluster results.
The Saints offense sputtered at the beginning of the game and seemed to be in trouble when Drew Brees threw a "Farve" toward the end of the first half, resulting in an interception, but the Saints defense held and the Steelers failed to capitalize when Reed's 51-yard field goal attempt went wide.
In the second half, however, Brees was 20 of 22 (many of them short passes to make up for a non-existent running game), with only a sack-fumble to take away from a much stronger performance than he's had in many weeks.
As many Saints moments do -- both good and bad -- the key moment in the game came down to a call by Sean Peyton. By throwing the red challenge flag on an apparent touchdown catch by the Steelers' Randel-El in the first half, Peyton got the touchdown overturned. To onlookers, the replay ruling appeared to be a moot point at best, since the result was first-and-goal on the one-foot line -- an easy touchdown.
But by the time the Saints had taken the Steelers to third down, I turned to Donna and said, "If they hold, this could be the [goal-line] Stand of the Season for the Saints."
The Saints held, the Steelers settled for a field goal and, as of right now... that is the "Stand of the Season" for the Saints.
Upshot... Steelers get something to think about and their AFC rivals get some tape to play back a few times in meetings; the Saints get a reprieve from the drumbeat of "Super Bowl hangover" and a chance at further redemption against the 2-5 Carolina Panthers next week -- followed by a Bye week, and, hopefully, the return of more healthy star players.
13-3? Seems more likely this today than it did 24 hours ago.
Previous Comments
ID

160644

Comment

Where did that N.O. goal line defense come from? According to the Times-Picayune, they've been working hard on goal-line since training camp.

Author

Todd Stauffer

Date

2010-11-01T21:33:11-06:00
ID

160729

Comment

I missed church assuming the game was earlier and the Lawd punished me and the Steelers by letting the Saints win. I didn't enjoy a moment of that game and knew we would lose as early as the 1st quarter. The defeats of Sunday and Tuesday nights made me sick, but I'm gearing up for the "Big Payback." I don't think the Saints did anything so great, we just didn't play like ole style Steelers. That goal line stands still has me aching with pain. No one is supposed to stop us 3 times from getting in. Someone must have put a hex on Roughburger, Hairston and Palamaulhim. They should have brought food and water from Pittsburgh, and I know they weren't dumb enough to fool with any of those Louisiana women. A buddy of mines went down there to do a hit and run 25 years ago and we're still waiting on him to come home.

Author

Walt

Date

2010-11-04T16:28:15-06:00
ID

160776

Comment

Saints win again, but did any of you see the Cowpunks and the Packers last night? That game made me happy one minute and sad the next. I felt like a working girl at a RNC convention. At an RNC Convention a working girl knows she's gonna get lots of requests for jobs, but she dreads the vile acts she will likely be asked to do considering the nature of the RNC membership. You know Vitter, Foley and nem. Anyway, the Cowhicks got their butts tore up again. They're so sorry they may find a way to forfeit the one game they won and go 0 and 16 instead of the 1 and 15 I predict they will go this year. A guy jumped off a bridge in Dallas this morning. I know he was a Cowboy fan. Now they done up and fired poor Wade Phillips. My sources are saying Wade Phillips told Jerry Jones, "man, I ain't gonna let you blame me for them sorry sonsa_______ , fire me or I'll quit." It all ended just like that! How sad! That big ass new stadium and all yet they play ball like this. America's team my a__!!!!

Author

Walt

Date

2010-11-08T18:10:18-06:00
ID

161355

Comment

Todd, Big game tonight for your New Orleans Saints. They travel to the Georgia Dome to take on Matt Ryan and the Falcons. Ryan since he was drafted by Atlanta has one loss at home. That loss came his rookie year. New Orleans can still win the division with a win tonight and a win next week. Plus back to back losses by the Falcons. But, a loss tonight opens the door for Tampa Bay next week to upset the Saints at home and earn a playoff berth. Win and your in. Lose and go home.

Author

Bryan Flynn

Date

2010-12-27T12:44:52-06:00
ID

161357

Comment

Bryan: So does the math work perfectly that if the Saints lose tonight and win against Tampa they're still in as a wild card? Or would they then have to wait on some other things to happen in the Wild Card race? I've been traveling so much this weekend I haven't gotten a chance to read up. ... In either case, the truth is they've got to be able to beat Atlanta in the Georgia Dome or this simply isn't a Super Bowl year. They've got the talent and I think they know how to win this game. They're going to need some tackling, some pressure packages on defense an some sustained success on offense. Beating Atlanta clearly doesn't ensure playoff victories. But there is a clear path to the SuperBowl for the Saints that opens up if the do win this one. And that path would, once again, be in more domes and fewer "snow bowls," and that has to be motivating to them after watching game tape from Baltimore. You *know* they've been game-planing for this one; here's hoping we see some of that Psycho defense they used last year against the Patriot (I can't watch 150 yards of rambling screen plays that come off straight-up Saints blitzes). And bless-the-Maker but if Reggie doesn't run *up* the field this game... I don't know what I'll do...

Author

Todd Stauffer

Date

2010-12-27T12:53:52-06:00
ID

161358

Comment

Todd, The Saints can lose tonight and still make the playoffs if they beat Tampa Bay next week. Even with a loss tonight win next week and New Orelans will be 11-5 and will earn a wild card spot. Also Tampa Bay has not beaten a team with a winning record this year. Keys to tonights game are: 1.Can New Orleans run the ball and stop the run. In the last game the Saints only ran for 28 yards and gave up 208 yards. That will be a big thing to watch. Keep Drew Bress on the sidelines and the Saints are beatable. 2. Avoid turnovers. In the last game Bress has two bad interceptions that helped the Falcons score points. 3. Be sound on special teams. New Orleans lost the first game when their kicker missed a short field goal. This game is winable but New Orelans will have to play one of thier best games of the season.

Author

Bryan Flynn

Date

2010-12-27T13:49:09-06:00
ID

161360

Comment

It's also possible that the Saints can get into the playoffs as a #1 seed if they win the division. Of course they would need to take care of their business by beating Tampa Bay AND for Atlanta to lose to Carolina AND would need Chicago to lose at Green Bay. May not be likely to happen, but Any Given Sunday.

Author

golden eagle

Date

2010-12-28T23:35:52-06:00
ID

161361

Comment

Seems like either #1 or #2 seed would be great although, frankly, if the first game the Saints play in the playoffs is the Rams I'd almost rather go ahead and play that one. Saints are good on the road in domes and it still feels like this team needs reps and rhythm before they can take down someone like New England. That said, #1 would obviously be an advantage with everyone forced to come through the Superdome. Otherwise it's tough to find a path to the SB that doesn't go through a cold-weather town. The best news of the whole thing that the Saints won't have to play a cold-weather AFC team until the SB, and that one'll be in Dallas. ;-)

Author

Todd Stauffer

Date

2010-12-29T09:50:48-06:00
ID

161383

Comment

I was pulling for Atlanta over the Saints. Again, I'm tired of telling y'all that Pittsburgh is going to win its 7th Super Bowl this year. The only way players from the Saints, Falcons, Patriots, Jets, et al, go to the Super Bowl this year is they buy tickets to watch it. I'm tired of repeating myself.

Author

Walt

Date

2010-12-30T17:19:47-06:00
More like this story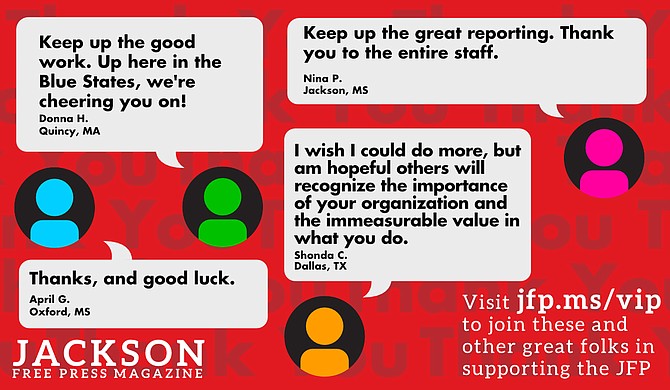 Thanks to all our new JFP VIPs!
COVID-19 has closed down the main sources of the JFP's revenue -- concerts, festivals, fundraisers, restaurants and bars. If everyone reading this article gives $5 or more, we should be able to continue publishing through the crisis. Please pay what you can to keep us reporting and publishing.