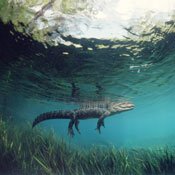 Don't waste all your summer hours indoors in front of the TV, get out and enjoy Jackson. The metro area holds a variety of activities suited for all ages. Try some of these local fun spots.
For Animal and Nature Lovers
Jackson Zoo (2912 W. Capitol St. 601-352-2582, http://www.jacksonzoo.com) Pandas, and tigers and gators, oh my! Explore various animal exhibits, numerous concessions stands, ride the carousel or train ride, or sign your kids up for zoo camp. In June, experience the Father's Day Car and Bike Show June 20, or St. Dominic's Dream Night June 5.
Mississippi Museum of Natural Science (2148 Riverside Drive, 601-354-7303, http://museum.mdwfp.com) Wander through the special and permanent exhibits, live animals to touch, the Dragonfly Shoppe, and send the kids to summer camps. In June the museum will host a Snake Day June 1 and Katfishin for Kids on the Ross Barnett Reservoir June 5.
Mississippi Petrified Forest (124 Forest Park Road, Flora, 601-879-8189 http://www.mspetrifiedforest.com) Enjoy the nature trails, museum, gem fluming (mining for gems in the water), camping, a gift shop, and the outdoor covered pavilion for social gatherings. You can even bring your pet, as long as it's on a leash.
Natchez Trace Parkway and Trails (1-800-305-7417 or 662-680-4025, http://www.nps.gov/natr) Take a drive or bike ride on the 444-mile parkway that stretches from Natchez to Nashville. Enjoy the scenic views, and historic landmarks, and shop at the Mississippi Craft Center in Ridgeland. If you prefer exploring by foot, the Trace features four trails totaling 65 miles. The Ridgeland trail passes the River Bend (Pearl River) and the Cypress Swamp.
For Sports Fans
Mississippi Braves (1 Braves Way, Pearl, 601-932-8788, http://www.mississippi.braves.milb.com) With the season in full swing, head over to Trustmark Park for an evening of baseball. There are weekly promotions like $5 tickets for the Mississippi Army National Guard and Friday Fireworks. In June, the Braves will host baseball camp for kids ages 5-14 June 1-3. You can also host birthday parties and other social gatherings at the park.
Mississippi Sports Hall of Fame (1152 Lakeland Drive, 601-982-8264, http://www.msfame.com) Enjoy memorabilia from great Mississippi athletes, the Viking Classic and High School Gallery exhibit, theater, the Olympic Room that displays Mississippi Olympic medal winners and the Participatory Room where visitors can play interactive golf, football, baseball and soccer.
For the Thrill Seeker
Action Pursuit Games (44 Napoleon Circle, Brandon 601-825-1052 http://www.apgob.com) Enjoy the adrenaline rush of paintball in more than 50 acres of woods with a diverse mix of players. Paintball is great for company retreats, birthday parties or just a fun way to spend a weekend morning. Play wood games complete with forts or let APG bring the field to you with its "Paintball on Wheels" program.
Mississippi Outdoor Club (228-424-2874, http://www.msoutdoorclub.org) Join a network of outdoor recreational enthusiasts and enjoy club trips in and out of the state with other paddlers, hikers, backpackers, climbers, cyclists, and snow skiers and boarders. The club is suitable for beginners to experts.
Fun for the Whole Family
Bowling is a classic game that is fun for all ages. Fannin Lanes (1145 Old Fannin Road, Brandon, 601-919-8001, http://www.fanninlanes.com) has 24 lanes of bowling, a bar with 40 different beers, a snack bar with appetizers, pizza and sandwiches, and video arcade machines throughout the facility. Indian Lanes (815 E. Northside Drive, Clinton, 601-924-4248, http://www.indianlanes.net) boasts a pro shop, game room, pool tables and computerized scoring. Go for Cosmic bowling on Fridays and Saturdays and Dollar Mania on Wednesdays, or schedule a birthday party or other event with group rates.
The Russell C. Davis Planetarium/McNair Space Theater (201 E. Pascagoula St., 601-960-1550) Explore our vast galaxy through sky shows, laser light concerts, and astronomy and space-related exhibits. "Hurricane on the Bayou" is currently showing in the theater: a story that brings to life the beauty of Louisiana's threatened wetlands and shows the effects of Hurricane Katrina and delves into the rebuilding efforts.
Mac & Bones Golf and Grill (1 Mac & Bones Blvd., Pearl, 601-932-4653, http://www.macandbones.com) This pirate-themed 18-hole miniature golf course offers a snack bar and weekly specials. Reserve space for a birthday party with group rates, or go for a gift certificate.
For the Cultural Enthusiast
Mississippi Museum of Art (380 South Lamar St., 601-960-1515, http://www.msmuseumart.org) Go for the current exhibits, Art Remix (June 11, July 9 and August 13), summer art classes for kids and shopping at the Museum Store. You can also rent the facility for luncheons, presentations, cocktail parties, wedding receptions or other special events. On display now is the Herb and Dorothy Vogel contemporary art collection.
La Salsa Dance Club and Studio (303 Mitchell Ave., 601-213-6355, http://www.salsamississippi.com) Experience the sizzle of salsa through group or private dance lessons to the music of salsa, merengue, bachata, cha cha and Brazilian samba. And don't miss the next Latin dance party on the rooftop of the Fondren Corner building.
Out-of-the-Box Shopping
Buy fresh produce, baked goods, arts and crafts or other treasures at local open air and farmer's markets: Greater Belhaven Market (at the Mississippi Farmer's Market, 929 High Street, http://www.greaterbelhaven.com); Mississippi Farmer's Market (929 High Street, http://www.mdac.state.ms.us); Jackson's Roadmap to Health Equity Project Farmer's Market (at the Medical Mall, 2548 Livingston Road, 601-987-6783, http://www.jacksonroadmap.org); and Olde Towne Market (on Jefferson Street in downtown Clinton). The Market at Fondren (parking lot across from Mimi's Cafe on North State Street, 601-832-4396) starts June 19.
Smith Robertson Museum and Cultural Center (528 Bloom St. 601-960-1457 http://www.city.jackson.ms.us/visitors/museums/smithrobertson) The museum gift shop has an array of African American gifts, art, bags, jewelry and books. And after you've finished your shopping, take a tour to view artifacts that represent the African American and southern black history. Currently on exhibit is "Mound Bayou: The Promise Land," through June 30.
Explore Mississippi
You can find numerous books about the Magnolia State at local bookstores. Here's a short list of titles to look for when you're ready to explore a little further afield than just the Jackson are. Also, be sure to check out the Mississippi Division of Tourism website (http://www.visitmississippi.org) for tons of information, including free tour, adventure and golf guides and maps.
• Blues Traveling: The Holy Sites of Delta Blues (University Press of Mississippi, 2008, $22) by Steve Cheseborough
• Hiking Mississippi: A Guide to 50 of the State's Greatest Hiking Adventures (Falcon, 2009, $16.95) by Johnny Molloy
• Mississippi Off the Beaten Path (GPP Travel, 2007, $14.95) by Marlo Carter Kirkpatrick
• Must See Mississippi: 50 Favorite Places (University Press of Mississippi, 2007, $40) by Mary Carol Miller, Mary Rose Carter and Greg Iles
• My Mississippi (University Press of Mississippi, 2000, $42) by Willie Morris and David Rae Morris
More like this story