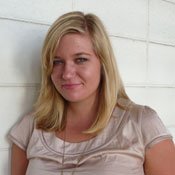 Our GOOD issue is not an easy spread to put together, but it is one of the most rewarding features we do at the Jackson Free Press. Among all the positive things we hear after each issue is how much people learn about how they can get involved and make positive change. The concept of GOOD is a process that involves lots of research and creative thought about the obstacles that affect our future. In homage to the national magazine of the same name, GOOD is about taking difficult and big ideas and breaking them down to educate and empower others.
Our interns play a crucial role in this issue, and as the person responsible for coordinating the information, I'm always impressed by their ideas on creating a more socially responsible future for Jackson and beyond. The phrase "social responsibility" has recently become a marketing buzzword for corporations as they try to sell a better company image, but social responsibility goes beyond just good intentions and catch phrases.
Last weekend, the JFP staff came together to write a mission statement for our company, and after hours of discussing our personal beliefs of what this newspaper stands for, the phrase "social responsibility" topped our list.
Much like putting together this issue, social responsibility is hard--but it's also one of the most important things we can do to improve the lives of others and our communities. Social responsibility means thinking about the long-term 
impact of our decisions, whether what kind of developments we allow in our communities to where we shop and our attitudes toward others.
With Jackson's renaissance in full bloom, making a commitment to doing the right thing for our community is essential to the future. It's easy to become a cheerleader for all the proposed projects and developments, because most of us want to see the city reach its full potential. But at the same time we have to be cautiously optimistic, hold developers accountable and consider the impact of developments on surrounding neighborhoods.
We also have to come together and have a cohesive plan for our city. Over the years, city planners have put together various master plans for Jackson, but there is nothing up-to-date and concrete to follow. While the city of Ridgeland leaves much to be desired, planners put together the Ridgeland Area Master Plan in 2007 to follow a detailed roadmap for the future. The planning process involved a series of vignettes, or community meetings, that allowed citizens to share their vision and goals for the community.
Ridgeland might have strip malls and oversized houses, but its successful planning is evident as city officials reported a 4.92 percent increase in sales-tax collections last year, while Jackson was hit with 12 percent drop. In order to improve our city and keep businesses and citizens from moving to the suburbs, we must come together and strategically plan our future.
The good news is that we don't have to follow the same blueprint other communities have followed. Jackson isn't made up of just one age group or race--our city is a mixture of diverse cultures and spirits, and we can adequately reflect that in the spaces we create.
When I dream of Jackson's future, I see amazing public art installations, not just in Fondren, but also in lower-income neighborhoods. I see multi-purpose trails connecting Fondren to Jackson State University by way of Mill Street. I see a community garden in Belhaven in which we grow our own food. I see neighbors looking out for one another in an effort to reduce crime, and a city that is connected to include west Jackson, south Jackson, midtown, downtown, Fondren, northeast Jackson and Belhaven.
On a more selfish note, I also dream of a movie theater inside the city limits (more specifically an independent film house that serves beer and wine).
Author and activist Jane Jacobs was an influential figure on 20th-century urban planning. In her book "The Death and Life of American Cities," she writes: "Cities have the capability of providing something for everybody, only because, and only when, they are created by everybody."
Traditionally, developers have created suburbs for families that adhere to a predominately white socio-economic class structure and spend a majority of their time in cars commuting. Jackson, however, can be a city that welcomes diversity, builds mixed-income housing and has a stronger sense of place. One of the best examples of this is the new master plan for midtown by Duvall Decker Architects.
The project, which is about to break ground, will create 63 affordable housing-units while attracting a diverse group of artists, students, families and professionals. In addition to the housing, the plan includes after-school programs, multi-use trails and environmentally sustainable design. Currently, Duvall Decker is creating a master plan for west Jackson that will follow some of the same protocols.
Last weekend at the JFP retreat, editor-in-chief Donna Ladd and publisher Todd Stauffer gave an oral history of our paper. I've heard bits and pieces of how the JFP came to be, but what stood out to me is how Donna and Todd always placed importance on social responsibility before profit and how doing the right thing wasn't always the easiest, but in the end, it made the biggest difference in the community and for the paper.
Most of us have our own dreams of what we'd like to see happen here in the future. What I like about our GOOD issue is that we get to take big ideas and ask community members how we can make them happen. Like most great ideas, money is sometimes the one thing that holds us back. But like my mom always says, "Where there is a will there is a way," and I firmly believe in that statement. In the meantime, let's work with our neighborhood organizations and other community members to plan new and exciting spaces. Let's be innovative, bold and believe in the power of our ideas.
Previous Comments
ID

157042

Comment

Loved your "Good" edition. It is complete, useful to readers and full of great ideas. I was surprised to read in your column that "Jackson has no master plans." An excellent Comprehensive Plan was adopted in 2004 that created mixed use districts for regional, community and neighborhood nodes. The plan contained many of the recommendations in your column. New zoning districts were created for Fondren, Belhaven and Downtown that required urban standards such as street trees, sidewalks, build-to lines for buildings. New buildings within these areas along major arterials must be at least two stories to encourage density. Jackson also has sign, landscaping, architectural and other standards, unlike many of our suburban areas. Multi-modal plans have been prepared several times and are ripe for implementation. Four plans have been created for downtown since 1990. Where do you think all of this good development is coming from? Believe me there has been lots of planning, most of it timely and relevant to good urban design. The real issue is lack of funding. There is always a need to inform citizens, so keep up the good work.

Author

urbanplanner

Date

2010-04-02T18:18:24-06:00
ID

157068

Comment

Hey urbanplanner, Thanks for the positive feedback. I made sure I chose my words carefully, because while there are several master plans for Jackson but there doesn't seem to be a unified plan that has involved younger Jacksonians and the city as a whole. These plans aren't accessible and there needs to be more discussion about the future. This is just one thing I know the Jackson Community Design Center is looking at right now.

Author

Lacey McLaughlin

Date

2010-04-05T10:06:26-06:00
More like this story
More stories by this author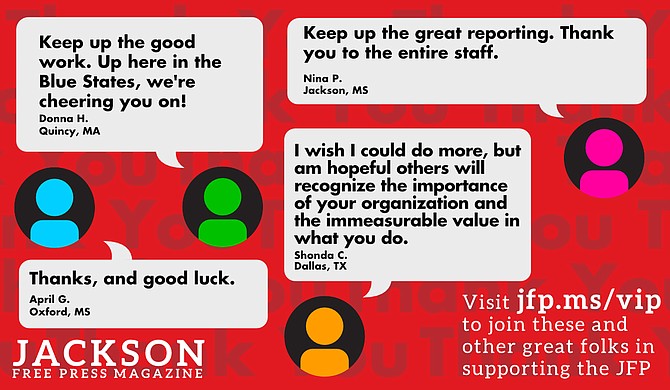 Thanks to all our new JFP VIPs!
COVID-19 has closed down the main sources of the JFP's revenue -- concerts, festivals, fundraisers, restaurants and bars. If everyone reading this article gives $5 or more, we should be able to continue publishing through the crisis. Please pay what you can to keep us reporting and publishing.