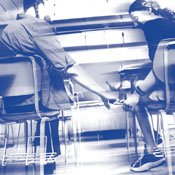 There are more than 132,000 public and private schools in the United States, according to the U.S. Department of Education.
Where Students Go To School
13% attend schools in towns
35% attend suburban schools
23% attend rural schools
29% attend city schools
Colorful Learning Spaces
Louis Torelli, co-founder of Spaces for Children in Berkeley, Calif., is a specialist in designing optimal learning spaces. "Inadequate classrooms force teachers to act as magicians, entertainers, and disciplinarians," he wrote in "Enhancing Development through Classroom Design in Early Head Start," published in Children and Families magazine.
A safe, well-designed space encourages exploration, play and "formation of a healthy identity," he says, while also supporting teachers and their goals. Among the elements to be considered, Torelli includes furniture (wood instead of plastic), windows to feel connected to the outdoors, lighting (fluorescents are "cold and institutional"), flooring and paint.
In a 2003 paper titled "The Impact of Color on Learning," educational planner Kathie Englebrecht of Perkins & Will wrote that color affects attention span, work productivity and accuracy, and can ease or cause eyestrain. Monotone classrooms can cause anxiety, irritability and an inability to concentrate, while color can help increase classroom success.
"The mental stimulation passively received by the color in a room helps the student and teacher stay focused," Englebrecht writes.
In a 2008 study titled "Color in an Optimum Learning Environment," the authors recommend colors depending on the subject being taught and and use of a learning space. "Color can alter perception of time, increase school pride, reduce disruptive behavior and aggression, reduce vandalism, reduce absenteeism, and provide a supportive background for the activities being performed," they write.
Among their recommendations:
• Biology: nature—blue, green, teal, brown, beige
• Business: corporate —blue, gray, black, burgundy, dark green
• Chemistry: logic —blue, green, indigo
• Physics: energy— blue, yellow, green, indigo
• Foreign Language: friendship — yellow
• History: age — amber, blue, yellow, sea green
• Mathematics: logic — indigo, blue
• Social Studies: social — orange, green, brown
Improving Our Spaces for Learning
The crack epidemic in the 1980s and 1990s took a toll on New York's central Harlem, contributing to a cycle of poverty and violence for many families.
To change that cycle, The Children's Zone Project took 100 blocks in Harlem and created a community space that enriched and improved the lives of the community's children. The idea is to start as soon as possible creating a supporting environment for children to learn and be successful. In order to do this, it is necessary to surround the children with adult mentors.
At first the organization started by focusing on a single block in Harlem and carefully evaluated the progress of the services provided. The Children's Zone then created a pipeline of school, community and health supports to create a better environment.
The Results of the Harlem Children's Zone Project:
• In 2009 the Harlem Children's Zone served 21,280 individuals.
• 86 percent of parents from Baby College who read to their children less than five times a week improved their frequency.
• In the Harlem Gems preschool program, 62.5 percent of the 161 students ended the program with a school readiness classification of "advanced."
• 100 percent of children attending Promise Academies I and II tested at or above grade level.
• 93 percent of Promise Academy High School ninth graders passed the Algebra Regents exam in 2008.
For more information visit http://www.hcz.org
No Child Left Inside
More than 60% of the students from the "Voice of the Children School Design Project" expressed the importance of an outside recess.
The American Academy of Pediatrics recommends 60 minuets of daily free play as an essential part of children's physical and mental health.
The average child spends only 4-7 minutes outside every day.
Studies show that students benefit from outdoor science-lab experiences far more than indoor simulations and experiments.
Jackson has 32 public playgrounds.
In his 2005 book, "Last Child in the Woods," author Richard Louv coined the phrase "Nature Deficit Disorder." He writes about how a disconnection from the natural world in today's children is contributing to a rise in childhood obesity, attention deficit disorders and depression.
The national No Child Left Inside Act seeks to address these concerns by supporting environmental education opportunities to students. Environmental education improves student achievement by reducing discipline problems in the classroom, increased engagement and enthusiasm, and greater student pride.
John Stark, director of the Clinton Nature Center, is creating opportunities for students to learn about the environment. He is working with No Child Left Inside in Mississippi to bring Environmental Education to students.
"Experiences in nature are a fundamental ingredient for what it is to be a human being. We are seeing the first generation of children who are divorced from those experiences," Stark said.
Good Local Learning Spaces
"A lot of schools are finding new ways to engage students. Most people think of good learning spaces as shiny, brand-new schools, but with cuts in funding, that's not possible. If we look at spaces and areas outside of the classroom, we can come up with some innovative learning spaces for children," Susan Womack of Parents for Public Schools in Jackson says.
A partnership between Ask 4 More Arts (http://www.keepartsinschools.org) and Casey Elementary School resulted in students improving their achievement on state tests. Casey Elementary has the highest rating given by the State Department of Education.
Communities can help to improve learning spaces. Rainbow Whole Foods Co-op helped start a garden at Casey Elementary School.
Lee Elementary School was able to bring in a local artist to help improve writing through song writing. The school even set up a temporary recording studio.
More like this story
More stories by this author