A city thrives when it creates spaces for artists and the community as a whole. Public art is one way a city can improve its aesthetics while making art accessible to everyone, including lower-income neighborhoods that may not have museums and art galleries. Public art can be anything from an outdoor sculpture, mobiles, mixed-media installations, murals or even paintings on the pavement.
Benefits of Public Art
• Enhances the physical environment
• Creates a sense of place and distinctiveness
• Contributes to community cohesion
• Contributes to social health and wellbeing
• Contributes to economic value through inward investment and tourism
• Fosters civic pride and confidence
• Raises quality of life
• Reduces crime
How to make your own public art
Passersby easily recognize Fondren artist Richard McKey's studio by the mammoth-sized Obama in front of the building on State Street. He constructed "Obama" just before the 2008 presidential election, and it has since become a Fondren staple with visitors often stopping for photos. McKey encourages anyone to gather materials and start creating art outside their homes.
The materials he used were mostly recycled:
• Rebar steel that gives the statue support
• Wire mesh used to create the skeleton for "Obama"
• Strips of cloth placed in a solution that hardens the cloth to withstand weather conditions were then painted with ordinary house paint.
Temporary Public Art Idea: Buy or make your own stencils from a craft store and use sidewalk chalk to fill in the designs on sidewalks or pavement.
Public Art Ideas
New York, N.Y.
In New York City, the non-profit Public Art Fund uses donations from public and private organizations to give grants to artists for outdoor exhibits. Here are examples of the exhibits hosted:
Double Take
Ordinary objects created new meaning when six artists used existing architecture and objects from the environment and modified them to create an illusion and new perspective. In one installation, artists constructed a lamppost resembling others in a park, but sculpted it to bend backward and create a large crater in the ground.
In Jackson we could take existing damaged infrastructure such as sidewalks, bus stops, stoplights or even trashcans, and turn them into works of art instead of eyesores.
The Ego and the Id
Artist Franz West placed his aluminum sculptures, standing 20-feet high and consisting of colorful and abstract loops, in Central Park for the public to admire and children to climb on.
In Jackson, artists could weld metal pieces from construction projects and build a sculpture for downtown or a neighborhood park.
Cleveland, Ohio
In Cleveland, Ohio, the non-profit Cleveland Public Art works to improve public spaces by bringing art to the city's neighborhoods, streets and parks. Here are a few of the projects completed since the organization started in 1984:
The Verdant Walk
In an effort to preserve Cleveland's historic mall, artists built seven sculptures along its 4,000 square feet of green space. The round metal sculptures were fitted with fabric and lit internally at night through solar panels woven into the fabric.
In Jackson we could use sculptures to draw people to outdoor places such as Hawkins Field, Mynelle Gardens or Lefleur's Bluff State Park.
The Euclid Avenue Planter
To beautify downtown, Cleveland Public Art commissioned artist Mark A. Reigelman II to design and sculpt decorative planters to line the city's Euclid Avenue. The project was relativity low cost and brought authenticity and visual character to downtown.
In Jackson, we could line East and West Capitol Street with planters and open a design contest to the community.
Funding Art Spaces
Organizations that help foster and promote art in a community create spaces and opportunity for creativity to flourish. But to create those spaces for the arts to thrive, funding needs to be in place. The Mississippi Arts Commission, (http://www.arts.state.ms.us) funded by the state and private en-dow-ments, allocates more than a $1 million in grants to a wide variety of art's throughout the state. Since 2007, the Art's Commission's budget has increased.
The Greater Jackson Arts Council (http://www.jacksonartscouncil.org) also awards grants to organizations in Jackson each year. Application deadlines are Oct. 31 and March 31. The grants are broken down into five categories for funding.
Here is a breakdown of grants from the Greater Jackson Arts Council:
Major Cultural Programs - $33,015
Used to enhance arts and cultural opportunities within the Greater Jackson area.
Who can apply: Nonprofit arts and cultural organizations.
Arts Education/Arts Therapy - $5,500
Awarded to use the arts to build self-esteem and develop self-discipline and productivity..
Who can apply: Nonprofit arts and cultural organizations, K-12 schools and colleges, social service agencies, community centers, civic organizations, certified art therapists.
Creative Artists - $8,600
Awarded to individual artists to develop adventurous and imaginative new works.
Who can apply: Professional artists, emerging artists and art students.
Neighborhood Arts - $8,250
Awarded to projects that use the arts to enhance quality of life in neighborhoods.
Who can apply: neighborhood associations and community activists.
S.O.S Funding - $3,550
Provides emergency dollars for worthy projects and professional/artistic development opportunities.
More stories by this author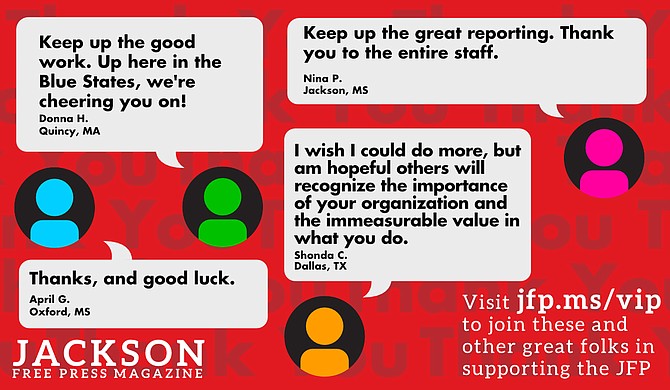 Thanks to all our new JFP VIPs!
COVID-19 has closed down the main sources of the JFP's revenue -- concerts, festivals, fundraisers, restaurants and bars. If everyone reading this article gives $5 or more, we should be able to continue publishing through the crisis. Please pay what you can to keep us reporting and publishing.