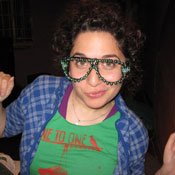 I moved to Jackson in summer 2007 from St. Louis, Mo., for my first job out of college, a two-year fellowship at the Institute of Southern Jewish Life. I was a traveling Jewish educator, with a briefcase of curricula and a minivan, driving around the South and helping teach Jewish children in small and isolated congregations. It was a perfect job for me, and I knew that it was going to be an amazing experience; however, I wasn't sure about living in Jackson. I had never been to the South, and I expected to feel like an extended visitor, placed here for two years before moving on to something bigger and better. I came here with an open mind, but was planning on planting my roots in the Jewish community and not the Jackson community.
I spent the first year of my fellowship immersed in my job, which involved a lot of weekend traveling and cohabitating with coworkers. I learned so much about Judaism, education and nonprofits, but after a year I started to resent that I didn't have friends in Jackson outside of work, and that I didn't feel much connection to the city where I was living. I've always been a creative person, and I wanted an outlet for creativity in my personal life in addition to my job. So I decided I was going to conquer Jackson.
I started by going to concerts by myself. It was the beginning of One to One Studios (now North Midtown Arts Center), and I remember weeknight shows with packed sweaty crowds in this amazing venue—once vibrant, then rundown and now burgeoning with creative energy. I felt like I was witnessing something really special but as an outsider, a Jewish girl from Missouri who was almost a little too shy to make friends.
You see, Jackson and I are very similar. We can be quite timid and unassuming at first or even seem like tough nuts to crack, but if you show us a little kindness and give us a chance, we open up incredibly quickly. Once I discovered that Jackson had creative potential, once I gave it a chance to fill this void in my life, and once I decided that I had something creative to give to Jackson in return, it became a whole new city to me. As soon as my attitude shifted, I started meeting cool people everywhere I went and it took no time at all to become a part of the young creative community in Jackson.
Over the next year, I learned how to balance work with an active social life. I still worked full time and traveled many weekends, but I got involved in the music scene in Jackson as well. I started a band with my girlfriends called The Bachelorettes, volunteered to work the door at One to One Studios and started doing a weekly concert calendar for the Mississippi Happening radio show.
I decided to stay in Jackson after my fellowship ended. It was actually an easy choice because I just wasn't ready to dig up any roots. So I secured a part-time job and decided to teach Sunday school at Beth Israel to stay part of the Jewish community. Annie Blazer and I started a record label called Special Passenger Records with the goals of creating collaborative projects, putting on great parties and making handmade merchandise, in addition to promoting good music. We just released our 10th project called "Family Portrait," a compilation CD of family bands that we gave away for free at a barbecue house show.
Really, it doesn't matter if any of these things I've done here sound interesting or impressive to you. They were all amazingly fun and rewarding to me, but what I want to stress is that they were only possible because of the incredibly supportive and enthusiastic nature of this community. Jackson is so beautiful because it is small, unpretentious and filled with potential. People here listen to your ideas and will help you if they can, because they know that you will do the same for them. Living in Jackson has made me a better person, and I am inspired everyday by the creative and positive things happening here. It couldn't have happened at a moment sooner, either, because I'll be moving back to Missouri to get a master's degree in nonprofit management this summer.
I said I was going to conquer Jackson, but what really happened is that I became Jackson. My Jackson is a vision of growth, creativity, silly projects, coffee shops, Jewish education, wigs, karaoke, barbecues and most of all, community. I know that your Jackson is different from mine and I hope that it is equally as positive. Jackson is yours, so make please make it the best that you can. You will be amazed at how much it will give back to you.
Amanda Rainey will miss her band sisters, living with photographers, fried pickles and Sneaky Beans most of all. Please come say "Hello" and "Goodbye" to her at the final Bachelorettes show, Thursday, June 10, at 9 p.m. in Hal & Mal's Red Room.
Previous Comments
ID

158141

Comment

I've heard a few people already say that this brings tears of joy to their eyes. Add me to the list. You've described the beauty of Jackson wonderfully. I'm ready to send this to all my friends outside of Jackson who wonder why I live here.

Author

Katie

Date

2010-06-10T11:13:22-06:00
ID

158142

Comment

Wish I'd gotten to know you better, Amanda. Jackson is definitely not going to be the same without you! But I really enjoyed reading this. I grew up in/near Jackson, but I felt a very similar desire to "conquer Jackson" when I moved back after living away for 3 years. It is so easy to get involved here, as you said, there are so many creative people here just dying for more creative company. I really don't want to live anywhere else.

Author

andi

Date

2010-06-10T11:34:25-06:00
ID

158149

Comment

Lovely piece, Amanda. Jackson will miss you. Wish I could come to the last show tonight, but we're out of town. Godspeed.

Author

DonnaLadd

Date

2010-06-10T16:13:19-06:00
ID

158152

Comment

Amanda, Nice piece. As a native Bronxonian I have heard similiar comments made about New York. The steroptype about big the imposing city with monotone, robotic denizens is quickly brushed aside when the visitor or newbie decides to seek out spiritsn on the same wavelenght of theirs. Be it music, dance, rock climbing, poetry, recreational sports or BBQ-ing, Jackson, like New York has it all..and the parking tickets are cheaper! Explain again to me the deal on Jewish sunday school. In New York I was familiar with Hebrew School, Mitzvah (bat and bar) school, and Torah study..but the Sunday school thing..never heard that one.

Author

FrankMickens

Date

2010-06-11T05:15:02-06:00
More stories by this author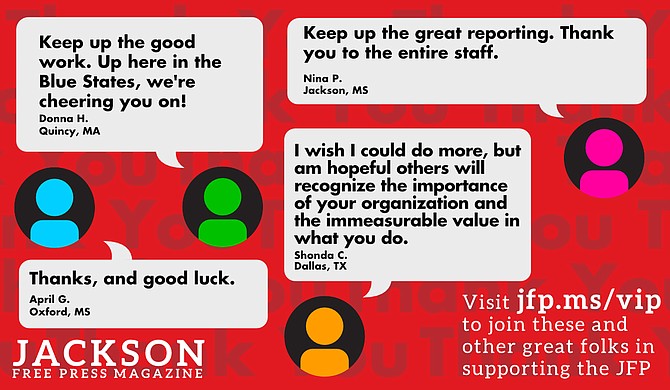 Thanks to all our new JFP VIPs!
COVID-19 has closed down the main sources of the JFP's revenue -- concerts, festivals, fundraisers, restaurants and bars. If everyone reading this article gives $5 or more, we should be able to continue publishing through the crisis. Please pay what you can to keep us reporting and publishing.