Lt. Gov. Phil Bryant is no stranger to right-wing nuttery, but he offered a prime example of conservative hysteria in comments in a July 12 article in The Clarion-Ledger. Suggesting children of undocumented immigrants are burdening Mississippi's hospitals, Bryant told The Clarion-Ledger, "You have some that have babies—anchor babies—and don't pay for it."
"Anchor babies" is a derogatory term for the children of undocumented immigrants who receive United States citizenship by virtue of being born on American soil. When those children reach 21, they can sponsor their parents for citizenship as well. Anti-immigration groups use the term to suggest that immigrants have babies in the U.S. for the express purpose of establishing a foothold for their own citizenship.
There's a special irony in Bryant's use of the dehumanizing term. Here is a politician who promoted "personhood" for non-viable fetuses from the time of conception cynically suggesting the children of immigrants are merely tools. Way to stick up for "life," Phil.
Regretfully, Bryant is not the only state official seeking to tap xenophobia for political gain in this year before statewide elections. State Rep. Becky Currie, R-Brookhaven, told The Clarion-Ledger she plans to introduce a bill in next year's legislative session that will mirror the reactionary Arizona immigration law currently being challenged by the U.S. Department of Justice.
The Arizona law requires immigrants to carry federal registration documents, making it a misdemeanor crime to simply be an immigrant—even legal and registered—in Arizona without having those papers on hand.
The law also requires law enforcement officers to attempt to check the immigration status of anyone they stop, if they have "reasonable suspicion" that the person may be an undocumented immigrant. As opponents of the law note, "reasonable suspicion" that someone is an undocumented immigrant is so vague a requirement that it invites racial profiling.
City Councilman Chokwe Lumumba introduced an ordinance Tuesday that takes an opposite tack from the Arizona law. Lumumba's proposal discourages police and public employees from making "unwarranted" inquiries about a person's immigration status, while still allowing immigration inquiries that conform with state and federal law, including inquiries for hiring purposes.
Lumumba's ordinance is a reminder of the power of local politics to overcome those looking to score points on a larger voting field.
Racial profiling, whether through reactionary laws or intransigent attitudes toward a race or religion, has no place in 2010 America. Mississippi has had its share of racial ugliness that continues to hold back many of its citizens to this day. It's a path we need not take another time for yet another minority group.
Previous Comments
ID

158606

Comment

What is an "undocumented immigrant"? Isn't an immigrant a person who goes through the process of immigration? Wouldn't they be a "documented immigrant." Aren't the people who don't go through the proper process illegal aliens?

Author

BubbaT

Date

2010-07-14T13:56:11-06:00
ID

158612

Comment

No Bubba. An immigrant is any person who arrives in a foreign land. Whether they have done so through a legal process has no bearing on the word. Conservatives have done everything they can to demonize immigrants through ugly language. Most of the time, they simply refer to these immigrants as "illegals." Sometimes they use worse words. The point is the same as the use of the disgusting term "anchor babies," which is to try to make us forget that we are talking about ordinary, hard-working human beings. Not scary invaders. Not "aliens." But people.

Author

Brian C Johnson

Date

2010-07-14T14:32:14-06:00
ID

158615

Comment

So, raise your hand if you didn't descend from a so-called "anchor baby."

Author

DonnaLadd

Date

2010-07-14T14:58:37-06:00
ID

158618

Comment

Raise hand! My ancestors immigrated legally from Scotland to the Maryland colony in 1650.

Author

BubbaT

Date

2010-07-14T15:23:19-06:00
ID

158630

Comment

Bubba: That's funny! Put your hand down. Colonialism doesn't constitute "legal immigration." Colonialism is domination of a foreign territory for purposes of expansion, profit and exploitation. Your ancestors' immigration was "legal" only from the POV of the nation doing the colonizing. It sure wasn't "legal immigration" from a native American viewpoint (you know, the people here before white Europeans decided it was "their" country).

Author

Ronni_Mott

Date

2010-07-14T21:23:52-06:00
ID

158632

Comment

*raises hand* *shrugs* Was there a point to the question, Donna?

Author

Mark Geoffriau

Date

2010-07-15T07:46:22-06:00
ID

158633

Comment

Yes, the European colonists were the original "illegal aliens." Based on how often they were attacked by the native Americans, what we might call the real Americans, they were not welcome. They had no legal claim to the land, except to the extent that some royal bleeder signed a charter.

Author

Brian C Johnson

Date

2010-07-15T07:55:12-06:00
ID

158639

Comment

Maybe the native Americans should have instituted tough immigration reform to protect their lands from unchecked foreign encroachment.

Author

Jeff Lucas

Date

2010-07-15T12:06:50-06:00
ID

158645

Comment

Hey brian, since liberalism (socialism)is working out so well for America we should keep the steady stream of new welfare recipients coming. Im not sure what economics class or what school you studied at but (Socialism)welfare and public subsidy individuals dont make for a viable economy. Ask all the countries that went to capitalism. Yes, Illegal immigrants are a major welfare burden in every state they are in. Ask the hospitals who have to give them free care.

Author

all day

Date

2010-07-15T15:51:15-06:00
ID

158653

Comment

all day, Undocumented immigrants (a person can't be "illegal") do not get any welfare benefits whatsoever, because getting welfare benefits requires a valid social security number, which you can't get unless you're a citizen. Therefore, your statement that "Illegal immigrants are a major welfare burden in every state they are in," is merely an example of conservative spin and hyperbole meant to scare people into voting for conservative Republicans, again, against their own best interests, again.

Author

Ronni_Mott

Date

2010-07-15T18:23:58-06:00
ID

158661

Comment

Brian,Donna,and Ronni- so ya'll are ok with people coming here illegally? Do ya'll think we just need to open all our borders,do away with the Border Patol, Customs, Immigation Service and just say "Ya'll come on in"?

Author

BubbaT

Date

2010-07-15T23:29:32-06:00
ID

158666

Comment

Bubba, I have addressed that kind of binary assumption about my position on immigration laws so many times on this site that it's not even funny. And I know you have seen those posts. It is remarkable to me how small minds can, or will, only comprehend the possibility of two extremes. I don't even understand how such a mind works. With due respect.

Author

DonnaLadd

Date

2010-07-16T08:37:58-06:00
ID

158668

Comment

What Donna said, Bubba. The whole issue of immigration has enormous gray areas that deserve an honest and thoughtful response. Hyperbole and scare tactics don't allow for that. Immigrants are, first and foremost, human beings. When we label them all as "illegal" and "aliens" and throw around disgusting terms like "anchor babies," it's easy to forget that we're actually talking about people who, for the most part, are simply trying to provide a better life for themselves and their children. It's not a zero-sum game.

Author

Ronni_Mott

Date

2010-07-16T10:32:18-06:00
ID

158669

Comment

It's always stunning to me when words shift from being descriptive in nature to evaluative in nature. You can dismiss the terms "illegal" and "alien" as ugly labels, but that doesn't change the actual status of the people in question. It's simply trying to frame the debate by changing the language. For instance, I know someone who is a resident alien. I hesitate to speak for him, but I feel pretty confident that he's not offended by the term.

Author

Mark Geoffriau

Date

2010-07-16T10:37:05-06:00
ID

158670

Comment

Intended to also say: I agree that the term "anchor baby" is rather inflammatory, but it'd be silly not to recognize that the phenomenon exists.

Author

Mark Geoffriau

Date

2010-07-16T10:38:19-06:00
ID

158671

Comment

Ronni- What gray areas? People either immigrate legally or illegally.

Author

BubbaT

Date

2010-07-16T11:43:01-06:00
ID

158674

Comment

All day, liberalism and socialism are not the same thing, except to rabid right-wing boobs. Speaking generally, socialism involves state ownership of industry. Liberalism involves providing a safety net to temper the excesses of capitalism. Most people on the left support capitalism. It's just that they're not libertarian fools about it. As for immigrants, there is a great deal of evidence that undocumented workers support the economy. For instance, many undocumented workers pay into social security under false numbers, with no hope of ever receiving benefits in exchange for their taxes. They help to keep the cost of our food low, and there are many parts of the country where the economy would likely collapse without their labor. Your post was ignorant. I mean that not as an insult, but as a description.

Author

Brian C Johnson

Date

2010-07-16T12:10:20-06:00
ID

158676

Comment

Mark: Language is important. People tend to shorten the term "illegal aliens," to "illegals," for example, implying that the person (or a whole group of people) is somehow illegal instead of their specific action. As to "alien," what pops into my mind is a creature from mars, not a human being. The words, whether intentional or not or whether condoned by government, remove all humanity from the people. It desensitizes us. The derogatory term "anchor baby" implies, as Phil Bryant did in his recent statement, that immigrants are conceiving children for the express purpose of "anchoring" a family to the U.S. I defy anyone to show me evidence of that. Certainly people want their children to be born in the U.S. (don't you), but conceived solely for that purpose? That's too cynical even for me.

Author

Ronni_Mott

Date

2010-07-16T13:39:36-06:00
ID

158677

Comment

Ronni -- people have babies just for the increased welfare money* -- you don't think they'd do it for US citizenship? *And before you defy me to prove it, all I can say is that I've heard direct admissions of this at least twice, and heard many, many second-hand reports of the same kind of behavior. Anecdotal, admittedly, but then I'm not sure what kind of "proof" would be convincing to you anyway.

Author

Mark Geoffriau

Date

2010-07-16T13:54:28-06:00
ID

158679

Comment

Bubba, The gray areas are all of the issues surrounding immigration. ProCon.org does a pretty good job of identifying the issues although they're binary as well, presenting only the most extreme opinions on the far right and left of the issues. There's lots of space between extremes, as always.

Author

Ronni_Mott

Date

2010-07-16T13:56:50-06:00
ID

158681

Comment

Ronni- "alien" is defined in the U.S.Code as "any person who is not a citizen or natural of the U.S" and "illegal alien" is used through out it. So the term is correct exept to the PC police. Do you really think people don't have babies to "anchor" themselves to the U.S.? LOL boy are you naive. If they are willing to break our laws to come here, Don't figure they will do what ever it takes to stay including having a baby.

Author

BubbaT

Date

2010-07-16T14:26:52-06:00
ID

158682

Comment

Ronni- you debating the terms with Mark and me and the first thing on the ProCon.org link you posted is [Note: The term "alien" refers to all non-U.S. nationals and to all non-U.S. citizens. The term "immigrant" refers to an alien with lawful permanent resident status who has been granted the right by the United States Citizenship and Immigration Service to reside permanently and to work without restrictions in the United States. The term "illegal alien" is used for aliens who have entered the United States without authorization and who are deportable if apprehended, or who entered the United States legally but who have fallen "out of status" and are also deportable.]

Author

BubbaT

Date

2010-07-16T14:32:27-06:00
ID

158684

Comment

Grumble. I had a long post in IE 7 and your comment system ate it. Donna, my wife, her two sisters, her five cousins, my two nieces, a nephew and my daughter are all descendants of "anchor babies" born to two legal migrants in the 30's (the father was an engineer). Assuming we get more than trolls rolling the boards, can anyone answer the question what would happen to my Mexican descended American wife if she had her citizenship challenged? She doesn't look like she's from "around here," and has a slight accent, but she is a citizen. Born to citizens, like her anglo husband. And she should not have to carry her passport to prove her citizenship, just as I do not. Related, to my original question, what would happen to her Puerto Rican friends? The Mexican descended grocer and restaurant owner? Her Guatemalan buddy that works at the Dept. of Health? A Venezuelan cardiologist? A Brazilian neurosurgeon? An East Indian professor, physician, engineer or programmer? Or the East Indian CEO I went to highschool with? Or the highschool classmate that works in a high position for the CDC? I _know_ all these people. I work with them. I went to school with them. I married into a family. I call them friends. So, what would happen to them if they don't carry their passports? C'mon I wanna know. Others want to know too. And whether or not its time to move out of this state. Come on Phil Bryant or Becky Currie I want to know. This is important and you ought to be able to offer an answer. And how to pay for it when any of the above sue the state for illegal detention or other violations of their civil rights .And you folks at the JFP, consider it a challenge to find out and communicate it - go be better than MPB.

Author

Pilgrim

Date

2010-07-16T15:25:14-06:00
ID

158686

Comment

Pilgram- How can they be a descendants of an "anchor baby" when they were born to legal immigrants? For them to be descendants of an "anchor baby" they would have to been born to 2 "illegal" immigrants.

Author

BubbaT

Date

2010-07-16T16:02:46-06:00
ID

158687

Comment

We'll be covering this. Don't worry, Pilgrim. And you're so right: These are *people*, and people who want to work and better themselves. People. Human beings. Which is more than I can say for some of the people who post here from time to time.

Author

DonnaLadd

Date

2010-07-16T17:17:59-06:00
ID

158688

Comment

Demagogy is generally not based on outright lies or something that's demonstrably impossible; instead it takes the remotely possible (people would come to this country for the express purpose of having a child that could eventually claim citizenship) or the anecdotal (I know two people who decided to sire children for the express purpose of adding to their welfare checks) and then using, as the article linked above puts it, "special emphasis by which an uncritical listener will be led to draw the desired conclusion themselves." That's the fundamental nature of the argument that "anchor babies" are somehow a threat to our future as a nation. For this sort of charlatanism to work, there has to be at least the hint-of-a-whiff-of-possibility. After all, it is true that the child of immigrants born on American soil generally has the opportunity at the age of 18 to opt for American citizenship. But the Anchor Baby argument falls apart under scrutiny. The term "anchor baby" assumes that having a US citizen child confers immigration benefits on the parents and extended family. This is generally a false assumption, as immigration law does not allow a US citizen child to sponsor his parents until he or she turns 21. Once the child turns 18, immigration law also allows a US citizen child to sponsor his own siblings with a 15 to 23 year quota delay. Immigration law does not provide categories for any other relatives that would apply in this situation. In addition, if the parents are illegal immigrants, they are usually barred from immigration despite having a sponsor.[1][13] Likewise: In the public debate surrounding "anchor babies", it is also frequently assumed that an "anchor baby" would be beneficial in deportation proceedings. Such benefits do not exist except in the very rare case of extreme and profound hardship on the child. Approximately 88,000 legal immigrant parents of US citizen children have been deported in the past ten years for what it described as "minor criminal convictions" now classified as aggravated felonies, including nonviolent drug offenses, simple assaults and drunk driving.[14] Federal appellate courts and the Supreme Court have upheld the refusal by the Immigration and Naturalization Service or Immigration and Customs Enforcement to stay the deportation of illegal immigrants merely on the grounds that they have U.S.-citizen, minor children.[15] So let's say that someone was willing to get to the United States for the express purpose of having a child who, 21 years later, could sponsor them for citizenship, a process that itself would take a decade or more and which has a fair chance of failure. Is this indeed a pressing issue worthy of a plank in the nascent platform of a gubernatorial candidate in the state of Mississippi? Or is it demagogy? Fortunately we're all free to listen, become better informed, and then make up our own minds.

Author

Todd Stauffer

Date

2010-07-16T17:29:20-06:00
ID

158689

Comment

Pilgram- Why would your wife have her citizenship challenged even under AZ law. The police have to have a "reasonable suspicion" someone is an illegal alien. I would assume she speaks good Engish even with an accent,has a drivers license which she would have had to had a SS # to get(which Ronni pointed out they don't have),insurance, and he would have already run the tag before he got out of the partol car. So he would have no "reasonable susuicion" to think she was not a citizen. He would write her a ticket and she would be on her way. But if he stops someone and they speak broken English or no English,they don't have a DL,insurance that would pretty much be "reasonable suspicion" they might not legally be here. Fairly simple.

Author

BubbaT

Date

2010-07-16T17:56:28-06:00
ID

158690

Comment

Bubba, I'm clear that "alien" is a word used by the government, which is why I wrote: The words, whether intentional or not or whether condoned by government, remove all humanity from the people. As to my naivete regarding whether people have babies to anchor themselves to the U.S., it is an overly cynical rationale to think a woman will conceive, carry and give birth to a child only for that reason, and that parents will nurture and rear the child for 21 years only because they want a sponsor for citizenship. Has it ever happened? How would you know and how would you prove it? Show me evidence. I already said that many people want their children born in the U.S. I'm not arguing that point. But I suspect many do so because of the opportunities this country represents. After all, what parent doesn't want a better life for their child?

Author

Ronni_Mott

Date

2010-07-16T20:34:13-06:00
ID

158691

Comment

Ronni/Todd- I stand corrected on the "anchor babies" but it was my understanding that Immigration Service did not deport illegal aliens with minor children that were born in the the U.S.

Author

BubbaT

Date

2010-07-16T20:49:02-06:00
ID

158692

Comment

Mark: Good God. Are we really going to go back to Reagan's 1976 "welfare queen" arguments on this topic? You want me to accept your anecdotes as evidence? How about we just start publishing rumors as fact. You crack me up.

Author

Ronni_Mott

Date

2010-07-16T20:56:57-06:00
ID

158693

Comment

Bubba, the thing is even folks here legally (like my wife's grandparents) with no intention of staying in the US have kids. Think on that a moment. Do we throw out the kids of folks on H1B visas? Student? Tourist? Other work visas? Undocumented? Where do you draw the line? Or should we just sterilize them all and abort any pregnancies when a non-citizen enters the US? As to Bryant's argument about anchor babies, I think Todd nailed it well enough.

Author

Pilgrim

Date

2010-07-16T21:24:54-06:00
ID

158694

Comment

Pilgrim- I never heard anyone wanting to deport people (or their child) because they have had children while they were here legally. I have friends in Argentina who came to the U.S. on student visas as a freshman and they stayed until had his Phd in agriculture, all 4 of their children were born here. When he finished school they returned to Argentina and when the children turn 21 (the oldest should be close to 21 now) they can choose to move here and be U.S. citizens or stay in Argentina and give up their U.S citizenship (at least that is how he explained it to me) I also have friends who came from Costa Rica to go to college,him to study agriculture, her on a swimming scholarship. They also had a child here,finished school and went home, and he said the same thing applied to their child too. So I would assume that applies to all people legally here that have no intentions of staying that have children while they are here.

Author

BubbaT

Date

2010-07-16T22:56:51-06:00
ID

158695

Comment

Mark, you seem to be unfamiliar with welfare reform, as enacted by Republicans and President Clinton, to his shame. Welfare is a strange obsession in your libertarian politics. It is, after all, a tiny share of government spending. Is is like railing against the deficit by talking about subsidies to Monsanto. I have heard many, many second-hand reports that libertarians use constitutional fervor as paper-thin cover for their fear and loathing of the growing political influence of blacks, hispanics, and women, but of course I discount such inflammatory nonsense. I genuinely like the idealism of libertarians. But I am continually disappointed by their hypocrisy. If anyone should take seriously the testimony of a citizen like Pilgrim, it is a libertarian. If anyone should oppose government meddling in reproduction, it is a libertarian. So why is it that your persuasion, from the time of Barry Goldwater, consistently embraces the Southern Strategy, which has now mutated into anti-immigration xenophobia? Why is it that libertarians embrace the agenda of the Moral Majority? Please explain to me why I am mistaken for thinking that "libertarian" is just a fig leaf for far-right and white?

Author

Brian C Johnson

Date

2010-07-16T23:50:13-06:00
ID

158696

Comment

All-day- Even I am gonna have to call BS on the theory illegal aliens are a burden on the welfare system. We used immigrant labor alot and even though they were here legally they were still scared of the INS,police and most anybody from the gov't so if they are here illegally I just don't see them going to the welfare office to sign up, they are afraid too and know they will be caught. Ain't happening. Now as far as them going to hospitals and getting free care, all I got say is SO WHAT? Lots of uninsured people do too, if the hospital will treat them, that is and it's usually in the ER, so I not gonna bitch about somebody getting free care at the ER if the choice is life or death. I might be the resident curmudgeon, but I ain't that cold hearted.

Author

BubbaT

Date

2010-07-18T00:12:21-06:00
ID

158698

Comment

Here's a link to the Arizona bill (pdf file): www.azleg.gov/legtext/2r/bills/sb1070s.pdf The way they keep using the word "alien", it has me looking out for little green men from Mars or some other planet!

Author

golden eagle

Date

2010-07-18T15:01:49-06:00
ID

158699

Comment

Ronni and golden eagle -- when someone tells you that something is an "alien concept" to them, is your first assumption that it's an idea developed by moonmen? Given that the AZ bill is a legal document, using the legally-accurate term "alien" is entirely appropriate. Are the two of you members of SETI or something?

Author

Mark Geoffriau

Date

2010-07-18T18:39:24-06:00
ID

158700

Comment

Alien has used to refer to a person from a another country for close to 600yrs and the use in SCI-FI to mean little green men since the 1940's. I think the use of alien to refer to person from a foreign country is correct. alien mid-14c., "strange, foreign," from O.Fr. alien , from L. alienus "of or belonging to another," adj. form of alius "(an)other" (see alias). Meaning "of another planet" first recorded 1944 in science fiction writing; the noun in this sense is from 1953. The noun sense of "foreigner" is first attested early 14c. An alien priory (c.1500) is one owing obedience to a mother abbey in a foreign country.

Author

BubbaT

Date

2010-07-18T20:06:35-06:00
ID

158705

Comment

I wonder what the country would be like if the Indians had asked for proof of citizenship when the present "occupiers" arrived. America is a "melting pot" of immigrants. Just asking? Just saying.

Author

justjess

Date

2010-07-19T08:47:58-06:00
ID

158708

Comment

Yeah, Mark. That's it. SETI.

Author

Ronni_Mott

Date

2010-07-19T12:13:21-06:00
ID

158711

Comment

SETI? LOL. Mark, you can so incredibly ridiculous when you're casting about for something to say.

Author

DonnaLadd

Date

2010-07-19T13:12:55-06:00
ID

158713

Comment

I suppose I shouldn't be surprised that you would focus on the throwaway line I included because I found it funny... Should I take your response to mean that you support Ronni and golden eagle's claim that they can't or don't understand the definition of "alien" except as it applies to extraterrestrials? You are of the opinion that this is a serious issue in the immigration debate? Geez, I can't wait for the next JFP cover with a little green man on it...it'll look right at home next to The National Enquirer.

Author

Mark Geoffriau

Date

2010-07-19T13:23:05-06:00
ID

158715

Comment

Mark, you say it was meant to be funny. I said: "LOL." No, you should not "take" any response from me to mean anything other than what it says. Your assumptions about other people, and the absurd characterizations you attempt to make of others' views (which are routinely inaccurate), is what is already hurting your debating ability. No one interested in serious conversation is going to bother with your schtick and revisionist belittlement for very long. I gave up any interest in trying to have a serious conversation with you a while back. You don't even seem to take your posts or arguments seriously, and they're not intellectually challenging at all, as a conversation with someone with different views should be in order to be worth the time.

Author

DonnaLadd

Date

2010-07-19T14:40:42-06:00
ID

158727

Comment

Mark & Bubba: Can we get back to the substance of the issue instead of grinding to a halt regarding the word "alien"? Please? No one is saying they "can't or don't understand the definition of alien." Stop acting like you're dense.

Author

Ronni_Mott

Date

2010-07-19T19:50:26-06:00
More like this story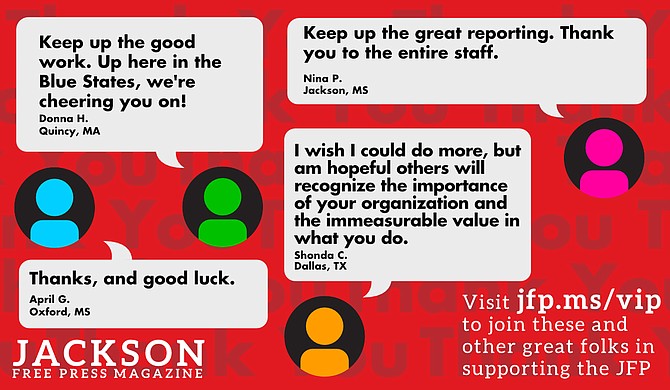 Thanks to all our new JFP VIPs!
COVID-19 has closed down the main sources of the JFP's revenue -- concerts, festivals, fundraisers, restaurants and bars. If everyone reading this article gives $5 or more, we should be able to continue publishing through the crisis. Please pay what you can to keep us reporting and publishing.