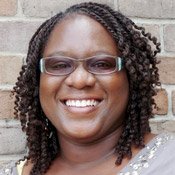 My mind was restless and my thoughts wandered as I sat on the second row in the sanctuary of First Baptist Church in downtown Jackson at the Extraordinary Women's conference April 16. I was excited to be there, but I could feel the weight of the week, the weight of my life on my shoulders. I clapped and sang along to the praise and worship, going through the motions––preoccupied.
I listened intently while EWomen President Julie Clinton talked about the theme of the conference, "Embracing Powerful Peace," yet I still felt uneasy. True peace is something I hadn't felt in quite some time.
Still, I laughed as Christian comedian Chonda Pierce took the stage and talked about topics ranging from menopause to Spanx, her battle with depression and how the church needs to do better at loving without judgment. I was still detached, though.
But then Jeremy Camp, seated at his red piano, began the concluding set to the evening. After a few songs, he stood with his guitar in hand and talked about how as believers the Lord doesn't promise us that our lives will be without problems and obstacles. The promise is that he will love and comfort us through this life.
Did I believe that promise?
As he began to sing "I Still Believe," written after losing his first wife to cancer when he was 23, I started to feel a stirring of emotions as I thought of my own mother who is battling cancer. The words of the song began to penetrate through the walls around my heart, and I allowed myself to be vulnerable to the moment.
Scattered words and empty thoughts seem to pour from my heart. I've never felt so torn before. Seems I don't know where to start.
It's been just over four years since my mom, Charlotte, was diagnosed with multiple myeloma, a progressive cancer where plasma cells in the bone marrow grow out of control. According to the Multiple Myeloma Research Foundation, more than 56,000 Americans are living with the disease.
It's still hard to believe that my mom has cancer. How did it go from business as usual to where we are now? I've seen her cry as excruciating pain rippled through her body. And I've seen her lying fragile and helpless in the ICU. She is the strongest woman I know. But this disease has stolen pieces of her. It has tried to break her.
This is not how things were supposed to be; she's only 51. She should be enjoying her grandchild, traveling and taking up a hobby. She should be happy and healthy. She's led a good life and hasn't done harm to anyone. So why is this happening to her?
"But it's now that I feel Your grace fall like rain from every fingertip, washing away my pain."
I get angry. I believe in God, but I don't understand his ways. I get angry that this is happening to my mom and to our family. If you had asked me when I graduated from college where I'd see myself in 10 years, I wouldn't have told you, "Mississippi."
But I had a friend in California who gave me some life-changing advice. She said one of her biggest regrets in life is not being there to say goodbye when her mom died. She told me that no amount of money in the world can replace being there for a loved one.
I remembered that when I sat in the hospital watching mom sleep, I felt grateful that I was there. Although I miss my life in California, I'm glad I'm here.
I still believe in your faithfulness. I still believe in your truth. I still believe in your holy Word.
I don't know what tomorrow is going to be like. Hell, I don't know what it will be like 10 minutes from now. But what I have is the here and now with my mom. And I have all our memories from the past.
She's been my advocate from my childhood to adulthood. She encouraged me through school and made me believe that I could accomplish anything I set my mind to. She helped me with my school projects and drove me here and there to all my activities and social functions—speech contests, track meets and football games. She cried and beamed with pride as I graduated from high school and college.
Her love has been a fortress. She's protected me from the evils of this world and prayed for my safety always. She held me when my heart was broken and sat by my bedside after I gave birth to my 3-pound-12-ounce premature baby boy.
She has been my mentor, showing me how to be a wife and a mother. I've seen her sacrifice to ensure our families' happiness as I now do that for my husband and son.
Her love has been endless and unfailing. But, best of all, my mother's love is still here, not in spirit, but in flesh. I still have time to see her, hug her and sit with her. I get to share another Mother's Day with her.
The only place I can go is into your arms where I throw to you my feeble prayers. In brokenness I can see that this was your will for me. Help me to know that you are near.
I am sure there will be dark clouds in our future, but I'm grateful for today, moments where we laugh. It's because of those moments I can endure the tears that are sure to come.
I still believe in your faithfulness. I still believe in your truth. I still believe in your holy Word/
On my drive home, I called my mom just to hear her voice. Although I am unsure of what's on the road ahead, I will keep holding on to my faith and continue supporting and loving my mom through this terrible disease.
When I first found about the cancer, I thought if I ignored it and pretended it wasn't true, it would go away. But it is real and it is here. Life is what it is. There is good, bad and in between. None of us can escape it. But I know that things could be worse, so I am thankful for the blessing of a mother's love and my time with her.
Even when I don't see, I still believe.
Through this song, I found peace. I spent the rest of the evening focused on the positive. I still believe in miracles. I still believe my mom will get better.
I still believe.
Previous Comments
ID

157469

Comment

Y'all, don't miss ShaWanda's amazing column this week in honor of her mother.

Author

DonnaLadd

Date

2010-04-28T13:15:03-06:00
ID

157498

Comment

I lost an aunt to cancer five years ago at just the age of 37. It's still a mystery to me why that had to happen to her. I pray that your mom will be strong enough and beat her cancer

Author

golden eagle

Date

2010-04-28T19:55:20-06:00
ID

157526

Comment

Wow! This is one of the best Mother's Day columns I've ever read! Keep up the good work! Sara Anderson

Author

Sara Anderson

Date

2010-04-29T16:01:17-06:00
ID

157534

Comment

Sara--Thank you for your kind words about my column. I wanted to write something to express to my mom how I felt about her and something that would hopefully bring hope to readers. -ShaWanda

Author

ShaWanda Jacome

Date

2010-04-29T19:04:26-06:00
ID

157536

Comment

Golden Eagle--I'm sorry to hear of the loss of your aunt at such a young age. Cancer is just a horrible thing. Thank you for the prayers for my mom. God Bless! -ShaWanda

Author

ShaWanda Jacome

Date

2010-04-29T19:06:30-06:00
ID

157543

Comment

Very touching ShaWanda. I co-sign both Jeremy Camp and your friend in California sentiments concerning still believing and the fact that no money in the world can replace being there for a loved one, as you are. California will be there. Sending out a silent prayer for the two of your spirits to remain strong and connected. Always believe.

Author

Don Smith

Date

2010-04-30T05:06:14-06:00
ID

157546

Comment

Powerful and tender and filled with Truth. Your vulnerability in this piece was beautiful. Prayers for you and your Mother and your entire family.

Author

J.T.

Date

2010-04-30T08:54:19-06:00
More stories by this author
Support our reporting -- Become a JFP VIP.
The news business has changed dramatically in the past two years, and we need your help more than ever to keep bringing you important stories about Jackson and the Metro. Become a JFP VIP with an annual membership or you can Sign up as a monthly supporter. Thanks for anything you can do to empower our journalism!