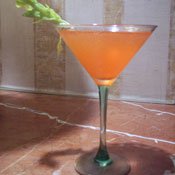 Think About It
• The chaud froid contains red wine, which is good for heart and skin. Red wine contains flavonoids and other antioxidants that research has show helps reduce the risk for heart disease and raise HDL "good" cholesterol, according to the American Heart Association.
• Use fresh cranberry juice instead of fruit cocktails that contain artificial flavors.
• Appearance is important. Make your drink appealing to the eye; coordinate the colors with the colors of the meal.
• A cocktail should always complement the meal, not overpower it.
Chaud Froid
Serve with the main course.
This cocktail, translated as "hot and cold" in French, is red hot in color, but has a cooling effect when you drink it.
2 ounces red wine (Pinot noir recommended)
1 ounce cranberry juice
1 ounce cinnamon syrup
Lemonade to top
4 lemon wedges
5 slices of cucumber
6 mint leaves
Pilsner glasses
Cucumber or cinnamon stick, for garnish
Muddle cucumber slices, lemon wedges and mint leaves in a tall glass. Add ice, red wine and cranberry juice. Top off with lemonade and then the cinnamon syrup. Garnish with cucumber or cinnamon stick.
B4U
Serve with a starter or appetizer.
1-1/2 ounces vodka
1 ounce peach schnapps
2 ounces cranberry juice
5 raisins
Lime juice, a dash
Curry power, a dash
Bitters, a dash
Sparkling wine to top
Cocktail or martini glass
Add raisins, vodka, lime juice and peach schnapps to a shaker, and muddle together. Fill the shaker with ice and shake hard. Strain into a cocktail or martini glass. Top off with sparking wine and garnish with a dash of curry powder and bitters.
More stories by this author
Support our reporting -- Follow the MFP.