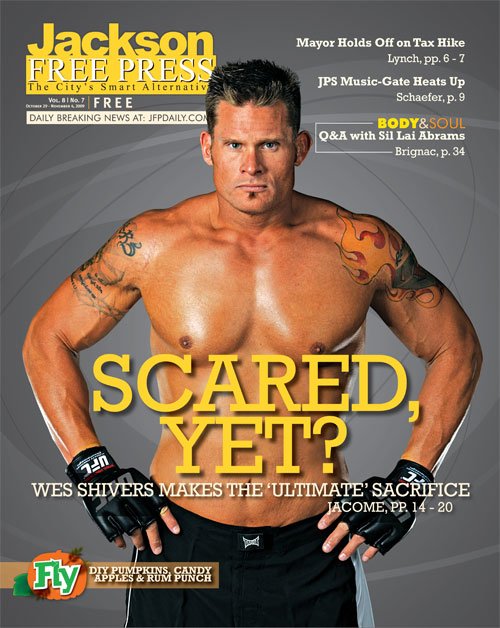 View Wes Shivers Photo Gallery
The fighter lies on the floor in a locker room at the Mississippi Coast Coliseum. He lets it all go as country music streams from his headphones to help him relax. Nearby is the plastic cross his daughter made him, with glued white letters spelling out the word "faith." He keeps it with him for good luck.
It's time. His coaches come to help him warm up, stretch and wrap his hands—a smell of sweaty gym bags and musty training equipment is in the air. He's ready for this. He has a game plan. He has studied his opponent and, after months of pushing himself, the day has arrived.
As Wes Shivers, wearing white shorts and blue gloves, emerges from the hallway that leads to the main arena, the crowd cheers him on. Yet he remains focused. The cheers become muffled until he can almost hear his own heart beat. Regardless of all the fans in attendance, mixed martial arts is a lonely sport. It will only be him and his opponent in that cage.
Like a modern-day gladiator, Shivers has an uncanny need to test himself. But this is not just a battle of physical ability. The two competitors study each other's movements like master chess players, each searching for the right moment to attack. There are no football pads or helmets, only their gloves and mouth guards.
The fighters display no anger as they dance around the ring. Who will strike first? Will it be a kick or a jab?
"Move forward!" "Take him down!" "Keep your hands up, Wes!" His coaches are urging him on from outside the cage as he battles Brad "Mongo" Tidwell in the 2008 Blood and Sand VI competition in Biloxi.
Soon the fighters are up against the cage—cold, hard metal. Each struggles to get the upper hand over his opponent. This continues for two rounds֖only one can emerge the victor. This time it's the 315-pound Tidwell; he knocks out Shivers 27 seconds into the second round.
"I got over-confident and let my pride and aggression take over, and it cost me the fight," Shivers says.
Modern-Day Goliath
Upon meeting Wes "The Perfect Storm" Shivers, 32, you realize this guy is massive—a modern-day Goliath. You may even have to tilt your head up a bit to look him in the eye. He stands 6'7" and weighs 275 pounds.
His tattoos each tell a story. The Superman symbol on his left shoulder, bearing his daughter's initials, BLS, helps him remember that what he has lived through makes him a stronger person. The black-ink tribal bands on his wrists remind him of his faith with the words "sinner by birth" on the right and "saved by grace" on the left. The scripture from Philippians 4:13, "I can do all things through Christ who strengthens me," is written on his right shoulder along with his last name and a cross in memory of his father.
Some might see his many tattoos, the spiked hair and soul patch, not to mention his chosen career, as the signs of a brute. Yet, when you talk to him, that feeling immediately goes away. It is a combination of his laid-back attitude, southern drawl and the heartfelt way he talks about his daughter and parents that changes your impression.
"She's my world. It doesn't matter how hard it's been on me; when I'm down about things, just seeing her and hearing her ust brightens the day up for me," Shivers says about his daughter.
Shivers is sitting in an armchair in his "man room" at his Ridgeland home. The room is filled with memorabilia: football jerseys, autographed fight gloves, a championship belt. In many ways, it all seems like an afterthought to Shivers; if not for his girlfriend, the items might not be on display at all.
Shivers started in mixed martial arts relatively late in life and has only been fighting for about four years. Yet, he's became a recognizable face in the sport after he appeared on Spike TV's "The Ultimate Fighter Heavyweights" in September. After that, Shivers even found that he couldn't attend the Mississippi State Fair with his daughter without drawing attention.
"It's kind of strange to me when people recognize you, and they actually act as if you are somebody special. ... I don't feel like I'm any different. I've never let any of it go to my head or make me feel like I'm better than anyone else; that's just not who I am," Shivers says. "People that know me know that I am just a normal guy."
'Human Cockfighting'
Mixed martial arts, or MMA as it commonly referred to, is a full contact sport that combines martial arts, wrestling and boxing. Although MMA had been around for a while, the sport became official in the United States in 1993 through the organization of the Ultimate Fighting Championship, produced by WOW Productions and SEG. The first fight was a pay-per-view event held at McNichols Sports Arena in Denver, Colo. Originally envisioned as a one-time tournament event, the UFC was immensely popular, and the fights continued.
Competitors fought in an eight-sided ring, which the UFC trademarked as "The Octagon." It is approximately 30 feet across with the cage extending about six feet high.
This period in UFC history had no division in weight class, no time limits and was controversial. Numerous politicians, including Sen. John McCain, R-Ariz., called for cable television to ban the sport. McCain labeled it "human cockfighting."
In 2001, under the new ownership of Zuffa LLC, the UFC brand restructured MMA into a highly organized and controlled combat sport. Since the changes, even McCain has changed his views. "The sport has grown up. The rules have been adopted to give its athletes better protections and to ensure fairer competition," McCain told Britain's Daily Telegraph in 2007.
Even in Mississippi, MMA seems to be catching up with boxing in the public's mind. The Mississippi Legislature adopted and the governor approved House Bill 1482 in April 2009, to allow drivers to purchase a personalized state license plate with either a boxing or mixed martial-arts motif. This new bill took effect July 2009.
But a stigma is still attached to the sport; Shivers says it is a misconception that "people associated with mixed martial arts are just violent, angry people that like beating people up."
"That's not the truth. It's two athletes performing. (In) some cases, you'll have a little animosity built up, but nine times out of 10, it's just athletes battling it out; may the best man win. You shake hands when you're done. Mixed martial arts fighters are not the ones who are going to go to the bars and start fights and try to beat everybody up," Shivers says.
The rules of the sport reinforce the importance of fair fighting and good sportsmanship. Fighters can be fouled, which results in point deduction, and they can be disqualified from a bout for eye gouging, biting, hair pulling, fish hooking, groin attacks, stomping a grounded opponent or spitting.
After its makeover from 1997 to 2001, and through the use of the Internet with Web clips and televised pay-per-views, the UFC was able to thrive and grow. The UFC is the best-known organization in the sport of mixed martial arts, alongside World Extreme Cagefighting (WEC), King of the Cage (KOTC) and World Championship Fighting (WCF).
"The Ultimate Fighter" is a reality television show now in its 10th season on Spike TV, a cable station that markets to men. On the show, a group of established fighters with varying degrees of mixed martial arts experience are divided into two teams. Over the course of the season, the fighters compete in one-on-one matches until only one fighter remains. A professional MMA fighter coaches each team, allowing fighters to improve their individual game through the process. Shivers was on Team Rampage during his time on the show.
The winner of "The Ultimate Fighter" receives a six-figure contract with the UFC. The three-year agreement, with only the first year guaranteed, ensures the fighter at least three fights per year. Eliminated contestants can still enter the UFC in other ways, however. Some previous fighters who were eliminated in the series have gone on to sign a contract with the organization.
Toughening Up
In many ways Shivers, born Wesley Davis Shivers, grew up like other young boys in Mississippi, in a "good old country home," as he calls it, where morals and values were important. He was born in Jackson and grew up primarily in Brandon.
His mother, Jeanette McGraw, recalls that he came into this world small, weighing only 6 pounds, 9 ounces. As a boy, he was rather slender, with a sweet and happy demeanor. But he started to grow larger as he entered his early teenage years. His father was 6 feet 3 inches tall, but his mother is still not sure where her younger son got his heft.
Shivers' older brother Vic Shivers helped toughen him up. "He made it a point on a daily basis that he could whoop me, and it made me tough where I wouldn't give up. He would slap me in the face and tell me, 'Quit crying, little baby.' I contribute a lot of what I do and my personality to him," Shivers says.
Still, Shivers says, he and his brother weren't close then. "(He) always looked down on me as the little kid brother. ... About the time I got to college playing football and doing well and making a name for myself, he realized I was more than just a little brother and started showing me the respect I deserved. From that point on, our relationship has really grown."
As a child, Shivers liked to fish and hunt with his dad, Ted Shivers, who sold cattle for a living. Shivers also liked to accompany him on sales calls. His mom even thought he might choose the same profession one day. But when Shivers was 14, his father passed away. As a result, the family later moved to Yazoo County as Shivers entered his junior year in high school.
"You never get over losing a parent," his mother says now. "He had it pretty tough because he wasn't quite 15 when his dad died, and we had some hard times. He watched me go through a lot, and that affected him. My oldest son was away in college, and it was just me and Wes, and we bonded together."
When he speaks of his father, Shivers becomes introspective. "We were best friends, and he instilled in me a lot of values in a short period of time. And then, after he died, to see my mom pushing herself from not having to work, to college, to becoming a nurse and having her own career because she had to do it, I guess at that early age it meant a lot to me to see somebody ... keep pushing through."
Shivers inherited that drive to compete and succeed. He played a variety of sports, including baseball and football, but as he got older, he directed his energies to one sport: football.
After graduating from Benton Academy near Yazoo City, Shivers attended Hinds Community College and was selected as a Junior College All-American and All-SEC player. Shivers, an offensive tackle, later transferred to Mississippi State University on scholarship where he would graduate in 1999 with a degree in educational psychology.
After college, the Tennessee Titans chose him in the 2000 NFL football draft, but he was ultimately picked up by the Atlanta Falcons. He played professionally for one year, but left the sport because "his heart was no longer in the game." Once he retired from football, Shivers pursued a career in law enforcement.
"I got into law enforcement, which is something I'd always wanted to do. After a while, you realize you'd starve to death in law enforcement, especially around here. I was working two jobs and had a daughter that was just born, and I was married at the time, and it was taking up my time (from) seeing her."
The look on his face shows that it was not an easy choice.
After spending several years as a deputy sheriff for Rankin County, Shivers made a change just as many men his age settle into the monotony of "adult" responsibilities. He moved from working as a deputy sheriff to the pulse-pounding world of mixed martial arts.
Due to injuries sustained during football, however, Shivers' shoulder became progressively worse. In 2006, he had a total shoulder replacement.
His mother supports his new profession, she says, even as it makes her uncomfortable. "I don't understand it, but he does, and if he enjoys doing it, I support him. I actually have never gone to see him fight, I don't think I could handle it," she says.
'I Want to Compete'
In 2005, Brian McGuire, CEO and owner of PsychoutMMA, approached Shivers about getting into the sport. McGuire was thinking about the business potential, but Shivers had other interests. "I told him it sounded like a good idea, but I don't so much care about the promotion part of it. I want to fight; I want to compete," he says.
PsychoutMMA has promoted several events in the Jackson metro area. Shivers competed in the Capital City Throwdown in March 2009 and the Calm Before in September 2008. The Wahabi Shriners and the Jackson Convention Complex have hosted fights sponsored by various groups, including the Mississippi Sports Medicine and Orthopedic Center. On the PsychoutMMA Web site, McGuire states: "We are extremely grateful to have Mississippi Sports Medicine back with us again. … They were right there to help a couple of fighters that suffered injury at our May fight. They are a big help and the fighters feel comfortable competing knowing the knowledgeable doctors, athletic trainers and nurses are on stand-by in case they are needed."
Shivers spent his early years in MMA, from 2005 until 2007, searching out the tools that he would need to succeed in a sport that is more than just fighting. He spent time at several gyms, training with different instructors to improve his technique. He fought on two teams in Madison and Flowood, Team Hammer Hill and Team Deliverance, under management of Tapper Promotions and Fight Club, owned by Shane Tapper.
Tapper, who also owns several businesses in Rankin County and Flowood including a Shelter Insurance Agency, started promoting MMA because some friends who were fighters in Hattiesburg approached him for business guidance, and it took off from there. Eventually, three teams came together under the Tapper umbrella.
Tapper's facility, located in Flowood, is 10,000 square feet and is dedicated solely to mixed martial arts training. He promotes three teams: Team Deliverance, Team Hammer Hill and Team Tapper. All three were in place before Tapper came on the scene, but kept their respective names as a sense of pride. The fighters—regular guys with full-time jobs and families—often cross train and fight together.
The sport is growing in the state, Tapper says: "I think it's going in the right direction; the sport is still in its infant stages right now. ... People are just lined up to watch an MMA fight, and it's just getting bigger and bigger every day. I think there are a lot of good companies putting on good shows here locally."
Josh Craig, head coach and manager of Team Deliverance, worked with Shivers prior to his Ultimate Fighter experience. "He still (comes) in every now and again to train. ... He's going be very good for the state of Mississippi. He trains really hard, and I think that is going to show," Craig says of Shivers.
Craig, not currently fighting, is focused on training and growing the business. He came from California where he competed professionally with Muay Thai and MMA. Muay Thai is a form of kickboxing originating in Thailand that incorporates knees, elbows and hands, as well as kick strikes; American kickboxing only uses punches and kicks. Craig is also a Ridgeland police officer.
The sport is catching on in the Southeast, and Craig hopes it continues growing as it has on the West Coast and in the Midwest. "I want to see this business we have flourish," he says. "I think we've got a lot of talented fighters."
Going National
"The Ultimate Fighter" opportunity came unexpectedly for Shivers. He had been fighting for over two years locally when Alan "The Talent" Belcher saw him compete at the Mississippi Coast Coliseum in 2008. Belcher, who currently fights for the UFC in the middleweight division, invited Shivers to train with him on the Coast.
It was Belcher who helped Shivers go national. "Alan started to see me progress and everything, and he called me one day and said, "Look I heard they're fixin' to film a new season of 'The Ultimate Fighter' with heavyweights on it." He made a couple of phone calls and, next thing you know, one of the producers of the show was calling me."
Shivers flew to Las Vegas for an interview and ended up being selected for the show. He was pitted against one of the opposing team's top fighters. Although he was eliminated in week two in a fight against James McSweeney, from England, Shivers is still known as one to watch in the mixed martial arts world.
As a UFC heavyweight hopeful, Shivers admits he is still learning every day. "I've got a good group of guys that fight here locally and train with me, and they do what they can to help me get ready, and I do the same for them. I'll go off and train and pick up new stuff and bring it back and help teach them," Shivers says.
Johnny Little, head coach and trainer for Team Hammer Hill, a fight club based in Madison, had spent about two years working with Shivers on his fighting skills. He met Shivers in the gym in 2007, where the fighter approached him to work on his hand work.
Little initially had some concerns about taking on such a large client, fearing that he wouldn't be coachable. Some guys in the heavyweight division don't listen as well and can be hard to train. Given Shivers' height and weight, it would be easy for him to attain a fair amount of success based on that alone.
Not so with Shivers. "Wes was just a sponge," Little says. Shivers wanted to learn; some guys come in once or twice a week, but Shivers was there every day. He listened to Little and worked on the things he told him to in order to improve his technique.
What Shivers lacks in experience, he has made up for with a hunger to improve his fighting. His fervor for mixed martial arts has resulted in a high degree of success in a relatively short amount of time. He specializes in three forms of martial arts: Muay Thai, kickboxing and Brazilian Jiu-Jitsu.
"I've got a lot of natural ability, but as far as the level of training and amount of training I've had compared to some of the other guys, I don't have it, yet. But I'm learning," Shivers says. "I'm working hard every day, and I'm getting better."
Since Shivers returned home from "The Ultimate Fighter," Little has seen a change. "Wes improved threefold. ... Basically, you go out there for seven weeks, and all you do is train with the very best trainers in the world. Wes came back a much better fighter than when he left and understands the game better. Technically, he just learned a lot more than we could have taught him at a local level."
Shivers admits training is somewhat limited in central Mississippi. Areas like Las Vegas and California have a wider range of instructors and training facilities in the different martial-arts disciplines. He would most likely be further along in his career if he were to train outside Mississippi, but as the sport grows in the state, he wants to help make a name for MMA in Mississippi.
In the interim, he continues to travel a few hours south to continue developing his talents with Belcher, and does daily training at home. He has personal trainers that do conditioning and weight training with him, morning and night. He trains two to three sessions a day for six or seven hours. It's a full-time job at least five days a week, with cardio, strength conditioning and fight training.
Shivers eats healthy, steering clear of sugar, opting instead for complex carbohydrates. He drinks a lot of water and sticks to a simple diet, often consisting of grilled chicken, steamed broccoli, brown rice and a little sweet potato. Although he is does not solely eat organic food, he incorporates it into his diet when he can.
"I can eat the same thing every time, and it doesn't get old. I eat because my body needs it," Shivers says. He believes there is no point in training as hard as he does if you are not going to feed your body the right foods.
How Safe Is MMA?
How safe is mixed martial arts for the contestants? The short answer is that it is safer than it used to be, but there are still significant risks, from mild to severe, especially from the knockouts. The state auditor of Hawaii studied the medical literature on the sport and reported to the state Legislature:
"Mild injuries, the largest category, consist predominantly of damage to soft-tissues such as contusions, lacerations and sprains. Moderate injuries include fractures, dislocations and disruptions to nerves. Severe injuries can be life threatening. Kicks, punches and falls can produce thoracic trauma, rib fractures and bleeding into the chest. In addition, all organs within the abdominal cavity may be at risk of trauma including the liver, spleen and kidneys. Head injuries can range from mild concussions to intracranial bleeds."
The greatest risk seems to be concussions and neck injuries. From the Hawaii report: "The Sports Injury Bulletin reports that, in a survey of four MMA tournaments over a four-month period, it found 103 episodes of cervical neck injury in 427 respondents. Five cases required hospitalization and had resulted in neurological deficit. The researchers found that the motion and forces applied to the cervical spine were characteristic of whiplash produced by vehicle impacts."
That report cited the only significant study about MMA injuries conducted to date—a 2006 study by Gregory Bledsoe for the Johns Hopkins University School of Medicine. "They found no deaths, but the data showed that 78 fighters had a total of 96 injuries," the Hawaii state audit reported.
"Of the 171 matches fought, 69, or 40.3 percent, had resulted in at least one injured fighter. The overall injury rate was 28.6 injuries per 100 contestants. Facial lacerations were most common followed by hand, nose and eye injuries. They found that the injury rate in MMA events was comparable with that of other sports involving striking, such as boxing."
Injury also increased based on the age of the competitor, and those who lost a match based on knockout ran a greater risk of injury.
Dr. Tony Strickland, director of the Sports Concussion Institute, a board-certified clinical neuropsychologist and an associate professor at UCLA, warned MSNBC about the risk of concussions in MMA fights, as well as boxing—and that those heard injuries can lead to Alzheimer's or Parkinson's disease along with other debilitating results.
"There's no greater risk than boxing or MMA," Strickland told MSNBC. He calls for better testing to find those at risk of long-term injury and disease and recommends MRI and CAT scans to detect damage.
The Nevada State Athletic Commission created a Medical Advisory Board to assist in creating appropriate standards to ensure the medical safety of fighters.
As with any sport, training with a professional coach and learning proper techniques will help keep risks of injury low. "There is a very real fear that some kid with an outsized ego and undersized skills will suffer a lapse in judgment and fight on an amateur MMA card in some backwater town," L. Jon Wertheim warns in his book, "Blood in the Cage" (Houghton Mifflin Harcourt, 2009, $25).
"Unaccustomed to getting hit, he'll get thumped on the head and die in the ring and in the aftermath no one will draw a distinction between the highly trained and conditioned athletes in the UFC and some poor yutz trying to impress his girl on amateur night."
The Ultimate Sacrifice?
Although "Ultimate Fighter" was well worth it for the experience, it took Shivers away from his family and friends for six to seven weeks. After his elimination, he resigned from his job in construction to train full-time, forcing him to live off his savings.
"If I'm going to go for something, I'm going to put everything I have into it. It keeps me busy constantly, between that and trying to have a normal life and spend time with my daughter," Shivers says.
By his own admission, Shivers' 5-year-old daughter, Brianna Shivers, is the most important thing in his life. She shares time between him and her mother, his ex-wife. When they are apart, he puts everything into training so that when he is with her, she gets his undivided attention.
"When I get her, it's all about her and whatever she wants to do. A lot of times, we'll go fishing or ride four-wheelers or ride horses or whatever," he says.
The father describes his daughter as good-hearted, and she shares his love of the outdoors. She is a true "daddy's girl"; she wants to do everything he does. "She's more competitive than I am—real stubborn and hard-headed. She thinks she can do everything. She won't quit until she proves she can," Shivers says.
Brianna loves watching her dad on TV and when he trains. Initially, he didn't like to relate the word "fighting" to what he did. But the more she has been around it, the easier it's gotten for her. She's seen him come home with bruises and cuts, but has also watched them heal in time. "You never know, I may be raising the next women's MMA champ," he says.
Meantime, though, he is focused on his own championship potential. With his late start in the sport, Shivers knows that he is at some disadvantage. Yet, his goal is to one day be at the top of his weight class, and sees his recent "Ultimate Fighter" appearance as a "foot in the door." He would also like to influence others to chase their dreams.
"I've been married, I've been divorced, I've got a kid, and I've done the 9-to-5," he says. "It's just not me. If I had to sit around all day and think, 'What if I'd done this? Why didn't I do this?'—I'm not going to be that person."
Sitting in his man room, he becomes noticeably more excited as he continues: "The doctor told me after my shoulder surgery that I'd never perform athletically again. I looked at him, and said, 'You don't know me.'"
"I don't let anybody tell me what I can or can't do. When God feels like I don't need to do it any more, that's when I'll hang it up. Granted, I hurt all the time, but I push through it. I've got a lot of drive in me, and I don't quit. That's a good attribute I have. Or it could be a bad one."
Shivers smiles.
"I'm not going to say that I am the best at anything I've done, but I've worked hard enough in my life to make some accomplishments, and I don't take any of it for granted."
Get Trained
Interested in mixed martial arts? Check out these groups for training programs they offer. You can also find out about upcoming mixed martial arts events in the Jackson metro area.
Gracie South
Travis Neagle
1006 Top St. Suite H, Flowood
601-502-7634
http://www.graciesouth.com
Madison Wrestling Club
Madison Cultural Arts Center
2103 Main St., Madison
601-717-2208
http://www.madisonwrestlingclub.tripod.com
Outlaw Fight Team
515 South Railroad Blvd., McComb
601-695-0058
http://www.myspace.com/outlawfightteam
Remix MMA
Alan Belcher
10322 Gorenflo Rd., D'lberville
228-392-0034
http://www.remixmma.com
Psychout MMA
Brian McGuire
601-941-7772
601-992-1198
http://www.psychoutmma.com
Tapper Promotions & Fight Club, Inc.
509 Dexter Dr., Flowood
601-695-6065
http://www.tappermma.com
Follow the mixed martial arts career of Wes Shivers at http://www.wesshivers.net, and click here to see photos from this article.
More like this story
More stories by this author
Like independent media outlets around the world, the Jackson Free Press works hard to produce important content on a limited budget. We'd love your help! Become a JFP VIP member today and/or donate to our journalism fund. Thanks for considering a JFP VIP membership or one-time support.