Seven weeks into the season and the New Orleans Saints remain undefeated at 6-0, having pulled themselves out of the cellar on Sunday in a challenging contest against Miami. The Dolphins spent the first half of the game throwing all sorts of defensive schemes at Saints quarterback Drew Brees and the Saint's O-line, racking up sacks, fumbles and interceptions from Brees. Facing a three touchdown deficit going into the half, Brees talked head coach Sean Peyton into calling a fourth-and-goal quarterback sneak -- with Brees leaping to break the plane of the goal line, in what Jeff Duncan of the Times-Picayune called an imitation of the Dolphin's logo. According to Duncan, this game cements the fact that the Saints are in a "special" season.
Even before the first kickoff, Drew Brees commissioned T-shirts with the word in big block letters across the back -- SPECIAL -- and distributed them around the locker room to teammates. Now we know why. If any doubts remained that the Saints are in the midst of one of the truly special seasons in club history they melted in the sultry South Florida heat and white-hot fury of their stunning come-from-behind victory against the Dolphins on Sunday.
Going into the locker room at half time down 24-10, some Saints players were reportedly heard saying they had the Dolphins right where they wanted them.
Stellar play by the defense made up for a weak offensive performance (and shaky work on special teams) in the first half, keeping the game closer than it might have been. In the second half, the Saints leaned on the fresh legs of Mike Bell to establish a running game, putting the Dolphins blitz-happy defense on a more conservative footing. The Saints outscored the Dolphins 43-10 in the second half, cementing their sixth straight victory of the season. Only Denver (6-0, bye week) and Peyton Manning's Indianapolis Colts (6-0) remain undefeated after handing the St. Louis Ram's their seventh defeat of the season.
So what did this game mean? Some have described this game as (what would have been) a classic Saints loss -- the week after a big win over the Giants, the Saints would often have stumbled against a underdog like the talented Dolphins, who had little to lose... and a determination to throw the kitchen sink at them. The Dolphins are also a team managed (from the executive box) by a former boss of Sean Peyton's -- Bill Parcells -- and a team of coaches who, arguable, know a little something about how Peyton's mind works.
In recent seasons, with Brees off his game, a one-dimensional Saints passing game would not have come back for the victory, but would have abandoned the run and stumbled through increasingly desperate four- and five-receiver sets in the second half -- and three-and-out series.
But this 2009 Saints team has two interesting additions -- a defense that plans to go to the Super Bowl this year (they're willing to let the Saints offense come with them if the O is interested...) and a youthful cadre of healthy running backs. This year, the Saints aren't going to rely solely on offensive "playmakers" like Reggie Bush, but rather on a full team of talented folks on both sides of the ball.
Hard, smart play by the Saints secondary, for instance, kept the Dolphins running game in check, taking the "wildcat" offense out of the second half strategy and forcing Dolphins quarterback Chad Henne to throw to a wobbly set of receivers, a few of whom had trouble holding onto the ball. Then the secondary kicked in, making 90% of the plays they needed to. The only real disappointment for Saints fans in the second half of the game was special teams, and even it had a few moments of glory.
There's still cause for concern, such as 10 more games of teams throwing everything they've got at the Saints, which brings the specter of injuries and flukes into the game. Yesterday's game even featured some bad calls and unlucky breaks -- such as an inoperable replay system in the first quarter -- that stopped a Saints challenge which would have overturned a key early reception by the Dolphins. It looked -- for about 15 football minutes -- like that those breaks wouldn't be overcome.
But in spite of all that, the Saints pulled it out and remain undefeated. Last week, they showed they could win a high-stakes game against the Giants; this week, they showed they can overcome adversity, perhaps building some determination in the process. (Brees both spiked and "dunked" the ball over the crossbar, and was high-fiving Saints fans in the stands after the game. He's pumped.)
Next up? The division rival Atlanta Falcons, fresh off a loss to the Cowboys, head to New Orleans for Monday Night Football on ESPN.
Who dat?
Previous Comments
ID

152870

Comment

How about them Saints? I found myself wanting Miami to win after they played so well the first half. The Saints came roaring back and passed any tests or doubt I still had about them. They look Super bowl bound. I even question whether the Steelers can beat them now. I remain a loyal fan and supporter of the Steelers nation, though. One more Super Bowl and the Saints can have it a few times. I still don't appreciate the Colts, Broncos and Saints having a better record than the Steelers. The Colts look even better without my fraternity brother coaching them. Down with all 3 teams.

Author

Walt

Date

2009-10-26T17:47:53-06:00
ID

152874

Comment

It was interesting to see the Pitifuls quiet Favremania...it wasn't totally Brett's fault, from what I saw, but coming out on top in that game earns a few points of respect for the Steelbirds. The Saints clearly deserve a better record than the Pitifuls, and the Colts...dunno...but the Broncos will be interesting to watch. That 11/9 game between Denver and Pittsburgh will be your chance to knock them off.

Author

Todd Stauffer

Date

2009-10-27T08:34:24-06:00
ID

152878

Comment

I may be ready to buy into the Saints, but I don't think they're gonna make it to the Super Bowl. That, I'll have to see it to believe it.

Author

golden eagle

Date

2009-10-27T11:22:40-06:00
ID

152887

Comment

Some people will jump all over you when you badmouth their teams, the Saints and Dallas Honeyboys; and when you try to act better or more appropriately they resort to calling your team out of their swell name. All I know is the Steelers have 6 Super Bowl rings alone, and is poised to get another one this year. We need one more to create more distance from the other pretenders. I'm glad to know Itodd recognizes the Steelers for who and what they are. The earlier adversity will serve only to solidify our butt kicking ways the rest of the year. I wish we could play the Saints and Colts too. There wouldn't be any doubt about what's going to occur on Super Bowl Sunday if that were the case. I wish the Saints the best until we meet them on that fateful Sunday evening in February. That is assuming they don't resort to past form before then. To hell with the Cowboys.

Author

Walt

Date

2009-10-27T16:59:44-06:00
ID

152889

Comment

Some people will jump all over you when you badmouth their teams, the Saints and Dallas Honeyboys; and when you try to act better or more appropriately they resort to calling your team out of their swell name. And others get touchy when their teams are walkin' the tightrope and it's hard to know whose going to take the field any given week. I can see why you'd be upset at my use of the Steelbirds given name, Pitifuls, because it's tough to know which Steelers are coming to play. Which Pitifuls Will Appear? They may defend. They may make it. But I like the Saints over the Pitifuls (knock wood) although it'll be a good game...I'm wary of the Saints v. Indy and wondering what's up with Cincy. If these Saints can keep it up, though, and own the home field, then it'll be their best chance at a ring. This is a good start.

Author

Todd Stauffer

Date

2009-10-27T18:23:51-06:00
ID

152892

Comment

I've been a fan of the Saints my whole life, even when many referred to them as the Aints, and I couldn't be happier this season so far. Last year was a decent year, but this year is phenomenal! Brees is only 7 TDs away from breaking Archie Manning's record, and I expect he'll do that in the next 2-3 games. I plan on going to the Patriots game in November, just to see the Saints dominate Tom Brady in person.

Author

chip

Date

2009-10-28T10:29:15-06:00
ID

152956

Comment

I'm a little scared of Cincy too, but I'm pretty worried about the Ravens too. Nontheless, we will get the job done. We'll be in the Super Bowl. It belongs to us. Six and counting!

Author

Walt

Date

2009-10-29T17:03:40-06:00
ID

153004

Comment

Will The Saints Go Marching In to the SUPER BOWL????????

Author

justjess

Date

2009-11-02T14:02:26-06:00
ID

153005

Comment

No!

Author

golden eagle

Date

2009-11-02T14:15:12-06:00
ID

153009

Comment

Predictions for tonight? I say 35-14, Saints over Falcons.

Author

Todd Stauffer

Date

2009-11-02T15:33:24-06:00
ID

153012

Comment

Saints win tonight, 34-28.

Author

chip

Date

2009-11-02T15:54:08-06:00
ID

153017

Comment

The Pittsburg Steelers is going to win the Super Bowl again in 2010. Let's be clear about that. The Saints may win tonight, but I doubt it. Atlanta is due something big. I figured they would whip the prissy and girly Cowboys last week. Since the Cowboys didn't pay up, the Saints will have to instead. The false allure of the Saints is coming off tonight. Write it down. Put some money on it.

Author

Walt

Date

2009-11-02T17:44:54-06:00
ID

153023

Comment

So, Chip got pretty darned close -- nice call; I had the 35 part right but didn't count on quite so many turnovers. I thought that most interesting commentary after the game was the notion that the Saints can score enough points to overcome mistakes...and they made a few; the game felt messy. I heard Pierre Thomas after the game same "we're not playing our best football, yet." Well it's nice to be up seven games and still consider it pre-season.

Author

Todd Stauffer

Date

2009-11-03T09:37:32-06:00
ID

153024

Comment

...and you guys are sure that the Saints Ain't going to GO MARCHING INTO THE SUPER BOWL???

Author

justjess

Date

2009-11-03T09:49:59-06:00
ID

153028

Comment

Jess: I'm not going to make that call yet, but the Saints have a lot on their side -- great talent, an apparent belief in their ability to win and they've got a surprisingly weak schedule, including the fact that most of their "tough" games take place in the Superdome. They've got a stretch here where they could easily stay undefeated -- and then they've got late games where they may be battling some Wild Card teams that will be throwing the kitchen sink at them. In fact, if the Saints do make the SuperBowl, they will have faced some adversity -- every team they play will step up their game and try to get to Brees, throw them off their rhythm, etc. This could be their year because home field advantage is a distinct possibility if they keep their record up against their relatively weak schedule. And home field advantage throughout the playoffs would mean no snow-bowls and NO would be completely on fire with fandom. Assuming a playoff berth, one thing that will happen in almost all likelihood will be a meeting with Minnesota; fortunately it'll either be in our dome or theirs. Home field is assured for nearly any other game if the Saints even stay at .750 on the rest of their games and stay in front of Atlanta. Finally -- and this is looking way ahead(!) -- Indy looms for the SuperBowl -- it would be interesting to see the Saints have to battle through the Giants, Minnesota and Indy (two Mannings and a Favre) on their way to their first SB rings. (Noting, of course, that I haven't quite done the math to see if that's possible or likely...)

Author

Todd Stauffer

Date

2009-11-03T12:39:33-06:00
ID

153031

Comment

It is possible that the Saints could face all three teams in the playoffs and Super Bowl. The Giants have been on a schnide, losing their last three after winning their first five. Minnesota has all but wrapped up their division. Despite the Colts being undefeated, I think the AFC is wide open, as the Broncos, Patriots and Steelers will all have something to say.

Author

golden eagle

Date

2009-11-03T16:56:10-06:00
ID

153034

Comment

I don't know how many times and ways I got to say: Pittsburg is going to win the Super Bowl in 2010. Yes, the Saints looked great despite mistakes and errors. Atlanta had them on the ropes and nearly defeated them except for a tipped ball and interception. If the Falcons had scored and the Saints came back from that, I would have been impressed even more by the Saints. Todd, you don't have to worry about seeing the Colts anywhere near the Super Bowl unless there is plane crash and the Steelers wind up dead. We will take care of the Colts. I'm more worried about Baltimore. The only way Indy will be at the Super Bowl is they buy tickets as a team and come to see the Steelers and the Saints. While I'd like to see the Saints at the big dance, we don't care who we beat the crap out of.

Author

Walt

Date

2009-11-03T17:47:49-06:00
ID

153035

Comment

Shut up, Walt. No one cares about you.

Author

DonnaLadd

Date

2009-11-03T17:53:42-06:00
ID

153040

Comment

Let him talk. He's all talk. The Pitifuls have a chance -- this idea of them walkin' all over Indy is a new one -- and they've got some easy wins ahead of them in Oakland and Cleveland. They've got a test next Monday night, and they've already posted a loss to the Bengals...that'll be a BIG game. Then TWO games coming against Baltimore. Deep thought...Ravens beat Denver in Baldimer...Pitifuls are going to have to go a mile high for their chance. It's gonna be tough. Walt's gonna have to talk himself into this one, so I imagine we're gonna keep hearing from him.

Author

Todd Stauffer

Date

2009-11-03T19:36:06-06:00
ID

153060

Comment

Walt, okay, COWBOY comment unwarranted. 2nd...Pittsburg will not see the superbowl this year. Just FYI!!!

Author

Queen601

Date

2009-11-04T14:08:04-06:00
ID

153061

Comment

Oh and I really hope all the new Saints Lovers are able to survive if they run out of steam, ever!!! Happened to the Titans....j/s

Author

Queen601

Date

2009-11-04T14:10:18-06:00
ID

153063

Comment

Queen -- I'm learning real quick as the Saints pull my allegiance away from the Cowboys that if you can't take the disappointment you gotta stay out of Da Dome!

Author

Todd Stauffer

Date

2009-11-04T16:08:29-06:00
ID

153066

Comment

NOOOOOOOOOOOOOOOO....Todd don't go.....Pleeezzzz! LOL. Hey I don't care if the cowboys never win another game, they will always be my team. REGARDLESS...always have. And I will say that I have liked the Saints since Drew Brees, but my allegiance is to them boys. I wouldn't mind seeing the Saints win a bowl if someone other than the Cowboys had to win; they'd be my second or third or forth choice; after the Vikings who are really kicking up some real dirt for me (or whatever team Brett is throwing for at any given time). As long as it's not the 49ers, Giants or Eagles.

Author

Queen601

Date

2009-11-04T17:06:41-06:00
ID

153068

Comment

Well, I'll still root for the Cowboys over anyone in the NFC East (or the Steelers) and if the Saints falter and fail I'll pull for the Pokes over just about anyone. I don't know how I'd feel about Dallas v. Minnesota; I guess half of me wants to see Brett get it and the other half wants him beat. (And it's certainly Drew's year over Brett's. If that game happens in January I know EXACTLY who I'm rooting for, straight through.) But I gotta put my energy into the Saints. I don't know...I feel the spark fading a bit for the 'Boys. Romo, Romo, whereforartthou Romo?

Author

Todd Stauffer

Date

2009-11-04T19:22:39-06:00
ID

153082

Comment

Yeah, the hype is quieting since T.O. is gone and Romo has been so inconsistent. However, they have it in 'em. They will get it together. This year may not be our year, but don't count them out all together. OMG, Saints vs Vikings.......wow! That would be a huge, huge game. GREAT! I serioulsy think I'd still go for the more seasoned Farve, however, it would be nice to see the Saints prevail. They are certainly putting in work. But maybe if Brett goes ahead and gets a bowl ring he might just gone back to Hattiesburg and take a load off. Otherwise, we'll be revisiting his "this is it, I'm retiring" antics again...to which this sista has grown very weary. Still though, he's Brett Farve, I mean, the dude is MAGNIFICENT. Still though, I'm holding it down for Romo. Hope we can make it thru December. He pisses me off all the time, but he can be great, once the team actually gets in sink. (GO COWBOYS!!!!!)

Author

Queen601

Date

2009-11-05T10:24:09-06:00
ID

153088

Comment

The Saints are good: Brees is my QA on our Fantasy Football team. But when it comes to loaylty, win or lose, my heart is with the Bengals!

Author

Lady Havoc

Date

2009-11-05T11:42:15-06:00
ID

153163

Comment

ITodd needs some help. ITodd needs some help. Go on Donna, do your thang! Help your man! He needs it. Too bad you can't help him with those Cowboys. Look Todd I ain't gonna let you drop the sorry Cowboys and claim the Saints just because they are winning right now. You're a Texan and Cowboy fan forever. I'm gonna let Pittsburg do the rest of my taliking on Monday night and afterward. By the way, I'm in Portland at a meeting as i write this. It's cold out here. Queen, I'm surprised you're a Cowboy fan. You can do better. Join us ( the Yankees of pro football --the Pittsburg Steelers) for the next Super Bowl. If you do that you won't need Kaze to help you fight your battles like ITodd.

Author

Walt

Date

2009-11-07T16:15:58-06:00
ID

153190

Comment

Folks, it's time to get on the winning side of things when the "Saints Go Marching In" to the Super Bowl. I will admit that I was a little ticked when the Saints dumped Duce; however, that is the nature of the beast. Hopefully the King Edwards and some other investments will pay off so that he can become whole again. In the meantime, Go Saints, GOOOOOOOOO!!!!!!!

Author

justjess

Date

2009-11-09T09:44:42-06:00
ID

153219

Comment

They may be the 'real deal' but I'm not pulling out my old black and gold paraphernalia just yet. Been down this road with the Saints twice in the last 15 years only to be disappointed in the end. But I'm excited for them at 8-0.

Author

Jeff Lucas

Date

2009-11-10T11:06:59-06:00
ID

153224

Comment

itodd, but, can we all just get along? LOL! You are dead on point about Manning X 2, Favre, and others who are looking pretty good. It is so exciting to have some good games to look forward to and to know that the Super Bowl might be played by a team who lives 2 1/2 hrs. away. Don't be afraid, Lucas: Go ahead and get you Black and Gold gear ready. I promise that we wont' wear bags over our heads this year and call the Saints the Aint's.

Author

justjess

Date

2009-11-10T13:11:14-06:00
ID

153317

Comment

ITodd, Queen, Donna, Golden Eagle, et al, y'all can pretend all you want that you didn't see what the Pittsburg Steelers did to Minnesota a while ago and Denver Monday Night. Sixthburg is well on its way to being called Sevenburg. We will see who is standing in the end. Watch what we do to Cincinatti Sunday for beating us earlier this year. I will unfortunately be on a plane trying to get back to Mississippi and miss the game, but since God is a Steelers' fan too, I already know what's going to happen. Haters hate on. I know y'all are jealous of the Steelers.

Author

Walt

Date

2009-11-12T21:28:30-06:00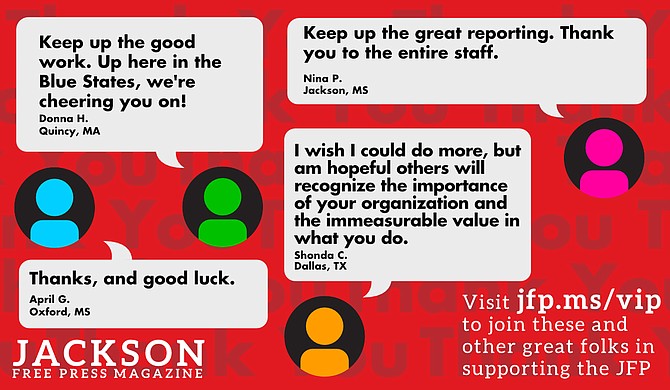 Thanks to all our new JFP VIPs!
COVID-19 has closed down the main sources of the JFP's revenue -- concerts, festivals, fundraisers, restaurants and bars. If everyone reading this article gives $5 or more, we should be able to continue publishing through the crisis. Please pay what you can to keep us reporting and publishing.